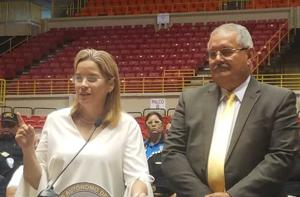 The Caldero effect
"My sources tell me that during the lunch at the table where the Federals and Caldero were, it was agreed to share information (about crime) between the federals and Caldero, something never before seen. That in addition to the motorcycles that Caldero requested and that the mayoress already approved them.
The Caldero effect has already begun to bear fruit; Now we have to see what Governor Ricardo Rosselló is going to do with the State Police, which is in TOTAL and COMPLETE ABANDONMENT, very similar to that of the mayor.
Something good will come out of this competition, at least for now for the residents and visitors of San Juan; the rest of Puerto Rico will have to wait."
_________________________
In Brief – Saved Stories
–
Saved Stories – None
carmen yulín cruz soto – Google Search
Puerto Rico Officials Investigated for Corruption During Hurricane Relief
Corruption in Puerto Rico may have been the cause of U.S. relief supplies not reaching those in need following Hurricane Maria in September 2017.
The administration of San Juan Mayor Carmen Yulín Cruz (D), who made headlines for her criticisms of President Donald Trump's handling of the relief efforts, is now being investigated for alleged corruption.
According to a local news report from El Vocero de Puerto Rico, the FBI is investigating several suppliers for alleged corruption in San Juan.
It says the investigation was launched after former procurement director Yadira Molina filed a lawsuitclaiming she faced punishment for reporting illegal activities to the local comptroller. The investigation has since grown to include several contractors.
"On February 21, Molina sued the city council after reporting alleged acts of corruption in the shopping division in the town hall under the administration of Mayor Carmen Yulín Cruz Soto," the report says.
The complaint states that Molina was blocked from her right "to report wrongdoing in her capacity as a private citizen, not as a public employee." It says she was retaliated against for reporting an allegedly rigged system and was fired for attempting to report corruption, and includes other additional claims.
There were many reports following the hurricane that U.S. supplies were trapped in the ports, with local corruption preventing proper distribution. The claims were largely dismissed by legacy news outlets as conspiracy, and were used to frame Trump's relief efforts in a negative light. The Trump administration later bypassed local officials, and the U.S. military began delivering the goods directly.
Carlos Osorio, the FBI media representative at the San Juan field office, told The Epoch Times in October 2017 that the FBI received several complaints of alleged corruption in the distribution of relief goods, and that the FBI is required to look into criminal complaints.
Carmen Yulín 2020 y el efecto Caldero | Opinión
"Para nosotros una sola vida que se ha perdido es suficiente". Así comenzó la alcaldesa de San Juan, Carmen Yulín Cruz Soto, la conferencia de prensa que se llevó a cabo ayer en el Coliseo Roberto Clemente para anunciar la designación del coronel José Luis Caldero como comisionado de la Policía Municipal capitalina.
En Análisis 630 por NotiUno habíamos adelantado el pasado viernes que este nombramiento estaba ya adjudicado, lo cual nos llevó a anunciar el título de esta columna, pues entendemos que políticamente es un nombramiento de IMPACTO.
La alcaldesa de San Juan vio la crisis en su abandonado municipio cuando a principios de junio de 2018 se reportaron seis asesinatos en ese primer fin de semana. Según datos publicados en este periódico por el reportero Miguel Rivera Puig, podemos ver que marzo, junio y julio en los pasados años han sido meses calientes con respecto a los asesinatos en la ciudad capital.
Caldero, por su parte, trae en su hoja de servicio el haber comandado durante tres años la superintendencia de la Policía de Puerto Rico bajo la administración de Alejandro García Padilla; unos tres años de baja en prácticamente todas las estadísticas de criminalidad en Puerto Rico. Aun cuando no fue la primera opción de García Padilla para la superintendencia, logró lo que otros no habían podido.
Bajo su mando en la superintendencia, el coronel Caldero dio ascensos a tutiplén, los cuales redundarían en apoyo a sus nuevas funciones. No se ocupó de la División de Drogas y Narcóticos como se requería en aquel momento, lo cual luego llevó a varios arrestos por parte del Negociado Federal de Investigaciones (FBI).
En la conferencia de prensa para anunciar la designación del coronel Caldero, la alcaldesa habló más de las estadísticas de criminalidad en su municipio que de los atributos y necesidades de la Policía Municipal.
Esas conversaciones y negociaciones entre la alcaldesa y Caldero deben haber sido bien interesantes.
Caldero de por sí es un hábil y experimentado negociador y la alcaldesa es de por sí mandona y exhibe quién manda.
Cómo esos dos jueyes machos se van a llevar está por verse. Lo que sí es CLARO para mí es que la alcaldesa necesita urgentemente de Caldero y no él de ella. Por ende, estoy seguro que Caldero le debe haber establecido los límites de su entrometimiento y hasta dónde no será aceptable el maltrato verbal a sus subordinados.
La alcaldesa va a tener que tragar hondo, suprimir sus impulsos de rabia y malacrianzas para que esto funcione, pues si funciona políticamente ella luciría espectacular.
Si ambos logran lo que Caldero anunció ayer en cuanto a "traer paz y seguridad a los residentes y visitantes de San Juan", esto la pondría a ella en una posición muy ventajosa para lo que decida hacer políticamente de camino al 2020.
Ayer en la conferencia de prensa la alcaldesa llevó varios mensajes, mensajes subliminales, pero directos.
El primero fue que ella no es "anti yankee" y que puede y está trabajando a "full swing" con las autoridades federales.
Esto quedó demostrado con la presencia del "special agent in charge" del FBI para Puerto Rico e Islas Vírgenes, Douglas Leff. También envió un mensaje de compromiso con la reforma de la Policía estatal al invitar y estar allí presente el monitor (para mí es el oficial de probatoria de la Policía de Puerto Rico), Arnaldo Claudio.
La presencia del máximo líder en Puerto Rico del FBI es significativa, pues según se ha publicado en este periódico por Melissa Correa, el FBI está investigando malos manejos en la división de compras del municipio de San Juan, lo cual me llama la atención que la jefa de Fiscalía federal, Rosa Emilia (qué se harían si no nos tuvieran) Rodríguez no estuviese allí.
Mis fuentes me indican que durante el almuerzo en la mesa donde estaban los federales y Caldero se acordó compartir información (sobre la criminalidad) entre los federales y Caldero, algo nunca antes visto. Eso además de las motoras que Caldero pidió y que ya se las aprobó la alcaldesa.
El efecto Caldero ya comenzó a rendir frutos; ahora hay que ver qué va a hacer el gobernador Ricardo Rosselló con la Policía estatal, la cual está en TOTAL y COMPLETO ABANDONO, muy similar a la de la alcaldesa.
Algo bueno va a salir de esta competencia, al menos por ahora para los residentes y visitantes de San Juan; el resto de Puerto Rico tendrá que esperar.
Carmen Yulín 2020 y el efecto Caldero

"Para nosotros una sola vida que se ha perdido es suficiente". Así comenzó la alcaldesa de San Juan, Carmen Yulín Cruz Soto, la conferencia de prensa que se llevó a cabo ayer en el Coliseo Roberto Clemente para anunciar la…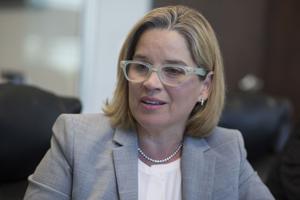 "Insostenible" para Pesquera el recorte presupuestario

 El secretario del Departamento de Seguridad Pública, Héctor Pesquera, advirtió que la reducción de $37 millones al presupuesto de la agencia afectará los servicios que ofrece el componente de seguridad del País.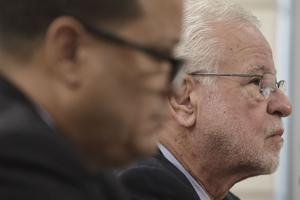 Nombran a José Caldero como comisionado de la Policía Municipal de SJ

En sustitución del comandante Guillermo Calixto Rodríguez, quien abandonó el cargo hace poco más de una semana.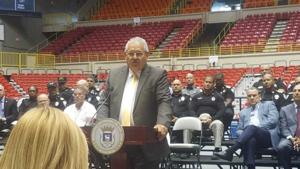 Se accidenta camión de Cobra Energy

Un accidente de auto se reportó en la Cuesta de los Mejías, en Jayuya, y fue protagonizado por un camión de la empresa Cobra Energy, que realiza labores de reparación de las líneas eléctricas de la Isla tras el huracán…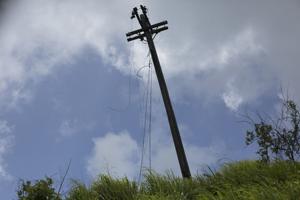 Vuelve al ruedo Caldero López

Con un contrato de $120,000 anuales y el uso de un automóvil, el exsuperintendente de la Policía estatal, José Luis Caldero López, asumió ayer la dirección de la diezmada Policía Municipal de San Juan, integrada por 792 efectivos, de los…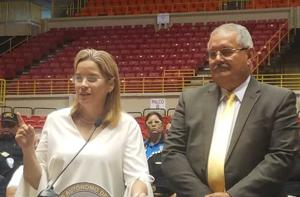 FBI Director Defends Bureau Against Criticism – Voice of America
Two FBI agents sought to 'stop' Trump – Fox News

Fox News

Two FBI agents sought to 'stop' Trump

Fox News

KURTZ: About his angry rhetoric towards the president and his 

criticism

 of the press especially Fox News. I'm Howard Kurtz and this is "Media Buzz." The Justice Department's inspector general ripped James Comey in that report, finding that the former 

…
Trump says IG report shows bias at FBI top. IG says bias didn't taint probe (Corrects Trump quote, adds context) – WTOP
Trump: IG report 'destroys' ex-FBI Director Comey – CNN
Giuliani: FBI, prosecutors investigating Trump belong in the psych ward – The Hill
Giuliani: FBI And Prosecutors Investigating Trump Are 'Wackadoodles' Who Belong In Psych Ward – Newsweek
WaPo: Former Trump operative Roger Stone met with Russian who wanted $2M for Clinton dirt – CNN
Conway: Has the FBI Agent Who Called Trump Supporters 'Retarded' Been Fired Yet? – Townhall
Peter Strzok, FBI agent pulled from Mueller probe over anti-Trump texts, open to testify to Congress – Fox News
FBI agent in texting scandal says he'll voluntarily testify to Congress – Politico
FBI's Strzok Says He'll Testify to Congress on Anti-Trump Texts – Bloomberg
Byron York: What do Republicans suspect really happened in the FBI Trump-Russia investigation? – Washington Examiner
Michael Goodwin: FBI chief proves Washington has a vendetta against Trump – Fox News
Commentary: Trump wins because nobody trusts anything – CBS News

CBS News

Commentary: Trump wins because nobody trusts anything

CBS News

But fading trust in the 

FBI

 didn't start with the hubris-fueled ineptitude of James Comey or the politically motivated PR pounding the bureau is getting from President 

Trump

. The 

FBI's

 own record, from the fiasco at Ruby Ridge in 1992 to the failure to 

…
Why Trump is Lying About the IG's Report on the FBI – Patheos (blog)

Patheos (blog)

Why Trump is Lying About the IG's Report on the FBI

Patheos (blog)

Anyone who has been paying attention could easily predict what happened late last week when the DOJ's Inspector General issued his report about the 

FBI

 and the Clinton email investigation: 

Trump

 was going to claim it proved him innocent no matter what 

…
Russian Who Offered Clinton Dirt to Trump Campaign Outed Himself as Former FBI Informant – The Epoch Times
Horowitz, Wray pressed on political bias at FBI, next steps after IG report – CBS News
–
The News and Times of Puerto Rico – Recent Posts
The News and Times of Puerto Rico
5:48 PM 6/18/2018 – Mexico arrests ex-prosecutor in disappearance cases
6:01 AM 6/18/2018 – "The wound will not heal if the whole truth does not come out. The archives and the formerly secret files and pages have to be opened."
11:09 AM 6/17/2018 – News Update: Francisco Reyes Caparrós – Google Search
5:56 AM 6/17/2018 – The Crisis OF Credibility In The Office Of Federal Prosecutor
4:50 AM 6/17/2018 – Como hacer Cabrito, A Mi Manera Boricua – YouTube
12:55 PM 6/15/2018 – Puerto Rico ya se ve alumbrado desde el espacio
3:10 PM 6/14/2018 – A Review of Various Actions by the Federal Bureau of Investigation and Department of Justice in Advance of the 2016 Election
2:25 PM 6/14/2018 – Mayor Carmen Yulín Cruz and her administration are under FBI investigation after reports that corruption – Google Search | Jefe del FBI en Puerto Rico prepara arrestos de políticos
10:33 AM 6/13/2018 – Leff's Interview: Bajo la mira del FBI la corrupción en Puerto Rico
11:47 PM 6/12/2018 – Proyecto para privatizar la AEE espera por firma de Rosselló
10:51 AM 6/12/2018 – Update: Crime In Puerto Rico: "So far this year, there have been 296 murders, this is three less than the previous year." | Meet Inspector Drone: A Single Drone Helped Mexican Police Drop Crime 10 Percent (!)
10:08 AM 6/11/2018 – FBI apuesta a la experiencia: Leff indicó que el FBI tiene abiertas más de cinco pesquisas por el mal uso de fondos asignados por FEMA tras el azote de María. | M.N.: I think that this is very good initiative, and hopefully it will work: "Given the high incidence of violent crimes on the island, the deputy director of the Federal Bureau of Investigation (FBI) of the United States, David Bowdich, undertook to assign new agents to Puerto Rico and veterans from other districts of that dependency with experience in gang cases, revealed the director of the FBI on the island, Douglas Leff."
8:58 AM 6/11/2018 – John Kelly Says The White House Is A 'Miserable' Place To Work: Report – HuffPost
4:51 AM 6/11/2018 – "This transatlantic rift is a gift to Russia that amply repays Vladimir Putin's investment in helping the Trump campaign," wrote the conservative foreign policy expert Max Boot.
4:00 AM 6/11/2018 – National Puerto Rican Day Parade… | 'What does Putin have on you?' Verhofstadt MOCKS Donald Trump on Twitter – Express.co.uk
3:25 AM 6/11/2018 – M.N.: Merkel gets so much mileage out of Trump-Russia affair, that it becomes increasingly hard to believe that it was not a German design…
1:03 PM 6/10/2018 – Merkel: "What does Putin have on you?" Trump: "None of your bidniz. You worry about your own problems. See you later, Alligator!" Merkel: "In a while, Krokodile!"
8:08 AM 6/10/2018 – Learning English: Give them the boot! Carlos Cases FBI | Rosa Emilia Rodriguez-Velez DOJ 
7:26 AM 6/10/2018 – ¡Puerto Rico no es la República Banana! – Puerto Rico is not the Banana Republic!
5:34 AM 6/10/2018 – Photo of Angela Merkel Staring Down Donald Trump at G-7 Summit – Shared Newslinks
4:09 PM 6/8/2018 – The Countless Israeli Connections: Mueller's Investigation into Trump, Russia Turns Focus on Israel
"There are some clear reasons why Trump would want Putin back in the G7 – Business Insider", And with all this, it still is not very clear. – M.N.
8:34 AM 6/8/2018 – G8>G7>G6: Putin's strategy: to split Trump's America from Europe | Putin Sees an Opening in Europe's Fury With Trump – NYT
8:11 AM 6/8/2018 – ¿Zona libre de derechos civiles? – El director ejecutivo de la American Civil Liberties Union en Puerto Rico, William Ramírez
1:04 PM 6/7/2018 – Puerto Rico estaba en la Road To Banana Republic, liderado por Carlos Cases del FBI. – M.N. | 5:57 AM 6/5/2018 – Francisco Reyes Caparrós: ​​"Es posible" que los casos hayan sido manipulados … – Mike Nova's Shared NewsLinks Review
–
___________________________________