COURTS
Plaintiff wins case against federal prosecutor for labor harassment
It could be compensated for $ 300,000
Thursday, May 31, 2018 – 4:20 PM
Updated on: Thursday, May 31, 2018 – 4:38 PM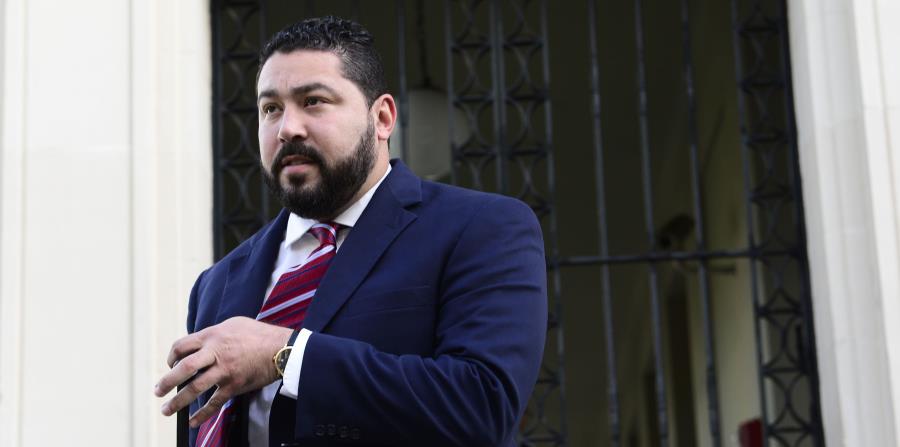 Former intelligence specialist Francisco Reyes Caparrós won the lawsuit against the local 
federal prosecutor's office
 this afternoon for labor harassment and acts of reprisal.
In just one and a half hours of deliberation, the jury of eight men and eight women unanimously determined that the top leadership of the federal prosecutor's office – led by the chief prosecutor Rosa Emilia Rodríguez – subjected Reyes Caparrós to a pattern of reprisals and a hostile work environment, and that, for the emotional damages caused to him, the plaintiff must be compensated with a sum of $ 300,000.
Reyes Caparrós worked for the Federal Prosecutor's Office from May 2009 to February 2015. According to his lawsuit, his work life changed when, in February 2012, he was questioned by his supervisors after requesting a bulletproof vest for the now ex-federal prosecutor Idalia Mestey, who , at that time, he had filed a complaint with the Equal Employment Opportunity Commission (EEOC, in English).
By then, Mestey was in charge of a criminal case, whose main witness – a police officer – and the sister of the state prosecutor who was working on the case simultaneously, had been murdered. Fearing for his life, after an incident in which he had heard shots or "firecrackers" explode near him, Mestey requested protection.Reyes Caparrós, who was in charge of the security of the personnel and the structure of the Office, proceeded to request a bulletproof vest.
The jury decided that the perception of the high office of the federal prosecutor was that Reyes Caparrós was seconding the complaint before the EEOC of Mestey, and that the two complaints that the plaintiff himself submitted in 2013 and 2014 before the EEOC, fell within of the category of "protected activity" by the Law on Equal Employment Opportunities.
Then, they determined that each one of the problematized facts in the trial – disciplinary measures, transfers of offices, jokes in front of the employees, increase in the supervision, reallocation of tasks and until a federal investigation of course Russian espionage-, constituted acts of retaliation .
In its final argument, the defense of Reyes Caparrós insisted that each act in dispute paid the hostile work environment and the pattern of reprisals that, eventually, did not leave the plaintiff any alternative to resigning his position.
"If they see the chronology of events, they will realize that the sanctions were successive, systematic and growing in intensity … Francisco was systematically isolated … There was no alternative but to resign, or stay in the office and get sick and go crazy ", Pronounced the lawyer Bamily Lopez, lawyer of Reyes Caparrós, in his final argument before the jury.
For the defense of the Federal Prosecutor's Office, who appears in court is a former employee who showed bad judgment, did not take responsibility for their actions and incriminated other co-workers.
Mike Nova's Shared NewsLinks
Demandante gana caso contra Fiscalía federal por hostigamiento laboral
---
El exespecialista de inteligencia Francisco Reyes Caparrós ganó esta tarde la demanda contra la Fiscalía federal local por hostigamiento laboral y actos de represalia.
En solo una hora y media de deliberación, el jurado compuesto por ocho hombres y ocho mujeres determinó unánimemente que la alta jefatura de la Fiscalía federal -liderada por la jefa de fiscales Rosa Emilia Rodríguez-, sometió a Reyes Caparrós a un patrón de represalias y un ambiente laboral hostil, y que, por los daños emocionales que le causaron, el demandante debe ser compensado con una suma de $300,000.
Reyes Caparrós trabajó para la Fiscalía Federal desde mayo de 2009 hasta febrero del 2015. Según su demanda, su vida laboral cambió cuando, en febrero de 2012, fue cuestionado por sus supervisores tras solicitar un chaleco antibalas para la ahora exfiscal federal Idalia Mestey, quien, para ese entonces, había sometido una querella ante la Comisión de Igualdad de Oportunidades en el Empleo (EEOC, en inglés).
Para ese entonces, Mestey estaba a cargo de un caso criminal, cuyo testigo principal -un agente de la policía- y la hermana de la fiscal estatal que estaba trabajando con el caso simultáneamente, habían sido asesinados. Temiendo por su vida, tras un incidente en que había escuchado disparos o "firecrackers" explotar cerca suyo, Mestey solicitó protección. Reyes Caparrós, quien estaba a cargo de la seguridad del personal y la estructura de la Oficina, procedió a pedir un chaleco antibalas.
El jurado decidió que la percepción de la alta jefatura de la Fiscalía federal fue que Reyes Caparrós estaba secundando la querella ante la EEOC de Mestey, y que las dos querellas que el propio demandante sometió en el 2013 y el 2014 ante la EEOC, cayeron dentro de la categoría de "actividad protegida" por la Ley de Igualdad de Oportunidades en el Empleo.
Entonces, determinaron que cada uno de los hechos problematizados en el juicio – medidas disciplinarias, traslados de oficinas, bromas frente a los empleados, aumento en la supervisión, reasignación de tareas y hasta una investigación federal por supuesto espionaje ruso-, constituyeron actos de represalia.
En su argumento final, la defensa de Reyes Caparrós insistió en que cada acto en controversia abonó al ambiente laboral hostil y al patrón de represalias que, eventualmente, no dejaron otra alternativa al demandante que renunciar a su puesto.
"Si ven la cronología de hechos, se van a dar cuenta que las sanciones fueron sucesivas, sistemáticas y creciendo en intensidad… Francisco fue aislado sistemáticamente… No había otra alternativa que renunciar, o se quedaba en la oficina y se enfermaba y se volvía loco", pronunció la licenciada Bamily López, abogada de Reyes Caparrós, en su argumento final frente al jurado.
Para la defensa de la Fiscalía federal, quien se presenta en corte es un exempleado que mostró mal juicio, no tomó responsabilidad por sus acciones e incriminó a otros compañeros de trabajo.
Rosa Emilia Rodríguez
---
Rosa Emilia Rodríguez
El abogado de la fiscalía ya presentó sus argumentos finales.
Mañana los abogados presentarían los argumentos finales y el jurado se iría a deliberar.
Demandante, que mantiene un pleito contra la oficina de Rosa Emilia, alega que siguió el protocolo, pero lo hicieron lucir como un espía ruso.
Fiscalía intenta minar testimonio del exempleado que los demanda por discrimen.
puerto rico's power grid – Google Search
---