8:55 AM 3/3/2018 – "Anti-crime plan strategies": WHAT ARE THEY?! WHAT WILL THEY DO? WHEN? WHAT ARE THE CRITERIA FOR THE SUCCESS OF THESE STRATEGIES? WHO WILL BE RESPONSIBLE IF THESE STRATEGIES FAIL? WHOSE HEAD WILL ROLL? WHO KNOWS THE ANSWERS? 
One more massacre like Camerio, and there will  be the thundering: "Pesquera, out!"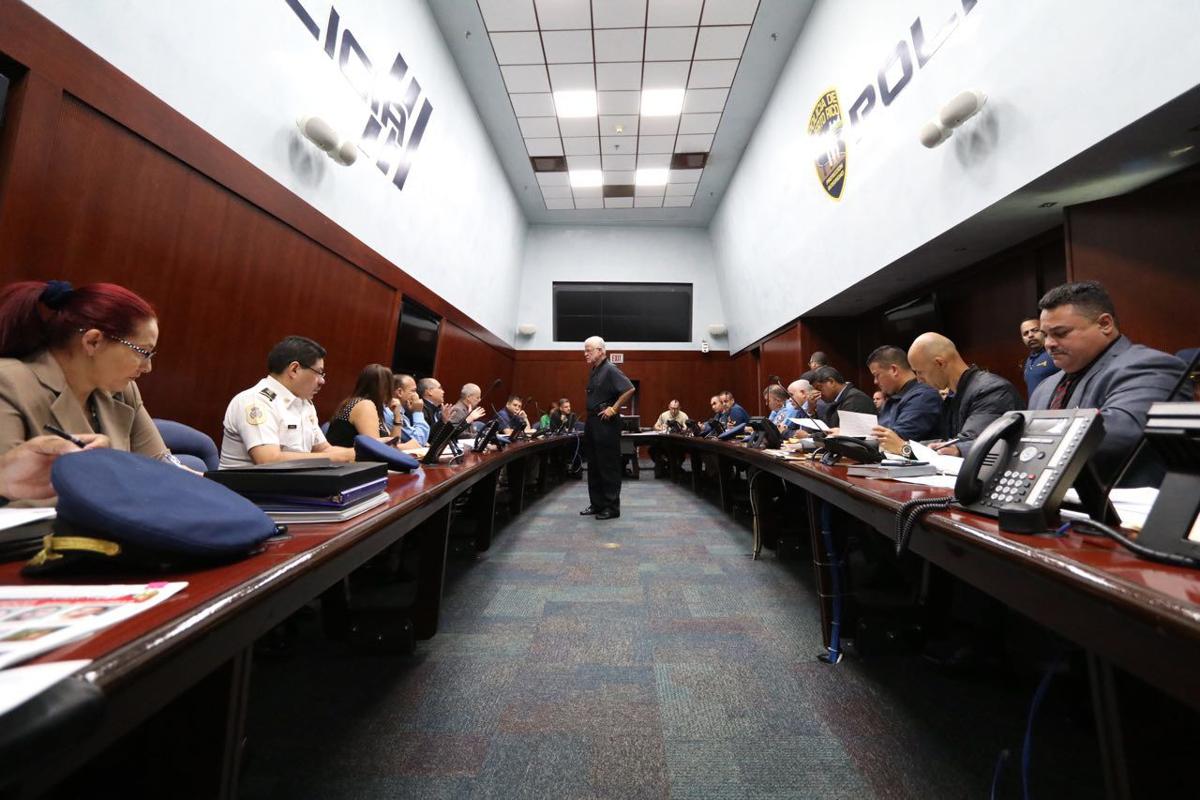 The Secretary of the Department of Public Security (DSP), Héctor Pesquera, today led a meeting with the Acting Commissioner of the Police Bureau, Henry Escalera, at the headquarters in Hato Rey.
At the meeting participated: the head of the Bureau, the 13 commanders of the police areas, the directors of the Criminal Investigation Corps (CIC) and the members of the Division of Arrests and Raids of the Police Bureau.
The meeting, in agreement with the Police, was convened to give continuity to anti-crime plan strategies, share concerns, exchange ideas and determine future actions of work to combat crime in Puerto Rico.
Saved Stories – None
Despite the constant blackouts. http://ow.ly/h3C830iJj30
He insists that he promised to restore the electric system in 45 days http://bit.ly/2FQnP88 pic.twitter.com/ulNCbyT0Qe
Puerto Rico Rebuilding of Services and Infrastructure after Maria – Google News: Caribbean Briefs – The Philadelphia Tribune
PREPA warns that there could be more blackouts http://bit.ly/2FRbTDb pic.twitter.com/rdclI40Okw
Mueller considers charges against Russians who leaked emails during the 2016 election – CNBC
Multiple bodies, including children, found in W. Brookfield home – Boston Herald
Joshua Tree couple arrested after three kids found living in box for four years, authorities say – Los Angeles Times
Justice Dept. Report Is Expected to Criticize Andrew McCabe Over Media Disclosures – New York Times
Justice Department reviewing Oakland mayor's tipoff of immigration raids, which led to 232 arrests – Los Angeles Times
Melania Trump got green card through program for people with 'extraordinary ability': report – The Hill
Former FBI Director Addresses Spying on Black Activists – L.A. Watts Times
Rep. Don Young: 'How many Jews were put in ovens because they were unarmed?' – USA TODAY
Russian temptress accused of poisoning pal with piece of cheesecake – New York Post
Multiple bodies found within minutes in Port St. Lucie, Florida; cops say deaths connected – Fox News
Woman Accused of Poisoning Her Lookalike with a Cheesecake and Stealing Her Passport – TIME
Trump at odds with Republican lawmakers over gun reforms – BBC News
Watch live: Russia's Vladimir Putin gives state of the nation address – euronews
Duke Energy crews head home after 45 days restoring power in Puerto Rico – WFTV Orlando
Hope Hicks, Gun Control, Spotify: Your Thursday Briefing – New York Times
Man Arrested in White Powder Mailings to Donald Trump Jr., Antonio Sabato Jr., Other Public Figures: Feds – NBC New York
Resolution filed to investigate number of pharmacy closures after Hurricane Maria
The body of Sean Collins, 29, was found in a state of decomposition in Río Piedras http://ow.ly/RbO130iHdde
Commercial Anti-Discrimination Bill resurfaces in Puerto Rico Legislature
A new blackout is reported in parts of Puerto Rico – Primera Hora
Forum begins in Washington DC on the reconstruction of Puerto Rico. #rebuildPR @ Metro_PRpic.twitter.com/k1ZJwG1q0n
____________________