AD SPACE AVAILABLE
Links  | globalsecuritynews.org | fbinewsreview.org | trumpinvestigations.org | worldnewsandtimes.org| world-web-news.com | wwtimes.com | russia-news.org | Posts on G+ | News in Photos | VIDEO NEWS | Audio and Video Mix | The Brooklyn News | The Brooklyn Bridge | Puerto Rico News | News and Times 
____________________________________
Mike Nova's Shared NewsLinks
Evasión revela tensa relación entre el FBI y la Fiscalía federal en PR
---
Tras una demanda a la Fiscalía Federal en Puerto Rico y alegaciones que indicaban un escenario de "terror" en el lugar, el jefe del Buro Federal de Investigaciones Criminales (FBI, por sus siglas en inglés), Douglas Leff, evadió ofrecer detalles sobre la relación laboral que entabla con Rosa Emilia Rodríguez, pero argumentó que el trabajo de investigación no se ha detenido en las calles de Puerto Rico.
Entrevistado por una emisora radial (Radio Isla 1320), este explicó que no ofrecerá detalles luego de que el exempleado Francisco Reyes Caparrós argumentara también sobre problemas para trabajar los casos sometidos por el FBI ante la Fiscalía.
Lee también: Fiscalía federal pierde caso de hostigamiento laboral
"Realmente la relación más importante es entre nuestros agentes y los fiscales asistentes… Con frecuencia yo personalmente veo juicios en la fiscalía y las habilidades de los fiscales en esa oficina son magníficas. Mi opinión personalmente no se reporta", expuso Leff ante el medio radial.
Consecuentemente, pese a no hacer mención sobre Rodríguez, Leff reconoció el trabajo de los demás empleados de la fiscalía en Puerto Rico. No obstante, los comentarios de Leff pueden interpretarse como producto de la tensa relación que vive el FBI y Rodríguez en momentos en que se evalúa un cambio de mando en la Fiscalía.
"Lo más importante son los empleados que funcionan en las calles, que son los trabajadores que no vemos en la televisión, son los trabajadores que hacen el trabajo", mencionó también.
Te puede interesar: Exempleado narra el "terror" que imparte Rosa Emilia Rodríguez
El pasado mes de mayo, un tribunal sugirió una indemnización de $300,000 para Reyes Caparrós por entre otras cosas, ser objeto de hostigamiento laboral en la oficina que preside Rodríguez.
Tras la decisión, el caballero argumentó que "[c]omo se bate el cobre entre los empleados eso es otro cantar. Porque allí es el reino del terror. O haces lo que yo digo, o haces lo que yo digo…. Allí o te sometes o te sometes", mencionó mientras a preguntas del mismo medio radial a la vez que denunciaba que es Rosa Emilia quien realiza los mandatos.
El director del FBI dijo que pronto habrá arrestos por fraude tras María
---
El director del Negociado Federal de Investigaciones (FBI, en inglés), Douglas Leff, reveló hoy quepróximamente realizarán un operativo para arrestar a varios contratistas que supuestamente hicieron un mal uso de fondos federales asignados tras el devastador paso del huracán María por la isla.
"Creemos que ocurrirán arrestos en el futuro no muy lejano", afirmó el funcionario en una entrevista radial (Radio Isla).
"Tenemos contratistas que entran en contratos con el gobierno para servirse y no para servir al gobierno, pero este no es un asunto único de Puerto Rico, en cada parte de Estados Unidos cuando un estado recibe fondos federales hay estos asuntos", agregó.
Leff adelantó que algunas de las pesquisas incluyen fraudes "bastante grandes", que le cuestan millones al gobierno de los Estados Unidos. Pero, no confirmó si una de las investigaciones está relacionada al programa Tu Hogar Renace, el cual se realiza con fondos de la Agencia federal para el Manejo de Emergencia (FEMA, en inglés) y es coordinado por el Departamento de la Vivienda.
Además de este programa, FEMA ha repartido en la isla sobre sobre $1,000 millones a damnificados y el gobierno ha recibido otros miles de millones en fondos federales para lograr la restauración de la isla tras la devastación causada, principalmente, por el huracán María. Mucho del dinero ha sido dirigido para restablecer el servicio de energía eléctrica.
Por otro lado, el director del FBI informó que entre 60 a 90 días llegarán nuevos agentes y fiscales para trabajar casos criminales y de corrupción que están pendientes de investigación.
"Existe una preocupación por la violencia en la isla", aceptó, al revelar la asignación de más personal.
Leff, asimismo, dijo que tiene una buena relación laboral con la jefa de la Fiscalía federal, Rosa Emilia Rodríguez, y su personal.
"Las habilidades de los fiscales en esa oficina es magnífica. He visto los mejores de todos los Estados Unidos", sostuvo.
Sin embargo, el funcionario no quiso comentar sobre las denuncias hechas por Francisco Reyes Caparrós contra este grupo. Es que el exespecialista de inteligencia, que ganó una demanda por represalia y hostigamiento laboral, alegó que allí se vive un ambiente similar a un "reino del terror".
Puerto Rico: Jewel of the Caribbean – Destinations
---
"We are the best island in the Caribbean," boasts a Puerto Rican to tourists.
Puerto Rico is an important island for Americans because of its convenient location as a bridge between Europe and America.
It was also through the island that Christopher Columbus discovered Florida.
Despite being a US territory, the island has its own culture. The Tainos who hail from South America were the first inhabitants of the island. By 1493, they amounted to 50,000 people.
Puerto Rico is a popular stopover for tourists taking Caribbean cruises. Many guides offer tours in and around the island with a running time of two hours for a price of US$25.
San Juan is divided into two sectors, the old and new towns. They are not far from each other and are reachable within minutes.
The tours usually start with a visit to the Capitol building, which was built in 1929. It is designed in a neoclassical style with intricate carvings on its pillars. Inside the Capitol building are beautiful architectural designs on ceilings and floors.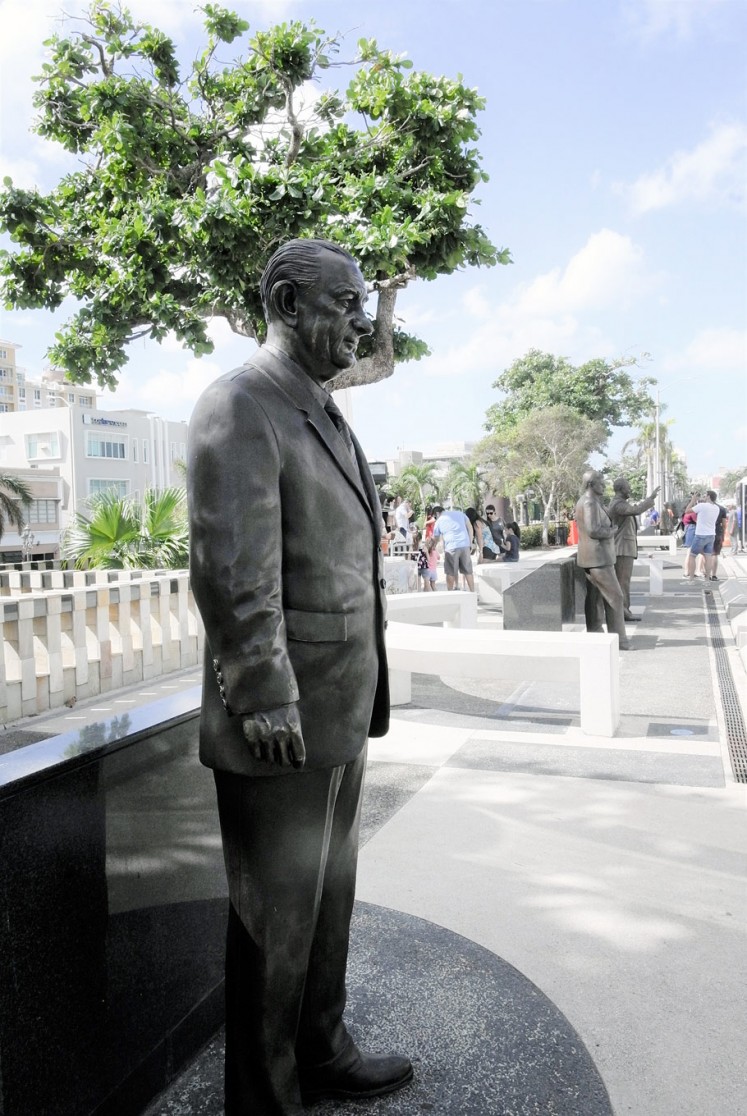 The Walkaway of the Presidents (JP/Aruna Harjani)
Opposite the Capitol is the Walkaway of The Presidents, which consists of statues of the nine US presidents who have visited Puerto Rico. What is more interesting is that the statues are life size.
The nine presidential statues are of Theodore Roosevelt, Herbert Hoover, Franklin Roosevelt, Harry Truman, Dwight Eisenhower, John F. Kennedy, Lyndon Johnson, Gerald Ford and Barack Obama.
The tour then heads to Ashford Avenue in Condado. Here, an array of shops and restaurants is located.
One of the highlights of the area is the Mother and Child statue created by Fernando Botero, which was reportedly purchased for $1.8 million.
The statue is situated at the Plaza del Ancla square in Condado. Opposite the statue is Condado Beach.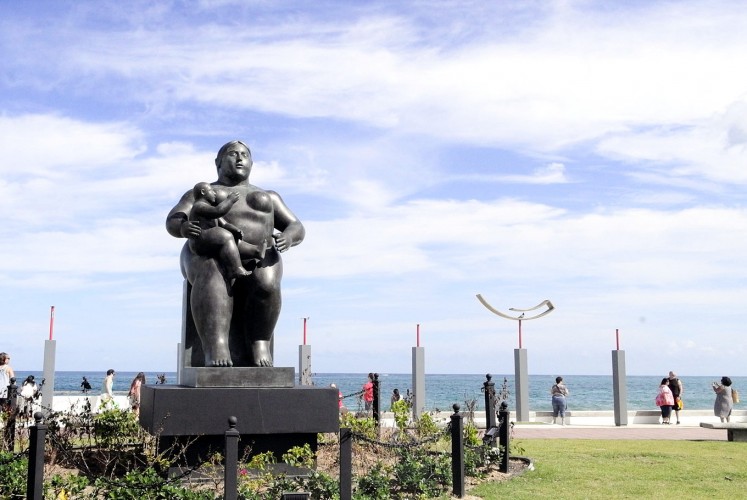 Artwork: Fernando Botero's Mother and Child statue is located close to Condado Beach. (Aruna Harjani) (JP/Aruna Harjani)
With most tours the last stop is the Plaza Colon, where the exquisite San Cristobal Fort — one of the first and biggest forts in America – is situated.
A part of the San Juan National Historic site, the fort was built by the Spaniards to protect the island from attack. The fort has cisterns that were used to store water during the Spanish colonial era but later were used as bomb shelters during World War II.
The Plaza Colon also has a 40-foot pillar with a statue of Columbus on top.
In the city of Arecibo there is another monument created in honor of Columbus, which at 350 feet is taller than the Statue of Liberty. The monument miraculously survived the recent heavy storms.
It is said it took 110,000 hours to make the statue, which weighs 6,500 tons using 2,500 pieces of bronze, steel and copper. A Georgian-Russian painter, named Zurab Tsereteli, designed the statue.
The symbolism of the statue causes mixed reactions, some see it as a remembrance of Columbus' discovery of Puerto Rico but some see it as a reminder of the notorious treatment of the Tainos by him.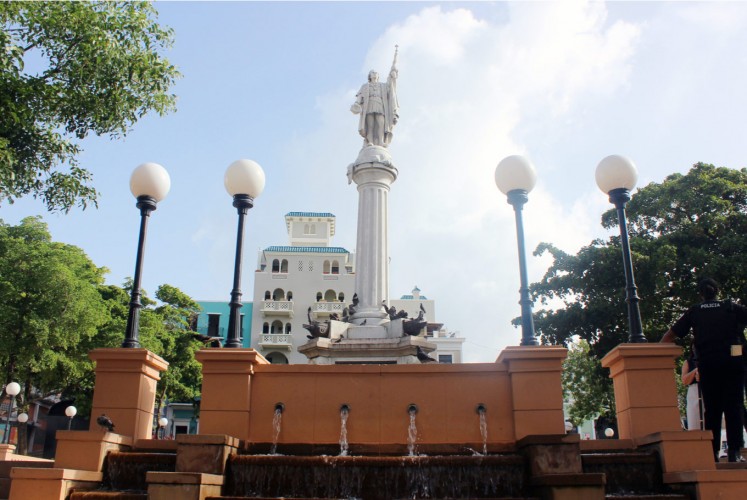 The Plaza Colon has a 40-foot pillar with a statue of Columbus on top. (Shutterstock/File)
Puerto Ricans, being Spanish-oriented, celebrate Christmas and after New Year, the Epiphany.
Twelve days after Christmas Puerto Ricans celebrate El Dia De Los Reyes or Three Kings Day. In fact, this is the time Puerto Ricans exchange their gifts. For them the three kings represent a more spiritual and faithful representation of the story of the birth of Christ.
The three kings – Melchior represents Europe, Gaspar represents Arabia and Balthazar represents Africa. In celebration the Plaza Colon also has statues of the three kings.
Another place worth a visit is the Castilo San Felipe del Morro, named in honor of King Philip II of Spain. The castle was built for the purpose of guarding San Juan Bay. UNESCO has declared this fortification a World Heritage Site.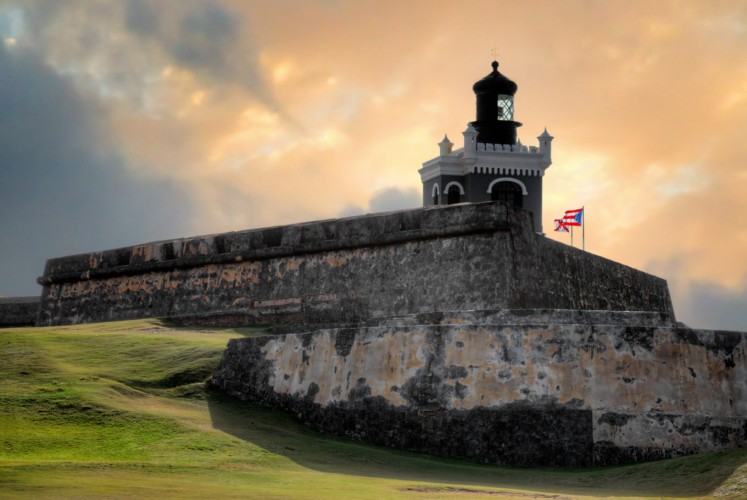 Fortification: The San Felipe del Morro castle, a UN World Heritage site since 1983, is seen in San Juan, Puerto Rico. (Shutterstock/File)
Museo De Las Americas, a museum featuring pre-Columbian and modern art hosts different exhibitions but also has permanent exhibits by Puerto Rican artists.
The Cathedral of San Juan Baustista is one of the oldest buildings in San Juan. The church was first built in 1521 but later destroyed by a hurricane and was restructured in 1540. The church has old relics displayed inside the building.
Teatro Tapia, is the oldest theater in Puerto Rico built in the 18th century. The interior of the theater is in a neoclassical style and is still used to stage shows.
When it was time to leave the island, looking back, I realized how Puerto Rico had stolen my heart in just a matter of hours. It is Western in so many ways but its rich culture and traditions will always engulf modernity.
From here the lines of a song from West Side Story played in my mind and it goes: "Puerto Rico, my heart's devotion, let it sink back in the ocean, always the hurricanes blowing, always the population growing, and the money owning and the natives steaming."
Puerto Rico: Jewel of the Caribbean – Google Search
---
A Single Drone Helped Mexican Police Drop Crime 10 Percent
---
In Ensenada, a Mexican city about two hours south of Tijuana, a new crime fighter has taken to the skies. It's not a bird, or a plane, or Superman. It's a drone. And over a few months on patrol, it's had quite the impact. The city's police department claims the solitary DJI Inspire 1 Quadcopter led to more than 500 arrests and a 10 percent drop in overall crime rates, with a 30 percent drop in home robberies.
It's the latest example of drones slowly finding their place in civilian life, like soldiers returning from war, seeking to apply their skills to life in a country not entirely comfortable with what they were up to overseas. Unmanned aerial vehicles may have gotten their start with the military, flying recon missions in Vietnam and dropping bombs over Afghanistan. Their use is still causing concern and debate: Earlier this month, Google pledged not to renew a Department of Defense contract for Project Maven, where it was developing AI to interpret drone surveillance video, when 4,500 employees signed a petition against it.
But in Ensenada, the police present their use of the drone as an unmitigated success. "It's helped with reducing response times and also catching people when they do something illegal," says Jesus Ramos Avendaño, CTO of the Ensenada police force.
LEARN MORE
The WIRED Guide to Drones
Over four months, Avendaño's department flew an average of 25 missions a day (more than 1,600 total), deciding where to fly based on 911 call volumes. Operating from a local control room, the police used software developed by California-based Cape, which automates much of the flying process, including takeoffs and landings. Any authorized officer can grab a feed of the video streaming off the drone, from their desk or while out in the field.
Cape CEO Chris Rittler says fewer than a dozen quadcopter-style drones could give a city like Ensenada, population 522,000, complete coverage. "The most common use case is in response to an emergency call, when the drone can be redirected from a flight it's already on," he says. The aircraft can reach a location before officers get there by road and give them eyes on what's going on.
That sort of rapid response is a big deal in police work. "Thieves have a clock in their head, from when they break a window to when the police arrive," Rittler says. "What the drone has done is dramatically decrease that time window."
"Thieves have a clock in their head, from when they break a window, to when the police arrive. What the drone has done is dramatically decrease that time window."
Cape
Although drones aren't regularly used for police surveillance in the US on the scale of Ensenada yet, over the past few years, they have proven their usefulness in plenty of ways. Drone builder DJI says that on one day in May, public safety drones saved four lives: UK police found a missing person, semiconscious and just a few feet from a steep cliff, using a drone with a thermal imaging camera. A fire department in Indiana dropped a life vest to a drowning criminal suspect, who had fled into a pond. And public safety officials in Central Texas dropped life vests to a mother and her 15-year-old daughter, who got caught in a rising river. In the past year, drones have helped scout areas of Houston flooded by Hurricane Harvey and restrung electrical cables in Puerto Rico downed by Hurricane Maria.
To ease drones into America's tightly controlled, crowded airspace, the FAA has greenlit 10 pilot projects around the country, all with an emphasis on do-goodery and cooperation between the public and private sectors. Cape is among those taking part, working with the city of San Diego and a local police department on an emergency response project. The details are still in flux, but police say they plan to use drones to do things like assess the extent of a freeway pileup, not surveil suspected criminals.
That hesitation to set drones after bad guys will be typical of new projects in America. "What you see is most government offices in the US taking a crawl, walk, run, approach," says Gregory McNeal, who teaches law and public policy at Pepperdine University in California. He also cofounded drone software company AirMap, which is participating in the San Diego trial. Bringing drones to the domestic theater means proving their usefulness step by step. "I personally believe drones are going to provide enormous value," he says. "But the only way we'll realize that is putting in regulatory structure that doesn't ignore people's concerns."
Along with public safety and being a nuisance, those concerns include protecting privacy. Compared to obvious helicopters and fixed-in-place CCTV cameras, drones are a potent tool for surveillance. They can go almost anywhere—up to windows, over fences, under tree canopies. Drone operators have a potential model in body cameras worn by cops who enter private property and work in sensitive situations. Police forces using the tech have created policies that attempt to balance privacy and public accountability.
Failing to make the people using these little aircraft accountable could spoil the potential to do a lot of good, like the work claimed by the Ensenada police. But if a single quadcopter can really lower crime rates by 10 percent, it's worth making sure everyone's happy to see one appear minutes after they dial 911. Except, of course, the crooks.
---
More Great WIRED Stories
A Single Drone Helped Mexican Police Drop Crime 10 Percent – – Google Search
| | |
| --- | --- |
| | mikenova shared this story from A Single Drone Helped Mexican Police Drop Crime 10 Percent – – Google News. |
---
The world order and the balance of power
---
Signed in as mikenova
Share this story on NewsBlur
Shared stories are on their way…
russian jewish mafia and new world order – Google Search
| | |
| --- | --- |
| | mikenova shared this story from russian jewish mafia and new world order – Google News. |
---
homicide rate puerto rico – Google Search
---
homicide rate puerto rico – Google Search
---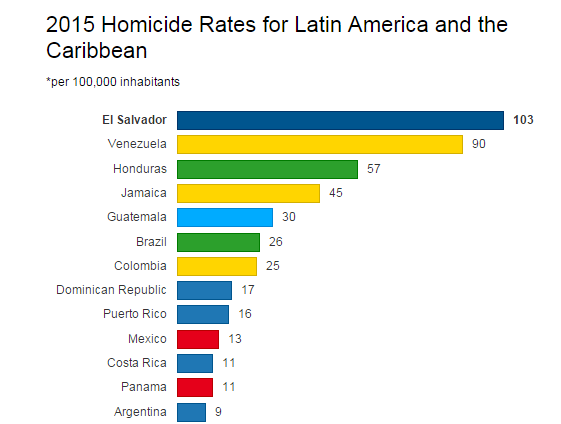 homicide rate puerto rico – Google Search
---
homicide rate puerto rico – Google Search
---
homicide rate puerto rico – Google Search
---
homicide rate puerto rico – Google Search
---
homicide rate puerto rico – Google Search
---
Puerto Rico reports 78 killings in one of deadliest months
---
One of Puerto Rico's deadliest months in recent years has closed, with 78 killings reported in January as the U.S. territory struggles with a surge in violent crime and growing discontent among thousands of police officers.
The killings included a 20-year-old woman found kneeling and burned to death inside a car in the upscale city of Guaynabo and a triple homicide reported in the eastern mountain town of San Lorenzo.
Puerto Rico's homicide rate is roughly 20 killings per 100,000 residents, compared with 3.7 per 100,000 residents on the U.S. mainland.
"I'm gravely concerned about these violent incidents reported in recent days," said Sen. Miguel Laureano. "It's a dramatic situation that requires immediate attention."
FEMA to stop distributing water, food in Puerto Rico
The majority of people killed last month were young men shot to death. The central mountain town of Caguas reported the highest number of homicides at 18, followed by the capital of San Juan with 14.
Police have issued warrants or arrested suspects in only a handful of the cases. On Thursday, authorities asked the public for help in solving the case of the young woman found burned inside the car. Police said they believe she was on her way to pick up a family member the day she was killed.
Hector Pesquera, head of Puerto Rico's newly created Department of Public Safety, has said most of the killings in January were tied to drugs but added that there was "no rhyme or reason" to explain the surge.
In mid-January, local and federal officials announced they would implement a "broken windows" policing campaign to help reduce the number of killings. The plan is to crack down on all types of violations, including traffic infractions and illegal tints on car windows, to help get criminals off the street and prevent bigger crimes.
The increase in killings came weeks after thousands of police officers began calling in sick daily to protest millions of dollars owed in overtime pay following Hurricanes Irma and Maria. Absences have returned to the normal daily average, Pesquera says, but thousands of police officers are still upset about austerity measures, including a sharp reduction in their monthly pensions and an end to being able to cash in unused sick days.
Puerto Rico Rep. Felix Lassalle, president of the commission of public security, is holding public hearings to address those issues.
"There's a big commitment … to address situations that can affect police officers and find solutions," he said.
Sign up for BREAKING NEWS Emails
Tags:
Justice Department sends 6 new prosecutors to Puerto Rico – Caribbean Business
---
SAN JUAN – U.S. Attorney General Jeff Sessions and U.S. Attorney for the District of Puerto Rico Rosa Emlia Rodríguez Vélez announced that the Justice Department is going to increase resources to combat violent crime, enforce immigration laws and help fight the opioid crisis.
The Justice Department is allocating 311 new assistant U.S. attorneys, broken down as follows: 190 violent-crime prosecutors, 86 civil enforcement prosecutors and 35 immigration prosecutors. Many of the civil enforcement prosecutors will support the newly created Prescription Interdiction & Litigation Task Force, which "targets the opioid crisis at every level of the distribution system," the announcement reads.
"These exceptional and talented prosecutors are key leaders in our crime fighting partnership. This addition of new Assistant U.S. Attorney positions represents the largest increase in decades," Sessions says in the release.
In Puerto Rico, five of these assistant attorneys will focus on violent crime, and one on civil enforcement.
"The Department of Justice has recognized, through the allocation of these positions, the significance of the violent crime problem on our island. They have also shown great confidence in our Office by placing these valuable department resources in a place where they are both desperately needed and greatly appreciated," Rodríguez Vélez added in the joint release.
crime in puerto rico – Google Search
---
Crime in Puerto Rico – Wikipedia
---
Debates and discussions
[
edit
]
Commentators that have questioned the effectiveness of government anti-crime policy altogether include Gary Gutierrez, a criminal justice profressor at the University of Turabo,[17] and Jorge Rodriguez Beruff,[1] an academic and historian associated with the University of Puerto Rico (UPR).
In the aftermath of 2017's Hurricane Maria, Miami Herald journalist David Ovalle wrote,
[T]he future for law enforcement on the island is bleak. The department has lost about 4,000 officers in the past five years and, because of the island's economic crisis, cannot count on fresh recruits anytime soon. Hundreds of U.S. Army soldiers, outside law-enforcement officers and private security guards are helping— temporarily— but robberies, murders and drug dealing have resumed at levels that would seem outrageous in mainland states but are tragically normal here.[18]
In 2018, Puerto Rican social activists began a renewed push for statehood status in the atmosphere of increased post-hurricane media attention.[19] The effects that closer ties and direct governmental integration between the island and the mainland would bring, particularly in terms of crime and social stability in general, are uncertain.
murder statistics puerto rico – Google Search
---
murder statistics puerto rico – Google Search
---
Evening Standard
–
Jan 11, 2018
The number of murders in Puerto Rico have soared after the devastation …. Puerto Rico's homicide rate is roughly 20 killings per 100,000 …
Douglas Leff FBI – Google Search
---
Arrestado por FBI Ramón Orta Mano Derecha David Bernier PPD – YouTube
---
Arrestado por FBI Ramón Orta Mano Derecha David Bernier PPD
Sistema Tv Informa 22 Junio 2017 Douglas Leff Dir FBI en Puerto Rico – YouTube
---
Sistema Tv Informa 22 Junio 2017 Douglas Leff Dir FBI en Puerto Rico
Director del FBI en Puerto Rico Douglas Leff en Análisis 630 – YouTube
---
Director del FBI en Puerto Rico Douglas Leff en Análisis 630