Mike Nova's Shared NewsLinks
Puerto Rico needs bold, visionary effort, especially in energy
---
It has been a long time since I have seen a news story about the situation in Puerto Rico. It was sometime before the Stormy Daniels story broke, and Stormy makes for better headlines apparently than the after effects of Hurricane Maria. And the process Congress set up in 2016 to cope with and resolve the underlying economic crisis in the territory remains unfulfilled.
When you do see a story, such as this one about a revised fiscal plan proposed by Gov. Pedro Rosello, it is hard to know whether or not it merely reflects the concentrated effort to shape the narrative being made by U.S.-based investors. One gets the sense that the political urgency for dealing with the debt crisis has lessened even though the hurricanes worsened the already fragile economy on the island in catastrophic ways. In part, this loss of urgency stems from the uptick in economic activity that is a result of the rebuilding effort, but that uptick will not last and the underlying economic realities remain grim.
A report by the Rhodium Group issued earlier this month stated that the blackout caused by Maria is the largest in U.S. history and the second largest in the history of the world. There are still approximately 100,000 people who lack power six months after the storm swept through. Here in Connecticut, we lost power for 36 hours during a winter storm, and I thought I would climb the walls!
Additionally, people who have had their power restored will still lose it on occasion, even in the San Juan metro area. A friend called just before Holy Week to discuss a story she heard on the radio. "We haven't had cable or internet for a week," she said casually. I sent an email to the Archbishop Roberto Gonzalez of San Juan, whom I wanted to interview for this column, and did not hear back for a few days: He had lost power. These intermittent losses of power or internet service make the conduct of normal business very difficult, to say nothing of how it frays the nerves. This report in The Washington Post captures some of that anxiety.
Beyond the challenges inflicted by the hurricane, the fiscal crisis has only worsened. "Early last year, Puerto Rico's oversight board and governor authorized a fiscal plan with high debt payment cuts and austerity measures," Eric LeCompte, executive director of JubileeUSA told NCR. JubileeUSA has been very active monitoring the debt crisis negotiations. "When the hurricanes hit, the oversight board eliminated the previous plan to make room for a new plan that took into account the storm devastation. As we were working on a new fiscal plan early this year, there were some serious improvements, including a complete stop on debt payments." For a variety of reasons, Puerto Rico's public debt soared in the past 10 years as economic activity on the island never rebounded from the 2008 recession and the phasing out of special tax breaks for manufacturing on the island in 2006.
"Unfortunately, the governor's most recent plan looks largely similar to the plan before the hurricanes and doesn't stop debt payments or take into account the magnitude of hurricane damage," says LeCompte. "In the next few weeks, the oversight board will likely certify a new fiscal plan and we need to be sure that a new plan stops all debt payments for at least five years, supports a high total principle cut of the debt, lessens austerity and has specific measures to only pay debt in the future if we see sustained economic growth and child poverty reduction."
LeCompte is also worried that Congress may not authorize the reconstruction money the island needs. "Puerto Rico can't succeed if Congress does not authorize the remaining recovery funds the island needs," he told me. "We continue to work with congressional leadership to get the remaining installments of relief aid over the coming months." A recent investigation by Politico showed how the Trump administration heavily favored reconstruction efforts in Houston over those in Puerto Rico, even though the devastation caused by Maria was much worse than what Hurricane Harvey brought to Texas.
Most frustratingly, to my mind, is the fact that apart from a few small projects, no one is really linking the recovery effort from the hurricane to a long-term economic development program. There is an obvious place to start: The power grid. Puerto Rico is not the Bahamas. Running east to west down the center of the island is a large mountain chain. The electrical grid brings the electricity generated by diesel in the south across the mountains to the population centers on the north coast. Puerto Ricans pay north of 40 cents per kilowatt hour for their electricity while most people in the States pay between 16 and 21 cents. Puerto Rico gets about 1 percent of its power from sustainable sources, even though there are ample solar and wind resources. If we had an administration in either Washington or San Juan that was on the ball, they would be looking to eliminate the island-wide grid and replace it with local infrastructure based on solar and wind power.
A team of engineers from the Massachusetts Institute of Technology installed a solar-powered water purification system at the Boys and Girls Club in Loíza, a poor town east of San Juan. They are now working with the archbishop to install more such systems in the San Juan area. The Casa Pueblo organization in the mountain town of Adjuntas is working on some sustainable energy projects, among other wonderful work they do. But these are small efforts, and in the wake of the kind of devastation — economic and environmental — that Puerto Rico has sustained, more is needed.
Instead of a bold, visionary effort to make Puerto Rico a model for sustainable energy, the island is now the object of predatory "disaster capitalism" as Naomi Klein discussed in this video for The Intercept.
The resilience of the people of Puerto Rico shines through whenever I speak with my friends on the island. But they are worried. Many people continue to move to the mainland in search of work opportunities, especially the professional classes. The governor appears only too willing to bow to the demands of the creditors, even when the fiscal control board seems eager to write off a significant percentage of the government's debt. And Washington is fixated on the "forest fire" that is the Trump administration, to borrow a phrase from James Comey. Meanwhile, the people, especially the poor, suffer unnecessarily.
[Michael Sean Winters covers the nexus of religion and politics for NCR.]
Editor's note: Don't miss out on Michael Sean Winters' latest: Sign up to receive free newsletters, and we'll notify you when he publishes new Distinctly Catholic columns.
COMEY: TRUMP IS "MORALLY INAPPROPRIATE" – Google Search
---
Voice of America 
– 
3 hours ago
Former FBI Director James Comey said that President Donald Trump is " morally inadequate " for his position and that there is "some evidence" that Trump obstructed justice. " Comey made the remarks in a one-hour interview with ABC News released on Sunday and that …
Presentación exitosa de confinados en Bayamón
---
San Juan, Puerto Rico (12 de abril de 2018) – La dificultades de la integración a la libre comunidad entre los ex confinados de Puerto Rico, quedaron dramatizadas tras la exitosa presentación de la obra teatral 'Imagínate' en el Teatro Braulio Castillo de Bayamón, protagonizada por 60 mujeres de la población correccional del Departamento de Corrección y Rehabilitación (DCR).
"La obra es una herramienta de educación indiscutible para presentar ante la sociedad un conflicto importante en la incorporación de los ex confinados a la libre comunidad, al tiempo en que nuevamente, crea una nueva oportunidad de rehabilitación entre los miembros de la población correccional que integra la pieza", sostuvo el secretario del DCR, Erik Rolón Suárez.
'Imagínate' se presentó bajo la dirección de la primera actriz Elia Enid Cadilla, también directora del programa institucional de teatro en el DCR, 'Tú Decides'.
Cinco historias cortas comprenden la obra que ejemplifica vivencias sobre las realidades de los ex confinados y la sociedad a través 60 mujeres de la población correccional que forman parte del Centro de Rehabilitación para Mujeres de Bayamón.
Rolón Suárez, quien recordó que el destaque de la rehabilitación ha sido parte de la encomienda del gobernador Ricardo Rosselló, felicitó también a los participantes y destacó la importancia del teatro como medio para la rehabilitación, "el programa de Teatro Correccional ayuda a plasmar las inquietudes sociales de los confinados y a desarrollar un talento en las tablas que podría tener grandes repercusiones sobre el desarrollo profesional de confinado una vez salga del sistema".
El DCR anunciará próximamente las fechas para las nuevas presentaciones del programa de Teatro Correccional.
La entrada Presentación exitosa de confinados en Bayamón aparece primero en Periódico El Expresso de Puerto Rico.
Puerto Rico a growing hub for cocaine, heroin shipments to the US – Washington Examiner
---
"yola vessels – Google Search
---
"yola vessels – Google Search
---
"yola vessels – Google Search
---
"yola vessels – Google Search
---
Puerto Rico a growing hub for cocaine, heroin shipments to the US
---
Puerto Rico has become a hotbed for drug traffickers attempting to smuggle cocaine and heroin from South America to the East Coast of the U.S.
U.S. Customs and Border Protection officers seized 65,890 pounds of narcotics in and around Puerto Rico from drug cartels and smugglers in fiscal year 2017 than any previous year on record, according to federal data.
Jeffrey Quinones, public affairs officer for CBP's Puerto Rico and U.S. Virgin Islands outposts, said the eastern Caribbean has served as a trafficking pit stop for decades, but the recent uptick indicates cartels are using the 100-mile-wide island to circumnavigate the southwest border.
"Drug trafficking organizations have always sought to use the Caribbean as a route to smuggle both narcotics and migrants. The logistics to do so are intrinsically more complicated than traversing the southwest border," Quinones told the Washington Examiner. "Nonetheless, we have seen cyclical increases in the quantity of narcotics brought to these islands and a diversity of means to conceal and enter the product."
CBP and Border Patrol sectors on the northern and southern borders report sizable drug seizures on a daily basis. A large bust in the continental U.S. can vary between $100,000 to $1 million worth of narcotics and is typically large amounts of marijuana.
Seizures are rare in Puerto Rico, but the majority of these incidents involve a high-ticket item: cocaine.
Two large busts in Puerto Rico in February yielded more than 460 pounds of cocaine worth nearly $7 million. Other one-time cocaine seizures last year included amounts worth $17 million, $16 million, $48 million, and $19 million.
The nearly 66,000 pounds of drugs discovered in and around Puerto Rico last year was about 40 percent higher than the previous year's 47,541 pounds. That number has continually risen since CBP's 2003 inception when DHS was created.
In 2013, the agency documented nearly 32,000 pounds of narcotics, but last year's growth indicates transnational criminal organizations are pushing harder than ever to get their goods to the U.S.
In January 2015, the Obama White House issued the Caribbean Border Counternarcotics Strategy, which stated the flow of drugs through the Caribbean had more than doubled since 2011. The report stated trafficking is a "highly fluid enterprise which generally follows the path of least resistance" and said the increasing focus on the southwest border was pushing some drug smugglers to find alternative routes.
"Enhanced enforcement efforts along the Central America/Mexico corridor and on the U.S. Southwest border as well as the ongoing violence between rival TCOs [transnational criminal organizations] in Mexico may be contributing to the shift to more efficient, presumably less troublesome Caribbean routes," the report said.
Traffickers used to use small aircrafts to "airdrop" shipments into the island in the 1980s and 1990s, but now rely on go-fast boats, fishing vessels, luxury yachts, cruise ships, and containerized cargo. The majority of drugs CBP seized on the island last year was from go-fast boats, known locally as "yola" vessels. Many maritime smugglers depart Venezuela with the goal of getting product to the southern coast of Puerto Rico.
The smuggling did not stop even after the island was rocked by Hurricanes Irma and Maria last summer. Quinones said traffickers "tried harder" at a time when law enforcement and first responders were focused for months on response and recovery efforts.
Fighting the drug cartels has been further complicated by Puerto Rico's massive debt crisis. The U.S. territory is in the midst of restructuring its $70 billion in debt through the courts following a failure to strike a deal with creditors. The bankruptcy-like process is the biggest public debt restructuring process any U.S. entity has gone through.
The Operation Stonegarden grant program has allowed federal and local law enforcement to fund overtime and equipment as officers continue their fight, but one missing component to winning this battle is the lack of public awareness in the states.
"Puerto Rico has been a very active area in regards to drug trafficking, [but] unfortunately is covered sporadically," CBP spokesman Carlos Diaz wrote in an email.
Quinones agreed. "We have a problem just like any other jurisdiction in the states. It's just that we don't get the attention from media in terms of what's going on in the states."
Barbara Bush is serious and will not receive further treatment
---
By Associated Press 04/15/2018 | 02: 51 pm
Former First Lady Barbara Bush is in serious condition and will not be given any further medical attention, a family spokesman said Sunday.
"After a series of recent hospitalizations, and after consulting with her family and her doctors, Mrs. Bush, now 92 years old, has decided not to receive more medical attention and instead will focus on being as comfortable as possible" spokesman Jim McGrath said in a statement.
She did not give more details, but it is known that she suffers from Graves' disease, a thyroid disorder.
"It will come as no surprise to anyone who knows her that Barbara Bush has been a rock even facing her illnesses, without worrying about herself and relying on her faith, caring for others," McGrath said.
She added: "She is currently surrounded by the family she adores, and appreciates the messages of solidarity and prayers she is receiving."
Fascinating Rhythm – Great Hits Of The 1920s (Past Perfect) [Full Album] – YouTube
---
Fascinating Rhythm – Great Hits Of The 1920s (Past Perfect) [Full Album]
April 13, 2018
---
April 13, 2018
A look at the best news photos from around the world.
Show more
Chet Baker – The Best Of Chet Baker [Full Album] – YouTube
---
Chet Baker – The Best Of Chet Baker [Full Album]
caribbean – Google Search
---
Technology, Productivity, and Prosperity in Latin America and the Caribbean
---
Abstract
While adoption of new technologies is understood to enhance long-term growth and average per-capita incomes, its impact on lower-skilled workers is more complex and merits clarification. Concerns abound that advanced technologies developed in high-income countries would inexorably lead to job losses of lower-skilled, less well-off workers and exacerbate inequality. Conversely, there are countervailing concerns that policies intended to protect jobs from technology advancement would themselves stultify progress and depress productivity. This book squarely addresses both sets of concerns with new research showing that adoption of digital technologies offers a pathway to more inclusive growth by increasing adopting firms' outputs, with the jobs-enhancing impact of technology adoption assisted by growth-enhancing policies that foster sizable output expansion. The research reported here demonstrates with economic theory and data from Argentina, Brazil, Chile, Colombia and Mexico that lower-skilled workers can benefit from adoption of productivity-enhancing technologies biased towards skilled workers, and often do. The inclusive jobs outcomes arise when the effects of increased productivity and expanding output overcome the substitution of workers for technology. While the substitution effect replaces some lower-skilled workers with new technology and more highly-skilled labor, the output effect can lead to an increase in the total number of jobs for less-skilled workers. Critically, output can increase sufficiently to increase jobs across all tasks and skill types within adopting firms, including jobs for lower-skilled workers, as long as lower-skilled task content remains complementary to new technologies and related occupations are not completely automated and replaced by machines. It is this channel for inclusive growth that underlies the power of pro-competitive enabling policies and institutions—such as regulations encouraging firms to compete and policies supporting the development of skills that technology augments rather than replaces—to ensure that the positive impact of technology adoption on productivity and lower-skilled workers is realized.
Citation
"Dutz, Mark A.; Almeida, Rita K.; Packard, Truman G.. 2018. The Jobs of Tomorrow : Technology, Productivity, and Prosperity in Latin America and the Caribbean. Directions in Development;; Directions in Development–Information and Communication Technology;. Washington, DC: World Bank. © World Bank. <a href="https://openknowledge.worldbank.org/handle/10986/29617″ rel="nofollow">https://openknowledge.worldbank.org/handle/10986/29617</a> License: CC BY 3.0 IGO."
Embracing Technology is Key for the Jobs of Tomorrow in Latin America and the Caribbean
---
A student of the Faculty of Sciences at the Université Marien Ngouabi, Brazzaville, Marinette Moyo cannot imagine how she would be able to complete her studies without the internet. Like her classmates, whether she is in class or at home, she does not let go of her mobile phone or laptop. How could she do without online search engines to give a presentation or study for an exam?
It is the same for Gilles Massamba, a young, tech-savvy film promoter, and for numerous other Congolese nationals for whom the internet has become an indispensable social, administrative, and professional tool. The problem is that when the connection lags and is sporadic and expensive, you lose time, patience, and money. It is difficult to wait for 20 minutes to download a document or to be constantly disconnected during a Skype conversation with a relative living in the country's interior.
High-speed internet through fiber optics
"For the majority of Congolese people, fiber optics remained an abstract notion," Gilles says. "Until a ship sailing along the coast of Pointe-Noire accidentally severed the submarine fiber-optic cable. Then, everyone made the connection because no one had internet in Brazzaville anymore. It's scary to think that it is all hanging by a thread, both literally and figuratively."
In many ways, development of the digital economy and the achievement of regional integration in Central Africa are "hanging by a thread." More specifically, they are hanging by the fiber optics that are in the process of being installed under the Central African Backbone (CAB) project, the first phase of which was completed on April 6, 2018 with the interconnection of the fiber-optic backbone between the Republic of Congo and the Republic of Gabon.
Becoming an interconnected region
Launched in April 2007 by the countries of the Central African Economic and Monetary Community (CEMAC), during the summit in Ndjamena, Chad, the Central African Backbone (CAB) project aims to promote subregional integration and reduce the digital divide through high-speed, fiber-optic terrestrial infrastructure. The aim is to boost the capacity of the digital link among the 11 CEMAC countries.
"It is the culmination of a decade of ongoing efforts and the fulfillment of the strong ambition expressed by the leaders of the subregion to anchor the countries in the digital economy and thus promote regional integration," explains Yvon-Didier Miehakanda, coordinator of the CAB project in the Republic of Congo.
The first phase of this project was launched in the Republic of Congo in July 2011 with $30 million in joint financing from the Government and the World Bank. The goal? Build a 521-kilometer fiber-optic backbone (reduced later to 504 kilometers) between the Matombi landing station (from the ocean city of Pointe-Noire) and the border landing station in Mbinda. The work was completed by the Chinese company Huawei, a global telecommunications leader, in collaboration with  the Congo–Ocean Railway (CFCO), which facilitated installation of the fiber-optic cable along the railway.
The Congolese backbone continues up to the border city of Lekoko where it connects to the 1,100 km of the Gabonese terrestrial network, which runs up to Libreville.
This new interconnection infrastructure with Gabon gives the Republic of Congo a second fiber-optic connection point that will allow the country to ensure a relay connection in the event of a new breakdown of its submarine cable, which was commissioned in 2012, or of the Matombi connection point in Kouilou.
The first phase of the recently completed CAB project gives way to the second phase, which involves the construction of two new fiber-optic networks in the north of the country in order to connect the Congolese network to the Cameroonian and Central African networks by 2020. Cofinanced by the African Development Bank and the Congolese Government to the tune of 66.56 million euros, this second phase includes, among other activities, the construction of a national "Datacenter" to host data and a technology hub to develop new technologies and the digital economy.
Finally, the third phase of the project, financed exclusively by the World Bank for $5 million, is expected to create a digital economy development fund aimed at financing the development of start-ups and job creation in this sector.
Faster, cheaper internet service
"If this new infrastructure effectively helps enhance internet service in the country, the logical consequence should be the lowering of connection costs for users," states Aymar Kodia, a young, seasoned internet user. "And that is good news, because the current rates charged by both public and private operators are simply exorbitant (1 Mb costs CFAF 65,000 or $122!)."
On the heels of installing the fiber-optic network, the CAB project also equipped the public university with software tools and interconnected the 11 higher education establishments in Brazzaville. The students are now waiting for the national telecommunications operator, Congo-Telecom, to activate high-speed internet so as to fully benefit from the new technological environment available to them. "I can already see myself having access to unlimited documentary resources, downloading huge files freely, doing research or taking online courses like students in developed countries. That would be really great!" says Marinette.
"Studies conducted in Africa, particularly by the World Bank in 2010, prove that a 10% increase in the number of high-speed internet connections leads, among other things, to an increase in economic growth of 1.3%," explains Jérôme Bezzina, World Bank task team leader and telecommunications specialist. "In the Republic of Congo, it is estimated that the ICT sector represents 4% of GDP. With better infrastructure, its contribution is expected to be even greater, especially in the services sector where it already figures prominently."
latin america – Google Search
---
Cuba ahead of the departure of Raúl Castro Ruz
---
( Note from the editor : El Nuevo Día toured Cuba to gather the opinions of Cubans about the process of presidential change in the country, visited Arroyos de Mantua, on the western tip, Hershey, on the outskirts of Havana, Placetas, in the center of the island, Second Front, town founded by Raul Castro Ruz in Oriente, and Punta de Maisí, on the eastern end of the island, this is the first installment.)
Arroyos de Matua – Cuban President Raul Castro Ruz will leave his post next Thursday, which will be the starting shot to a generational change in the government that keeps the Cuban people expectant, which places high hopes in the transformation brought by the new president, but warns about the need to guarantee the integrity of the achievements of the Revolution that overthrew the government of Fulgencio Batista in 1959 .
Castro Ruz will leave power after 12 years in the maximum chair, because he fulfilled two terms officially and replaced his brother Fidel with illness for two years, before he formally handed over the presidency in 2008.
For the first time since Cuba established its socialist model after the armed triumph of the "Barbudos", a Castro Ruz will not be in the presidency and neither will a member of the so-called historical generation that fought in the Sierra Maestra, which will mean a Substantial change in the management of the country, where most of the people, despite their disagreements and discomforts, have essentially a high level of respect for those who fought in the mountains and in the urban guerrilla.
La transición generacional, dictada por el paso natural de los años y por disposiciones recientes del Partido Comunista de Cuba (PCC) que ponen como tope los 70 años para ocupar altos cargos de dirección, encuentra a los cubanos nadando entre dos aguas: por una lado, esperanzados en que el cambio traiga evolución en el país y, por el otro, recelo de que los logros alcanzados hasta ahora por el modelo socialista se vengan abajo y la población acabe metida en una encrucijada.
Ese sentimiento dual se respira en el país de punta a punta, comenzando por el pueblo de Arroyos de Mantua, un asentamiento pesquero de 3,500 habitantes en la provincia de Pinar del Río que está considerado como el sitio poblado más occidental de Cuba, donde El Nuevo Día inició un extenso viaje que acaba en el otro extremo de la isla, en Punta de Maisí, a más de 1,000 kilómetros al este.
Aquí, a 315 kilómetros de La Habana y dando cara al Golfo de México, la población, en medio de sus calles polvorientas y una vida carente de lujos o excesos, está alerta sobre el proceso que viene y lo encara con pragmatismo.
"El próximo 19 de abril va a haber un movimiento que, como dijo el compañero Raúl Castro Ruz, dará la posibilidad de que asuman los principales cargos las nuevas generaciones. Casi siempre los cambios generan desarrollo. Hay figuras con el pensamiento y lasideas que nos legó el comandante en jefe, Fidel Castro. Los jóvenes están conscientes de la tarea que tienen y la única forma de seguir subsistiendo es defender la Revolución y apoyando a sus líderes", dijo a El Nuevo Día el presidente del consejo popular de Arroyos de Mantua, Leonardo Castro Miranda, algo así como el alcalde del pueblo.
Con su tez morena y la gorra verde del equipo de béisbol de Pinar del Río fija en su cabeza, Castro Miranda es de los que piensan que los cambios son positivos, pero su éxito dependerá de la propia gente.
"Este pueblo se caracteriza por ser revolucionario y combatiente, y tiene muchas raíces históricas. En este momento está enfrascado en un proceso de transformaciones, siempre con la participación popular… En ese contexto, a una comunidad como esta lo que le hace falta primeramente es un cambio de mentalidad de las personas. Que las personas entiendan que la única forma de echar para adelante es trabajando", afirmó.
Quienes recuerdan los años previos a la llegada de la Revolución, aseguran que esta zona tenía visos de arrabal, donde se vivía de la pesca, pero no había dispensario médico, escuela, carreteras o servicios básicos. Los residentes aseguran que, a pesar del aspecto modesto del pueblo, los avances han sido notables, aunque carezcan de fanfarria o estética, pues los residentes han podido educarse y formar carreras en medicina o el deporte.
"Esto era un puerto pesquero de poca monta, que lo administraban cuatro o cinco magnates que eran los que decidían la vida de los trabajadores. La vida de los trabajadores era precaria, mala, lo que pescaban no tenía valor, lo hacían en embarcaciones de velas de malas condiciones, con mala atención médica, pues había un solo doctor, y si no tenías dinero te morías", explicó el exadministrador del puerto pesquero del pueblo, Graciliano García Escandel, quien está jubilado a sus 76 años.
"Recordar aquello es terrible, porque no había carretera, solo un camino real. Hoy esto parece una ciudad al lado de aquello, hay casas de porte, elegantes, los pescadores tienen otra vida, salen a pescar en otras condiciones que hasta parecen turistas… La juventud de hoy no conoce, porque no lo vivió", agregó el hombre.
Esa añoranza por no perder lo conseguido es la única preocupación que persiste entre los ciudadanos, pues uno de los distintivos del sistema socialista cubano ha sido llevar a la población en las regiones más remotas del país servicios básicos de salud, educación, deporte, seguridad, alimentación e infraestructura, desde vial hasta eléctrica.
La pobreza es latente para los parámetros occidentales, sobre todo en pueblos alejados de los centros urbanos, como Arroyos de Mantua, donde algunos de los niños juegan fútbol descalzos y las calles carecen de pavimento en muchas zonas.
En lugares como estos, a pesar de los recursos limitados del Estado absoluto, no faltan una escuela, un dispensario, alimentación gratuita y entrenadores preparados para enseñar a los niños a jugar béisbol, baloncesto, voleibol o fútbol a la altura de los mejores en la región.
El deporte, por ejemplo, es la principal fuente de orgullo de Arroyos de Mantua. De aquí han salido integrantes de los equipos nacionales de fútbol y tenis de mesa, así como miembros de los combinados provinciales de béisbol.
"Para seguir desarrollándonos en esta esfera a esta comunidad le haría mucha falta seguir mejorando las instalaciones deportivas, tener acceso a más cantidad de implementos deportivos, y preparar el personal docente para que sea más efectivo el trabajo", explicó la directora de deportes municipal, María Elena Riveiro Otero, nacida en Arroyos de Mantua.
"La muerte de Fidel fue un golpe duro para los cubanos, pero tenemos que seguir su legado y seguir adelante, avanzando, porque todas esas ideas que nos transmitió las tenemos que reflejar en resultados para la sociedad. A él le gustaba mucho el deporte y por eso en todas las actividades que realizamos está presente su pensamiento. Aunque pronto tampoco estará Raúl, él seguirá con nosotros y vamos a seguir igual, cada día mejorando. Las ideas ya las tenemos interiorizadas, ya sabemos lo que vamos a hacer y seremos mejores", añadió la fogosa mujer, quien encabeza un sistema deportivo municipal que forma campeones con muy pocos recursos.
Esa idea de vivir sus días sin uno de los hermanos Castro Ruz en el poder suena extraña a muchos cubanos, ya que la costumbre provoca una adaptación, voluntaria o no, que se convierte en rutina.
El mero hecho de la ausencia física de Fidel y la salida de la presidencia de Raúl, aunque prevalezca como secretario general del PCC, representan un cambio mayúsculo en el panorama social cubano, para lo cual se preparan los ciudadanos de todo el país, incluidos los del rincón más occidental de la isla.
"Estoy convencido de que las cosas aquí van a cambiar, no sé si para bien o para mal, pero será un cambio de 180 grados. Vienen propuestas de trabajo, un mundo diferente, y hay que prepararse porque es una oportunidad", expresó el pescador Oriván Zambrana Fiallo, de 37 años, quien hace hincapié en que el escenario de transformación no cambiará la esencia de pueblos como Arroyos de Mantua, donde la humildad vale más que la ostensión.
"The Mantuanos are humble people, that is the word to describe us. When I say humble is because it is the word that encompasses everything, because you can get to the house of any mantua and they will receive you with open arms, whether they have the best or the worst, but they offer it to you with their hearts in their hands "Said the young man from the sea.
And it is in this breeding ground, where the main ingredient is popular humility, that Raul Castro Ruz will hand over power on April 19 , a date that marks a milestone and to which Cubans await with a single certainty, that of change generational
Bill Clinton announces eight commitments to address ongoing regional hurricane recovery needs
---
MIAMI – Former President Clinton formally launched the Clinton Global Initiative (CGI) Action Network on Post-Disaster Recovery at the University of Miami on Tuesday, bringing together more than 350 leaders from government, business, and civil society to discuss and develop solutions that address immediate and long-term hurricane recovery needs facing the region.
Participants announced eight Commitments to Action – solutions that are new, specific, and measurable – focusing on a wide range of issues, including training for 5,000 mental health workers in Puerto Rico; deploying nurses to the US Virgin Islands to conduct vision, hearing, and dental screenings for 9,000 schoolchildren; a comprehensive reforestation and habitat program that will plant 750,000 trees; a new agency in Dominica providing funding for resiliency projects; and solarizing 12 primary health clinics in Puerto Rico.
"In the wake of the terrible hurricanes, the people of these islands have shown a remarkable resilience and a resolve to do long-term work and build back better," said Clinton. "When I went to Puerto Rico, the US Virgin Islands, and Dominica, I was struck by both the determination and the positive attitude of the people there. We are here to do what we can to help these people build communities that are stronger, safer, more prosperous, and more resilient."
"If we do not address the fundamental issues contributing to climate change, we're going to see a greater intensity of disasters like Hurricane Maria and Irma," said Roosevelt Skerrit, prime minister of Dominica. "If the world continues to fail to address climate change, we must not only build back better, but we must improve the national resiliency of our islands. This meeting of the Clinton Foundation is helping to ensure that our efforts to become the first climate resilient nation in the world are system-wide, integrated and coordinated."
"Although these back-to-back storms were a great tragedy, there is now a tremendous opportunity to improve the future of the US Virgin Islands," said Tom Secunda, founding partner of Bloomberg LP. "By bringing together such a wide range of people who share the common goal of finding innovative ways to help, The Clinton Foundation is helping us ensure we build back smarter, stronger and a more sustainable communities."
"The Rockefeller Foundation is focused on bringing together public and private partners to help Puerto Rico recover and to support those who are working to build things back better than before," said Dr Rajiv J. Shah, president of The Rockefeller Foundation. "Together, we can re-imagine a Puerto Rico that is more equitable, resilient to shocks and disasters, and provides opportunity for all of its residents in good times and bad."
At the meeting, Clinton and leaders from business, government, and civil society announced eight Commitments to Action that address a wide range of recovery and resiliency issues facing the region.
Commitments to Action Announced on Tuesday
The government of Dominica has committed to launch a climate resiliency agency (CREAD), dedicating $600 million in funding to implement resiliency projects, with the goal of making Dominica the first climate resilient nation in the world.
The American Federation of Teachers has partnered with Airlink and the Community Foundation of the Virgin Islands to bring nurses to conduct vision, hearing, and dental screenings for all 9,000 schoolchildren on the US Virgin Islands.
Afya Foundation has committed to addressing the urgent medical needs of the elder population in Puerto Rico, by shipping immediate medical supplies and equipment to Acción Social's 22 Elder Care centers, while providing training and capacity building to Acción Social staff.
Para la Naturaleza (PLN) has committed to launch Habitat, a comprehensive reforestation and habitat restoration program in Puerto Rico that aims to plant 750,000 native and endemic trees that are more resilient to natural phenomena such as hurricanes, and provide assessment and maintenance of newly planted areas.
Americares has committed to address mental health challenges in Puerto Rico in the wake of Hurricane Maria by providing training for 5,000 health workers, emergency responders, and social service providers across the island.
International Medical Corps has committed to support primary healthcare for school-aged children in Puerto Rico by procuring an additional Mobile Medical unit for Med Centro, allowing them to reach an additional five elementary and middle schools with comprehensive preventive health screenings, and providing training and capacity building to all Med Centro staff.
Digicel has committed to repair or rebuild seven schools and 360 homes in Dominica that were damaged or destroyed by Hurricane Maria, while also training 100 community members in building techniques and provide community workshops on risk mitigation and disaster preparedness.
Direct Relief, the Hispanic Federation, The Solar Foundation, and New Energy PR have committed to install solar or solar + storage systems at 12 primary care clinics in Puerto Rico, meeting critical energy needs at each site.
Clinton also announced a Commitment to Action in development, issuing a challenge to members of the Action Network to pre-position relief supplies for the upcoming hurricane season. With estimates that every $1 spent on preparedness saves $4 in response and recovery spending, pre-positioning relief supplies, and establishing logistics and distribution channels, can help resources be deployed more efficiently in the event of a disaster. CGI is bringing together Action Network members who can lend their resources, materials, expertise, and support to a broad effort that already includes engagement from Operation Blessing, Airlink, Federal Surplus Company, Solight, J/P Haitian Relief Organization, Americares, and World Central Kitchen.
Efraín, Javier, Paul SIEMPRE NOS FALTARÁN Nuestra organización expresa su solidaridad. #Ecuador #periodistas #NosFaltan3 https://fundaciondayuma.wordpress.com/2018/04/15/efrain-javier-paul-siempre-nos-faltaran/ pic.twitter.com/hbTaYV53t1
---
Efraín, Javier, Paul SIEMPRE NOS FALTARÁN Nuestra organización expresa su solidaridad. #Ecuador#periodistas #NosFaltan3 https://fundaciondayuma.wordpress.com/2018/04/15/efrain-javier-paul-siempre-nos-faltaran/ …pic.twitter.com/hbTaYV53t1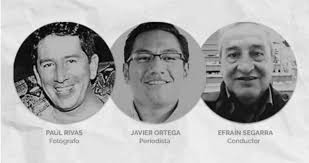 ecuador journalists murder – Google Search
---
Confirmation of the murder of El Comercio newspaper's journalist team Photos and Images | european pressphoto agency
---
El Comercio newspaper team – Google Search
---
ecuador – Google Search
---
Marxist Rebels Killed Journalists and Driver, Ecuadors President Says
---
The group that killed the journalists, the Oliver Sinisterra Front, is one such faction, believed to be headed by a former FARC commander known as "El Guacho," who leads several dozen rebels in the Colombian jungles.
According to El Comercio, the journalists and their driver were kidnapped in late March when they were reporting a story in the northern province of Esmeraldas, which borders one of Colombia's most conflicted coca-producing regions.
The group were investigating the rising crime in the area, which was spilling into Ecuador and had included the bombing of a police station, in January, and other deadly attacks since.
On April 3, RCN Radio, one of the main networks in Colombia, released a so-called proof-of-life video of the three abducted people, in which they spoke of their captors' demands, including the release of unidentified prisoners held in Ecuador, in exchange for their own lives.
In the 22-second clip, the three embraced each other and were chained together.
"Lenín Moreno, our lives are in your hands," said Mr. Ortega.
On Wednesday, the Oliver Sinisterra Front issued a statement announcing the prisoners' deaths. The group asserted that the two governments had conducted military operations near where the rebels were holding the hostages, "which produced the deaths of the journalists and the driver."
The communiqué resulted in a confused response from both Colombia and Ecuador, which said they knew of no rescue operation. Ecuador's government initially said there was no evidence they had been killed.
But on Thursday, photos began to circulate of what appeared to be the bodies of the hostages. They were facedown in the jungle, lifeless and still in chains.
Mr. Moreno, who had been at the Summit of the Americas, abruptly returned to Quito on Thursday evening. On Friday, he said the journalists were dead.