"Nevertheless, exactly what Kilimnik was doing with and for Manafort is now getting the scrutiny it deserved long ago." 
Mike Nova's Shared NewsLinks
Russias GRU Agent in Mueller Probe Is Obviously Konstantin Kilimnik
---
Special Council Robert Mueller. Alex Wong/Getty Images
Since its establishment a hundred years ago, at the dawn of Bolshevik rule, the Main Intelligence Directorate of Moscow's General Staff—GRU for short—has been the shadowiest of the Kremlin's spy agencies. While the KGB was known worldwide, its military counterpart remained off-limits to outsiders, shrouded in speculation and mystery. We in the West still know very little about GRU's Cold War secret operations, unlike the KGB's, much less what its spies hiding behind their black bat logo are up to these days.
Left untouched by the Soviet collapse in 1991 (there wasn't even a name change), GRU remains a top-secret espionage empire that spans the globe, with human and technical intelligence capabilities stretching far beyond Russia. A purely foreign intelligence agency, GRU dwarfs its civilian rival, the SVR, in size and capabilities. Like the SVR, it employs spies abroad who masquerade as diplomats, as well as operatives working without official cover, what Moscow terms Illegals.
Recent developments demonstrate that GRU played a clandestine role in the election of Donald Trump. Last week, Special Prosecutor Robert Mueller's team, which is investigating the White House's Kremlin connections, released a court filing relating to the imminent sentencing of Alex van der Zwaan, a London attorney who has pleaded guilty to lying to the FBI about his contacts with Trump deputy campaign chair Rick Gates and a shadowy figure termed "Person A." Per the court filing:
That Gates and Person A were directly communicating in September and October 2016 was pertinent to the investigation. Federal Bureau of Investigation Special Agents assisting the Special Counsel's Office assess that Person A has ties to Russian intelligence service and had such ties in 2016. During his first interview with the Special Counsel's Office, van der Zwaan admitted that he knew of that connection, stating that Gates told him Person A was a former Russian Intelligence Officer with GRU.
To anyone acquainted with the Trump investigation, Person A is obviously Konstantin Kilimnik, a close friend and protégé of Paul Manafort (Trump's campaign manager in mid-2016), who has admitted he was once a Russian intelligence officer working for GRU. Our media went into overdrive, hailing this as the "most direct line to date" between President Trump's inner circle and the Kremlin. One must ask: Where have they been?
While it's certainly news that Mueller's prosecutors openly called out a barely-concealed Kilimnik for his GRU ties, this fact has been known for years. It's been reported more than once, beginning in mid-August 2016—including by me—when Manafort's ties to the Kremlin became so obvious that he excused himself from the Trump campaign. As I stated at the time:
Although Kilimnik made no effort to hide his Kremlin affiliation, he and Manafort became fast friends. To anybody familiar with Russian intelligence, Kilimnik was very likely Manafort's spy-handler. At best, he was an access agent for GRU, assessing the American for possible espionage. "There are no former intelligence officers," as Vladimir Putin has stated, and one can only imagine the glee in Moscow when Manafort was appointed Trump's campaign manager.
Why the mainstream media considers confirmation of Kilimnik's GRU affiliation—which the translator-cum-factotum never concealed—to be a bombshell is something of a mystery. This is just one more thread in the Trump investigation that's been known for years, yet which the MSM largely punted on investigating seriously before the 2016 election, when it might have mattered.
Why a veteran GRU operative was lurking near the heart of the Trump campaign was an important question in the summer of 2016—not the spring of 2018.
Nevertheless, exactly what Kilimnik was doing with and for Manafort is now getting the scrutiny it deserved long ago. In Vladimir Putin's Russia, connections to the "special services" are something to be boasted about, and Kilimnik did so. Everybody who worked with him was aware of his GRU affiliation, while anyone acquainted with how Putinism works knew the reality that affiliations with the Kremlin's spy agencies are never entirely in the past.
For years, Kilimnik was employed in Kyiv as a political fixer, frequently in tandem with Manafort, to back friends of the Kremlin. Embarrassingly, the GRU operative collaborated closely with quite a few Americans. Kilimnik worked in Ukraine for the International Republican Institute, a Washington, D.C.-based NGO, though he was let go in 2005 when the extent of his secret Kremlin links became obvious. That was when Manafort hired him to work on his Ukraine projects—as he did for a decade-plus.
There are credible reports that Kilimnik continued to maintain connections with the IRI even after he was cashiered, while more disturbingly, sources in Kyiv tell me that our embassy there relied on Kilimnik, including to help vet personnel, despite his known GRU connections. Kilimnik was a fixture in Ukraine's capital, touching numerous American interests, official and unofficial. He also seems to have served as the connection between Manafort and Oleg Deripaska, the notorious Russian oligarch and close friend of Putin's. Any serious inquiry into Kiliminik and his network of friends and partners will likely reveal embarrassing things for Washington beyond Manafort and Trump.
It's troubling that Manafort met with Kilimnik several times in mid-2016, even when scrutiny about Team Trump's Russian ties was becoming a problem for the campaign. Worse, there are indications that Kilimnik had a hand in gutting the Republican Party's platform on Ukraine, which was altered in a direction more amenable to Moscow at the GOP convention in Cleveland in mid-July 2016. That issue merits scrutiny, above all to determine on whose behalf Kilimnik was exactly working there.
Moreover, Kilimnik's was hardly the only GRU secret operation to touch the Trump campaign in 2016.
According to a recent report in The Daily Beast, Russia's military intelligence was behind the hack of Democratic emails in 2016—and was in direct contact with Team Trump about it. Guccifer 2.0 was reputedly the "lone hacker" who pillaged the emails of Hillary Clinton and the Democratic National Committee in the spring of 2016. These were dumped online by WikiLeaks in July of that year, to devastating political effect.
American counterintelligence had already ascertained that the hackers of the DNC were part of "Fancy Bear"—a shadowy bunch of online criminals that functions as a GRU cut-out in cyber-attacks on numerous Western governments and institutions.
Our counterspies were additionally able to establish that Guccifer 2.0 in reality is a GRU official, thanks to an embarrassing cyber-screw-up in Moscow.
As The Daily Beast explained:
Guccifer failed to activate the VPN client before logging on. As a result, he left a real, Moscow-based Internet Protocol address in the server logs of an American social media company… Working off the IP address, U.S. investigators identified Guccifer 2.0 as a particular GRU officer working out of the agency's headquarters on Grizodubovoy Street in Moscow.
This is of special interest to Team Mueller since Roger Stone, the veteran Republican dirty-trickster who's been a close friend and partner of both Manafort and Trump since the 1970s, has admitted he was in contact with Guccifer 2.0. Stone posted Twitter direct messages between himself and the mysterious hacker on his blog. Although Stone denied that he's been in touch with Russian intelligence, this is now provably untrue. Given that Stone has also been in secret contact with WikiLeaks, he has placed himself at both ends of the Russian-directed spy-cum-criminal conspiracy against the Democrats in 2016. Considering that Trump's own CIA director called out WikiLeaks as a Kremlin front, specifically "a non-state hostile intelligence service often abetted by state actors like Russia," it can be safely assumed that Mueller and the FBI have many questions for Stone to answer.
To anyone acquainted with real-world espionage, particularly when it involves Russians, Team Trump's numerous secret connections to GRU in 2016 and beyond cannot be brushed off as mere coincidence.
Exactly what role the Kremlin's shadowy black-bat played in putting Donald Trump in the White House remains to be determined. None should doubt that Robert Mueller and his veteran investigators are on the case.
John Schindler is a security expert and former National Security Agency analyst.
Gobernador de Puerto Rico entregará nuevo Plan Fiscal sin despidos y ni recortes de pensiones. http://uni.vi/TzkD1011kKt pic.twitter.com/g9SdYDxW5O
---
Gobernador de Puerto Rico entregará nuevo Plan Fiscal sin despidos y ni recortes de pensiones.http://uni.vi/TzkD1011kKt  pic.twitter.com/g9SdYDxW5O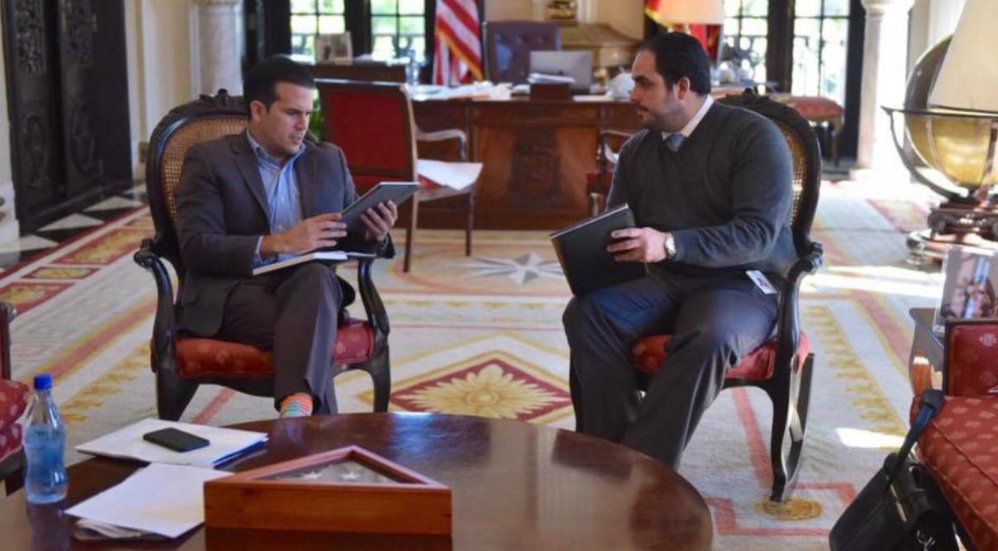 Gobernador de Puerto Rico entregará nuevo Plan Fiscal sin despidos y ni recortes de pensiones – Univision Puerto Rico
---
La Junta de Supervisión Fiscal que controla las finanzas de la isla le está exigiendo al Gobierno despidos, recortes de pensiones y cambios a las leyes laborales del país.
Rosselló hizo un acercamiento a la Junta con la reforma laboral y la Junta demostró ser intransigenteUnivision Puerto Rico
El gobernador de Puerto Rico, Ricardo Rosselló, enviará esta semana a la Junta de Supervisión Fiscal (JSF) que controla las finanzas de la isla un nuevo Plan Fiscal que no contempla el despido de empleados públicos, el recorte de pensiones ni una reforma laboral tal como le exigió la entidad la semana pasada.
La JSF es un organismo creado por el Congreso de EEUU en 2016 para controlar las finanzas del gobierno de Puerto Rico tras éste no poder cumplir con los pagos de vencimientos de su deuda pública ascendente a 70,000 millones de dólares.
La Ley PROMESA, que creó la junta, protegió al Gobierno de sus acreedores mediante un proceso similar a la ley de quiebras y le exige a la administración presentar planes fiscales a la JSF que pueden ser aprobados o rechazados por la entidad, que a su vez puede imponer su propio plan por encima de la leyes y decisiones del gobierno local.
En una carta dirigida a la JSF el domingo, Rosselló enfatizó que, aunque la Ley PROMESA le permite a la entidad certificar o no el Plan Fiscal del Gobierno, la junta no puede usurpar los poderes legislativos y operacionales del gobierno local.
Roselló sostiene que eso es lo que pretende hacer la JSF cuando le pide al Gobierno recortar las pensiones, despedir empleados públicos y hacer una reforma laboral bajo sus propios términos.
Con su Plan Fiscal el Gobernador había propuesto una polémica reforma a las leyes laborales de Puerto Rico que eliminaba el pago del bono de Navidad o aguinaldo en el sector privado, anulaba las leyes por despido injustificado y reducía los días de vacaciones y por enfermedad obligatorios de 15 a 7, a cambio de un aumento en el salario mínimo local de 7.25 dólares la hora a 8.25 dólares.
Sin embargo, la semana pasada la JSF aceptó todas esas propuestas, agregó que las pensiones del Gobierno debían ser recortadas en 10 por ciento y rechazó cualquier aumento inmediato en el salario mínimo.
Rosselló contestó que sin aumento del salario mínimo retiraba su propuesta de reforma laboral y criticó que la propuesta JSF no incluyera ni un solo programa de capacitación para la fuerza laboral.
"El Gobierno no permitirá la toma de estos poderes, y por lo tanto no implementaremos muchas de las revisiones sugeridas", afirmó el jefe del Ejecutivo puertorriqueño en un comunicado que acompañó a la misiva.
"En caso de que la Junta decida certificar un Plan Fiscal que muestre un exceso de sus facultades, sepa que el Gobierno electo por el pueblo ejercerá su discreción al implementar aquellas medidas que considere apropiadas y en el bienestar público", aseguró.
Recalcó, además, que existe un compromiso de su administración de incrementar la participación laboral, mantener el bono de Navidad, los días de vacaciones y enfermedad pese a que l a JSF "insiste en eliminarlos sin dar paso a una compensación laboral como el aumento al salario mínimo y entrenamiento a la fuerza laboral".
Rosselló enfatizó en la carta de siete páginas que el Gobierno de Puerto Rico "cree firmemente que las revisiones sugeridas (por la Junta) deprimirían significativamente el crecimiento macroeconómico, que es una piedra angular importante del Plan Fiscal".
Por ello, adelantó que en el Plan Fiscal revisado, que será enviado a la JSF el jueves próximo, no incluirá una propuesta de reforma laboral y solo agregará el establecimiento de un crédito por ingresos por trabajo (EITC) para trabajadores con ingresos bajos o moderados y el requerimiento de trabajo para poder participar en el Programa de Asistencia Nutricional (PAN).
Rosselló dijo, además, que la JSF "continúa insistiendo" en una reducción promedio del 10 por ciento de los beneficios de pensión en todos los sistemas de jubilación del Gobierno pero que tal medida impone "una carga desproporcionada a los trabajadores y jubilados de Puerto Rico".
Al mismo tiempo, insistió en que desarrollará la regionalización, los condados y la movilización voluntaria de reos a instituciones en otras jurisdicciones de Estado Unidos, debido a que estas propuestas producirán ahorros significativos en la operación diaria del Gobierno.
Gobernador de Puerto Rico entregará nuevo Plan Fiscal sin despidos y ni recortes de pensiones – Univision
---
Predicando la moral en pantaloncillos | Opinión