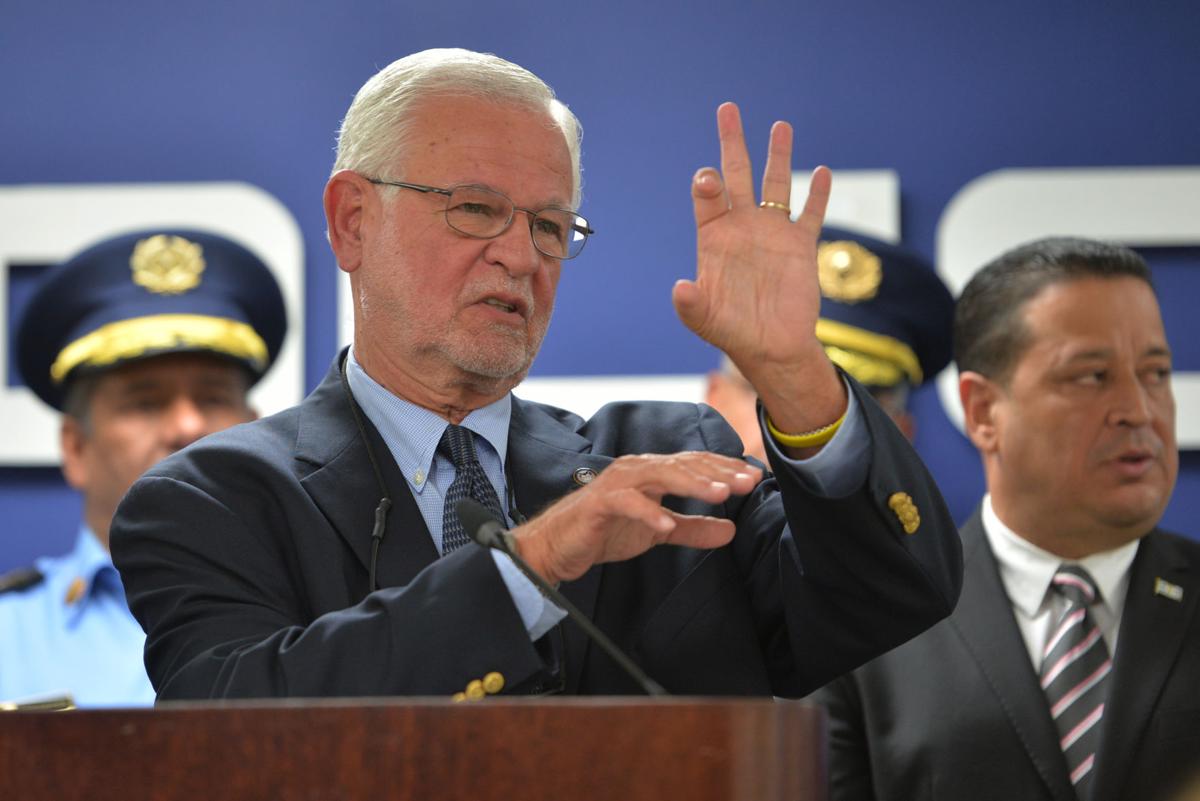 The deft dexterity seems to be the key to interpreting the crime statistics by Mr. Pesquera. I have a feeling that someone wants to give me a thorough brainwash. Thank you, no, thank you. 
Statistics or no statistics (they always lie, as some people insist), I want to know the true status with crime situation in Puerto Rico, reflected in both the numbers and the less tangible, soft data, which can be measured also.
I cannot hide my admiration for the measurement system that Federal Reserve used in assessing the degree of economic recovery in Puerto Rico: by the intensity, or brightness of electric lighting on the Island as seen from the airplane flight observation point: this "system" is simple, convincing, easy to measure, sensitive to changes, etc., etc. I think we need something like this in criminology and public safety fields, for the approximate, ballpark figure, but accurate assessments. 
The specific (for the times and the location) indicators have to be developed if the need be. The correct assessment, based on the correctly collected sets of data is the key to the potentially beneficial interventions. 
My intuitive hunch is that this situation is not good, and there are some forces that are not interested in finding the true facts on one hand but are interested in maintaining the status quo, on another. The whole situational set requires a careful and thoughtful approach and understanding, but I doubt that DOJ will allow the lawlessness in Puerto Rico to continue. It will be an end to it, whatever it takes. I think that the FBI San Juan branch should look at this situation from somewhat broader perspectives, within the context of the "big picture". 
Michael Novakhov
3.1.18 
Mike Nova's Shared NewsLinks
Mike Nova's Shared NewsLinks
Insiste en una baja en los delitos | Ley y orden
| | |
| --- | --- |
| | mikenova shared this story from www.elvocero.com – RSS Results in ley-y-orden of type article. |
---
El secretario de Seguridad Pública, Héctor M. Pesquera, aseguró ayer que la incidencia de delitos Tipo I experimenta una baja, la cual descansa casi en su totalidad en el renglón de las apropiaciones ilegales, con unas 1,070 menos que en igual periodo del año anterior.
En una conferencia de prensa que empezó con más de una hora de retraso, Pesquera presentó la supuesta baja en los delitos acompañada de los resultados del "plan anticrimen", en cuyos primeros 31 días se efectuaron 209 arrestos.
El funcionario se refirió a los descritos como los más importantes de esos arrestos, entre estos el de los integrantes de una organización de delincuentes de Juncos, responsables de cerca de 10 asesinatos y de unos 40 "carjackings" en enero.
"La clasificación del delito Tipo I no es de la Policía, es una disminución global de la criminalidad", respondió Pesquera ante la insistencia de EL VOCERO.
"Las estadísticas son estadísticas y las categorías son categorías", agregó al ser cuestionado sobre estadísticas que sumaban 135 asesinatos desde que comenzó el año, un aumento de 27 casos en comparación con el mismo periodo de 2017.
Los renglones de violaciones, escalamientos y hurto de vehículos también han ido en aumento, descansando la baja mayormente en las apropiaciones ilegales, los robos y las agresiones agravadas.
"No sé cuántos celulares han robado, pero garantizamos que las estadísticas de la Policía son las que son y vamos a trabajar respecto a eso", contestó el comisionado interino Henry Escalera a las preguntas sobre la baja en las apropiaciones ilegales. Advirtió que el no informar correctamente tendría consecuencias.
No ha fallado el "plan anticrimen"
Escalera sostuvo que el "plan anticrimen" no estaba fallando y que los asesinatos ocurridos en enero fueron por acecho.
Según Escalera, entre los 209 arrestados hay individuos por casos de asesinato. Según la Policía, 14 de las muertes violentas ocurridas en enero fueron esclarecidas, para un 34%. Este mes la cifra es menor.
Varios líderes de gangas fueron arrestados y se ocuparon 58 armas de fuego, de las cuales 41 son rifles y seis revólveres. Se ocupó marihuana, cocaína y heroína que Escalera no cuantificó.
Este también reclamó un alto esclarecimiento en los robos, que entre enero y febrero ha resultado en una disminución de un 25%.
En torno a la masacre ocurrida en Comerío el sábado, Escalera negó que el director de la División de Homicidios de Aibonito hubiese sido removido de su cargo por las discrepancias con agentes del "strike force" que intervinieron en Naranjito con un individuo considerado "persona de interés" en el caso.
"No ha sido removido, estamos concentrados en esclarecer el caso; si hay alguna determinación de negligencia o mal proceder, se hará cuando termine la pesquisa", dijo.
Counterterrorism expert to lead FBIs office in Minneapolis Twin Cities
---
The FBI has named a counterterrorism expert to lead its Minneapolis field office.
Jill Sanborn, a 20-year veteran of the bureau, will begin her duties in April. She replaces Special Agent in Charge Rick Thornton, who retired Wednesday.
The FBI says Sanborn most recently served as the chief of an international operations section, overseeing its counterterrorism investigations.
She began working as a special agent in Phoenix in 1998.
The Minneapolis field office covers Minnesota, North Dakota and South Dakota.
The office been frequently called upon to investigate cases involving young Minnesotans who have been recruited to join overseas terrorist organizations, typically in the Middle East and East Africa.
Former FBI official running for Congress as 'cannabis candidate'
---
Benjamin Thomas Wolf is one of three challengers to incumbent Rep. Mike Quigley in the Democratic primary for Illinois' 5th Congressional District, which includes parts of Chicago.
The campaign ad, shot in Wolf's apartment, was a way to let voters who are in favor of marijuana legalization know that "there are people that hear them and agree with them and will stand up for what they think is important," Wolf said.
"It was my idea. I knew that we needed to do something with cannabis — to take a little bit of a risk, but at the same time connect with the voters," he told CNN in a phone interview Wednesday.
Wolf said he believes that legalizing marijuana in Illinois would reform the criminal justice system and bring in billions in tax revenue.
"As a former federal agent and law enforcement officer, I think legalizing cannabis would really free up the criminal justice system in terms of incarceration space, in terms of time and energy of first responders, and it would allow law enforcement officers to focus on what's really important," Wolf said.
Cannabis is not something Wolf uses every day, he said — just a few times a week in the evenings to unwind and sometimes to tap into creativity when he's working on his campaign.
Long before trying cannabis for the first time (accidentally eating pot brownies that were included in a care package sent to him from a friend in California), Wolf worked as a national security investigator with the FBI, including following the September 11, 2001, terrorist attacks.
"The government trained me to be strong, and suspicious, and just stern. … I'm thankful I have cannabis in my life. I think it has allowed me to be a gentler person, maybe a better father, a better partner," said Wolf, who is dad to twin boys and a newborn son. "I'm much more empathic. … I'm an evolved person because of it."
He worked under Robert Mueller, who was FBI director during 9/11, and said Wednesday that Mueller was the "perfect man" for the job of special counsel to investigate Russian interference in the 2016 election.
Wolf spent about five years with the FBI before transferring to the State Department in 2003 and working as a US diplomat and special agent overseas in Iraq and Africa,
 on his campaign site.
Trained to use an AR-15 and carry the weapon in conflict zones, Wolf also weighed in on the debate over whether they should be banned: "These are true instruments of death. And I think that there's no place for them in modern American society," he said.
While his campaign website states that the Second Amendment must be respected, Wolf holds an AR-15 in one of his campaign ads, explaining the weapon's functions and why he thinks it should be banned "immediately."
As a former FBI employee, Wolf called
to follow up on a tip about the confessed shooter in the Parkland, Florida, school massacre "tragic."
"The people (at the FBI) are just such professionals and so thorough in their investigations, but you simply can't stop every threat and every attack. I think it's really unfortunate," Wolf said.
Wolf left the State Department about five years ago and transplanted to Chicago to finish his doctorate in psychology. Since then, he's become a professor, opened a restaurant and started a housing nonprofit. He decided to run for Congress after being "constantly disappointed" with Illinois' elected officials and hoping this election brings a "next generation of Democratic leadership" in Washington.
"Folks like Nancy Pelosi are the age of my grandmother. … I would not want my grandmother or my grandfather speaking for everyone at this point and leading the country. It's their time to retire and go spend time with their grandchildren," said Wolf, who's 42.
Wolf faces off against Quigley, who won re-election in 2016 with over 67% of the vote, former Yale undergraduate director Steve Schwartzberg and Sameena Mustafa.
FBI: Driver may have sexually abused over 100 female inmates
---
LITTLE ROCK, Ark. — An FBI agent has testified that he thinks a California man may have sexually assaulted 100 or more female inmates while transporting them between lockups around the country over the past 15 years.
Eric Scott Kindley faces federal charges in Arkansas alleging that he sexually assaulted a woman along a deserted road in January 2017 while transporting her from a jail in Alabama to Arizona, where there was a warrant for her arrest. Kindley faced similar charges in Arizona involving other female inmates he transported, but a judge dismissed those charges last week at the request of prosecutors, leaving just the Arkansas case.
During a hearing Tuesday, Special Agent Kyle Roberts testified that he has found evidence of attacks on at least 13 other women who were transported alone in Kindley's Dodge Grand Caravan. He said he believes "there could be 100, maybe more" victims spanning Kindley's 15 years transporting inmates across the country, the Arkansas Democrat-Gazette reported.
Kindley has pleaded not guilty to charges of deprivation of rights and possession of a firearm in furtherance of a crime of violence. His federal public defender, Christophe Tarver, didn't immediately reply to a phone message left after working hours by The Associated Press.
Kindley was initially arrested in Stockton, California, last June, a day after he signed up as an Uber driver. Roberts testified that agents were monitoring his smartphone, which showed he had conducted searches about Uber drivers having sex with passengers.
During Tuesday's hearing, Roberts testified that Kindley pulled over along a dark road outside Russellville, Arkansas, to let the 27-year-old inmate he was transporting urinate outside. He said that after unshackling one of her hands, Kindley threw the woman against the van and reached down her underwear, scratching hard enough to tear the fabric. Kindley demanded that the woman perform a sex act on him but her screams alerted nearby animals that started to howl. Spooked, Kindley ordered her back into the van, showed her his gun and told her, "It only takes one bullet to the head," according to Roberts.
He said Kindley later made an overnight stop at a jail in Oklahoma, but that the woman didn't report him to jailers because Kindley had warned her he was a U.S. Marshal with law enforcement relationships.
After arriving at the Arizona jail, the woman was housed with another woman who had been transported by Kindley from California several days earlier. The other inmate said Kindley had raped her in a remote desert area but that she didn't report it out of fear. The FBI was later alerted of the attack after another female inmate informed a jail employee.
U.S. Department of Justice documents show two of Kindley's former employees, Albert Long and William Cassidy, have been separately convicted of federal crimes related to sexually assaulting female inmates while working for his prison-transport business.
Roberts said both men described in interviews with the FBI that "it was understood among the transport officers that they could do as they wanted to the females during transport, so long as the authorities do not find out."
Trump Calls Sessionss Handling of Surveillance Abuse Allegations Disgraceful
---
But the president's options are constrained, advisers said, because he recognizes that he would have a difficult time winning Senate confirmation for a replacement. Mr. Sessions served there for 20 years, and his former colleagues have bristled at Mr. Trump's attacks. Any dismissal of Mr. Sessions would be taken by Democrats and even some Republicans as an effort to seize control of the Russia investigation and could trigger a bipartisan backlash.
The exchange on Wednesday began when the president lashed out at Mr. Sessions for seeming to suggest that the Justice Department's inspector general would look into Republican charges of misconduct in the opening stage of the Russia investigation rather than opening his own examination.
"Why is A.G. Jeff Sessions asking the Inspector General to investigate potentially massive FISA abuse," Mr. Trump wrote on Twitter. "Will take forever, has no prosecutorial power and already late with reports on Comey etc. Isn't the I.G. an Obama guy? Why not use Justice Department lawyers? DISGRACEFUL!"
Republicans have accused Justice Department and F.B.I. officials of abusing their powers while President Barack Obama was still in office by using information from a dossier prepared by a former British spy paid by Hillary Clinton's 2016 presidential campaign to justify surveillance of a former Trump campaign adviser, Carter Page. Officials did not fully inform the court that issues warrants under the Foreign Intelligence Surveillance Act, or FISA, of the origin of the information, Republicans complained. Democrats have called that a distortion and distraction.
The inspector general, Michael E. Horowitz, was appointed by Mr. Obama in 2012, but previously worked for the Justice Department under Republican and Democratic presidents. He has already been investigating how James B. Comey, the F.B.I. director until Mr. Trump fired him last spring, handled the inquiry into Mrs. Clinton's use of a private email server while she was secretary of state.
Mr. Sessions seemed to take umbrage at the president's latest message. "We have initiated the appropriate process that will ensure complaints against this department will be fully and fairly acted upon if necessary," he said in his statement.
"As long as I am the attorney general," he added, "I will continue to discharge my duties with integrity and honor, and this department will continue to do its work in a fair and impartial manner according to the law and Constitution."
Mr. Sessions's response, polite but pointed, was all the more striking because he had largely kept quiet after previous attacks by the president. Mr. Trump has never forgiven Mr. Sessions for recusing himselffrom the Russia investigation, a decision that helped lead to the appointment of Mr. Mueller. Mr. Trump has publicly called Mr. Sessions "weak" and said he would not have appointed him had he known Mr. Sessions would step aside.
His latest eruption was prompted by Mr. Sessions's comment on Tuesday that if a FISA surveillance warrant was wrongfully obtained, the matter would be "investigated" by the department's inspector general. His comment was interpreted as confirmation that the inspector general had opened a second official inquiry on top of the Comey review.
But Mr. Sessions only meant to reiterate what he said after a memo drafted by House Republicans was released alleging abuse of the FISA process. At the time, Mr. Sessions said he would "forward to appropriate D.O.J. components all information I receive from Congress regarding this."
The nuance was lost on Mr. Trump, who among other things did not seem to understand that an attorney general cannot order an inspector general to investigate anything, only refer information.
"The president's tweet reveals that he really doesn't understand how the government works and how the Justice Department works," said Michael Bromwich, a former department inspector general.
He added that the inspector general's office has a reputation for professionalism. "It's incredibly demoralizing to have the chief executive of the government not only not understand and appreciate what you do, but attack what you do on a constant basis," Mr. Bromwich said.
Inspectors general at cabinet agencies are kept separate to preserve their independence. Paul Light, a New York University professor and specialist on the offices, recalled that President Ronald Reagan fired all of the inspectors general but was forced by Congress to rehire some of them. "They have protections in statutes against arbitrary dismissal," he said.
After Mr. Trump's tweet, Mr. Horowitz, the inspector general, received support from Republicans, including Senator Charles E. Grassley of Iowa, the chairman of the Senate Judiciary Committee that confirmed him.
"I have complete confidence in him and hope he is given the time, the resources and the independence to complete his work," said Representative Trey Gowdy, Republican of South Carolina and the chairman of the House Oversight Committee.
Several Republicans expressed dismay at the president's continued campaign against Mr. Sessions. "It's kind of mind-boggling that he would call out his own attorney general," former Representative Jason Chaffetz of Utah said on Fox News.
Representative Peter T. King of New York, also on Fox, expressed sympathy with Mr. Trump's desire for a second investigation run by Mr. Sessions, but added that the president should not berate him. "Jeff Sessions is loyal to the president and he's one of the first to support him, and he's often in very difficult positions and I think he's trying to reconcile as best as he can," he said.
Michael W. McConnell, a former appellate judge now at Stanford Law School, said a president has every right to direct his attorney general.
"What raises eyebrows is the form and tone of the tweet, which appears to be a commentary on the attorney general's decisions rather than an exercise of presidential supervisory authority," he said. "Mr. Trump is the president. If he wants something done differently, he should order that it be done differently, with serious reflection, through proper channels and in the proper form."
Jamil Jaffer, a law professor at George Mason University and former associate White House counsel under President George W. Bush, said social media was not the best way to direct action by an attorney general. "The president has a lot of tools that are a lot more effective than putting the A.G. on blast on Twitter," he said.
But Mr. Trump got support from other quarters. Representative Lee Zeldin of New York and a dozen other Republicans sent a letter to Mr. Sessions on Wednesday urging him to appoint a special counsel to investigate the handling of Mrs. Clinton's case and the FISA warrant targeting Mr. Page.
The Rev. Jerry Falwell Jr., the president of Liberty University, suggested that Mr. Sessions had never really supported Mr. Trump in the first place.
"@USAGSessions must be part of the Bush/Romney/McCain Republican Establishment," he wrote on Twitter. "He probably supported @realDonaldTrump early in campaign to hide who he really is. Or he could just be a coward."
Active Anti-crime Plan with 209 arrests of criminal leaders
---
The secretary of the Department of Public Security (DSP), Hector M. Pesquera, and the interim commissioner of the Police Bureau, Henry Escalera, reported that during the month of January the anti-crime plan implemented with 209 arrests in the six police areas where the strategies of the plan are active. In addition, a decrease of almost 20% was reported in Type I crimes throughout the Island in this same period.
In the 209 arrests are prominent criminals in criminal organizations, in the transfer of drugs, responsible for murders, robberies and other crimes.
For the Secretary of the Department of Public Security Hector Pesquera and the interim commissioner of the Police Bureau, Henry Escalerano, there are flaws in the anti-crime plan for understanding that the term to fail is semantics.
"It is not that there are failures, but there are a number of factors that affect that no charges are filed and there are factors that affect the killings by stalking," said the official.
The results of the anti-crime plan presented correspond to the first month of the year 2018 implemented in the police areas of San Juan, Bayamón, Carolina, Caguas, Fajardo and Humacao.
Igualmente, como parte de las acciones afirmativas para atacar la criminalidad en la Isla los delitos tipo I y los delitos contra la propiedad se han mantenido con una disminución constante desde el año pasado. Hasta el 15 de febrero de este año se mantiene una reducción importante en los delitos tipo I con un menos -19.8% y en menos -16% los delitos contra la propiedad comparado con el mismo periodo del año pasado.
Mientras, que para el año 2017 los delitos tipo I estuvieron en menos -9.1%, mientras los delitos contra la propiedad estuvieron en menos -11.4% comparado al año 2016.
"El Negociado de la Policía se mantiene enfocado en la puesta en función de las estrategias que se están implementando del plan anticrimen para darle frente a la criminalidad. El trabajo comprometido y estratégico está centrado en desarticular y en sacar de circulación a los criminales que alteran a nuestras comunidades. Estoy seguro que continuaremos consistentemente viendo resultados como los que estamos presentando hoy", manifestó el secretario Pesquera.
"We are Satisfied with the work done, Although I Recognize That there is much more to be done. These results are part of one of the strategies put into action in the anti-crime plan. We have a good pace of work and That must Be informed that we know that we are not going to lower our guard against these criminals who threaten the tranquility of everyone. The investigations continue, we will continue fine-tuning the plans to fulfill our mission to protect lives and property, "said the Commissioner.
Trumputin's "Policies" on Guns, Drugs, Puerto Rico, Golf, Mueller and Russian Election Theft Are All About Mob Money
---
Donald Trump. (photo: Getty Images)
By Harvey Wasserman, Reader Supported News
onald Trump's sole "philosophy" is personal profit. His real "party" is the mob. His mafia "don," Vladimir Putin, is the world's #1 crime boss. For the pair of them, the issues of the day all boil down to one: cash flow.
Russian crime lords have been laundering money through The Donald since the 1980s. Like his slumlord father, who was allied with the New York mob, nothing really matters to Trumputin except that river of lucre. If Special Counsel Mueller touches the bottom of The Donald's swamp, it will all be about money laundering and his ties to the organized underworld. There are many reasons he's hiding his tax returns.
Meanwhile, let's look at some actual issues:
GUNS: The National Rife Association is a sales organization for the weapons industry. All that twisted blather about the Bill of Rights is cheap cover.
The Second Amendment requires all gun owners to be part of "a well-regulated militia" serving "the security of a free state."
Trump's idiocy about arming all teachers makes sense only for promoting gun sales. Ubiquitous assault weapons and concealed handguns are both profit centers. Living school kids are not.
DRUGS: The Drug War is about keeping prisons full, jacking up pot prices for the transnational mob, protecting the alcohol and pharmaceutical industries, and preventing citizens of youth and color from voting.
It's also no accident that our principal allies in Vietnam were heroin dealers, our Contra puppets in Nicaragua were coke pushers, and our fellow "freedom fighters" in Afghanistan are poppy growers.
The idea that Trump and Jeff Sessions oppose pot legalization for reasons of public health is a sick joke.
More than 40 million Americans have been arrested in the Drug War since Nixon declared it in the early 1970s. Dick's assault powered a "Southern Strategy" meant to destroy communities of youth and color. Nixon's own mob backers profited hugely from higher black market drug prices and a booming prison industry.
Sadly for Trumputin, legalization in Colorado and elsewhere has lowered crime and incarceration rates, reduced alcohol consumption, and provided serious breakthroughs using cannabis for ailments like epilepsy and glaucoma instead of hugely overpriced pharmaceuticals. Opioid death rates are far lower where pot is legal.
So all of Nixon/Trump/Sessions' worst fears about losing cash flow and elections with the end of Pot Prohibition are coming true. But don't look for them to give up soon.
PUERTO RICO: Trumputin is using Hurricane Maria's devastation of Puerto Rico to ethnic-cleanse the island and make it a mobbed-up profit center. Despite fierce opposition from San Juan's sane mayor, Carmen Yulin Cruz, Governor Ricardo Rossello wants to turn over the island's utility and school systems to Trump cronies.
FEMA is re-running its race-based fiasco in New Orleans after Katrina. Amidst soaring emigration and suicide rates, countless US citizens remain without power, shelter, jobs, schools, clean water, and food. Land prices have plummeted, opening the door to corporate speculators. Republicans speak openly about the island as a financial center like Hong Kong or Singapore. The linked Trumputin vision would be a mobbed-up pre-Revolutionary Havana, filled with dirty money-laundering luxury hotels, casinos, and prostitution rings.
GOLF: Trump's trips to his Mar-a-Lago resort line his pockets with taxpayer dollars. The direct expenses to haul his immense corpus down there are of course enormous.
But the Secret Service and staff stay in rooms, eat food, buy drinks, ride in golf carts, and wrack up "ancillary costs" paid for by you and me. For every round Trumputin bogeys, our millions flow to his bottom line.
ELECTION THEFT: Of course, the US itself has flipped scores of national elections around the world since the 1890s. That would include Russia after the fall of the Soviet Union, when the CIA illegally installed the drunken Mafioso idiot Boris Yeltsin. Trumputin is our imperial vulture come home to roost.
But did the Russians actually strip our voter rolls and flip our electronic vote counts?
The bottom line: they could have. Our electoral system is ridiculously vulnerable, and won't be much better come this fall's midterms.
Jeb Bush, Katherine Harris, Kris Kobach, J. Kenneth Blackwell, and their fellow American fixers have done such dirty work for years. The 2000 and 2004 presidential elections were stolen by "domestic terrorists" a surely as Russians intervened in 2016.
Of course, the US itself has flipped scores of national elections around the world since the 1890s. That would include Russia after the fall of the Soviet Union, when the CIA illegally installed the drunken Mafioso idiot Boris Yeltsin. Trumputin is our vulture come home to roost.
Thus far, Mueller's investigations confirm that Putin's mobsters meant to put their very own money launderer right here in the White House. Their exact impact on his election remains to be seen. But there was some. And he is an underworld nightmare come true.
Corporate Democrats, of course, love to tag Putin with Hillary's absurdly avoidable loss. They're thrilled to trash Bernie and the Greens while re-casting the Russians as the Cold War USSR. They are the ultimate fake "opposition" party, utterly void of fresh ideas, social commitment, and the slightest shred of grassroots democratic charisma.
Through it all, only one thing is certain: our elections can be flipped and stripped by virtually anybody — Russians, Republicans, Democrats, the Kochs, the alt-right, free-lance hackers, that 400-pounder in Trump's NJ basement … you name it.
Until we have universal automatic voter registration with transparent, well-protected voter rolls, and universal hand-counted paper ballots, our electoral system is a bad joke.
And only Trump and Putin will be laughing. For them, the one "principle" of government is to guarantee that the Manchurian Mobster and Team Trumputin can continue to suck up the cash from our stripped and flipped electoral Laundromat.


---
Harvey "Sluggo" Wasserman hosts the "California Solartopia" show at KPFK-Pacifica in Los Angeles, and the "Green Power & Wellness Hour" at prn.fm. His History of the US is at <a href="http://solartopia.org" rel="nofollow">solartopia.org</a>, where America at the Brink of Rebirth: The Life & Death Spiral of US History, From Deganawidah to The Donald will soon be published..
michael e. horowitz inspector general – Google Search
---
New York Times
–
7 hours ago
The inspector general, Michael E. Horowitz, was appointed by Mr. Obama in 2012, but previously worked for the Justice Department under Republican and Democratic presidents. He has already been investigating how James B. Comey, the F.B.I. director until Mr. Trump fired him last spring, handled the …