Mike Nova's Shared NewsLinks
Mike Nova's Shared NewsLinks
People flee Puerto Rico to Florida after Hurricane Maria – NBC2 News
---
Héctor Pesquera vs Arnaldo Claudio – Google Search
---
Héctor Pesquera asegura tener evidencia contra el monitor federal
---
El gobierno de Puerto Rico se apresta a ripostar el último informe del monitor federal y todo apunta a que podría hacerlo adjuntando evidencia documental para demostrarle al juez Gustavo Gelpí que el asesor técnico Arnaldo Claudio ha mantenido un presunto patrón de intromisión indebida con funcionarios, legisladores y agentes, en violación a las disposiciones del Tribunal Federal como parte del acuerdo para la Reforma de la Policía.
Aunque no quiso entrar en detalles sobre las respuestas a los señalamientos que se le hicieron en ese último informe, que abarca el período del 10 de junio al 9 de diciembre de 2017, el secretario del Departamento de Seguridad Pública (DSP), Héctor Pesquera, se defendió de las alegaciones y dejó claro su inconformidad con Claudio.
"Aquí ha habido una intromisión indebida (de Claudio) en las operaciones de la Policía, violentando el acuerdo… Inclusive, ha amenazado y se ha metido a darles instrucciones a oficiales de la Policía. Eso está documentado, no es inventado. Cuando llegue el momento dado, se presentará la evidencia… Todo eso es inaceptable, está fuera del acuerdo y es una completa aberración a sus funciones", sentenció Pesquera.
En una entrevista a fondo con El Nuevo Día, el titular del DSP no solo habló sobre el informe y lanzó serias acusaciones contra Claudio, sino que reclamó una baja en la estadística global del crimen, aunque la cifra de asesinatos se haya disparado. Dijo estar satisfecho con su desempeño y le restó importancia a la visión de parte de la sociedad que lo ve irradiando arrogancia. No admitió que falló en la recopilación de las muertes a consecuencia del huracán y reconoció que su plan para integrar las siete agencias bajo su sombrilla está atrasado, pero como parte de las secuelas del paso de María.
El informe del monitor federal concluye que Pesquera violó la ley al supuestamente dar órdenes durante la manifestación del 1 de mayo de 2017 contra la Junta de Supervisión Fiscal sin haber sido investido oficialmente con el aval del Senado, que el DSP conflige con la Reforma de la Policía y que hay problemas con la cadena de mando, entre otros.
Pesquera negó todo, aunque dijo que no podía profundizar en cada uno de los hallazgos. El asesor del gobernador, Alfonso Orona, presentará la riposta ante Gelpí.
¿Qué de losacuerdos para implantar la Reforma ya están al menos a mitad de camino?
—Hay muchos, hay varios…
Dice que se ha avanzado, ¿a paso lento, constante o rápido?
—Eso está activamente corriendo con unas métricas y unos tiempos de vigencia… Estoy seguro, a base de los comentarios que ha hecho el señor asesor técnico, que si ese hubiese sido el caso ya hubiera estado en la prensa.
Siento un poco de cinismo en sus expresiones…
—No, ninguno. Es una verdad.
¿Cómo es su comunicación con el monitor federal?
—Yo he tenido muy poca comunicación con él.
¿Usted cree que eso es sano?
—Antes de contestar si es sano o no, hay una persona a cargo de la Policía…
Pero usted está a la cabeza…
—Sí, pero es muy claro y específico el acuerdo, y yo participé de eso. Yo no estoy interviniendo en las operaciones diarias de la Policía… cuando haya que llevar algo que tenga que ver a base de política pública, pues sí… Yo me comunicó con el asesor Orona y con el Departamento de Justicia, y ellos se comunican a nivel del tribunal con las partes.
¿No es crucial su comunicación directa con el monitor, porque hablamos de una reforma de la Policía, que es el jefe del comisionado, que estuvo involucrado en las negociaciones para lograr un acuerdo y que la administración ha ensalzado los lazos con el gobierno federal?
—El acuerdo es válido, donde hay discrepancia es en la participación del asesor técnico que tiene una intromisión en cosas que no le competen.
¿Que el monitor se comunique directamente con el comisionado de la Policía es suficiente?
—No, si necesita comunicarse conmigo él tiene mi teléfono personal… Estoy accesible 100%.
Claudio alega que se le excluye regularmente de las discusiones sobre la implementación de la Ley 20, ¿es cierto?
—El acuerdo dice que el asesor de cumplimiento técnico no puede hacer ningún tipo de acción unilateral con funcionarios públicos… Hay hechos documentados donde él (Claudio), directamente, en violación a las instrucciones del Tribunal, se puso en comunicación con los legisladores (que trabajaban con la Ley 20). Fue una violación al acuerdo y a las instrucciones del juez.
¿Está revelando que Claudio violó las disposiciones del Tribunal y del acuerdo original?
—Sin duda alguna. Documentado, con evidencia.
¿Le dio la evidencia a Gelpí?
—En un momento dado, para que veas la intromisión del asesor de cumplimiento técnico en actividades que no le competen, las dos partes, gobierno y Justicia (federal) le llevaron la preocupación al Tribunal, de que esta persona estaba haciendo cosas que no le competían ni tenía injerencia.
¿Cuándo lo hicieron?
—Enel 2015, también está documentado… El honorable juez Gelpí dio unas instrucciones específicas para que no lo hiciera. Tenemos documentos que indican claramente que violentó el acuerdo yendo a representantes y a legisladores, para exponerles su posición sobre la Ley 20. Es inaceptable, una violación del acuerdo.
¿Claudio ha mantenido un patrón de intromisión indebida?
—Absolutamente, desde el principio y se ha mantenido.
¿Cómo sigue en el cargo?
—No lo puedo contestar. En su debido tiempo, el gobierno de Puerto Rico planteará la situación ante el honorable tribunal… Está documentado, tengo la evidencia.
¿Pedirá cambio de monitor?
—Esa área no quiero tocarla. Le toca al asesor del gobernador y al Departamento de Justicia.
¿Pero lo recomendaría?
—No quiero entrar en el detalle.
Son denuncias bien serias…
—Bien serias, así lo entendemos.
Lo veo indignado…
—Es que aquí se está haciendo ver que uno es el que está en una intromisión indebida y es al revés, lo puedo documentar. Aun en las situaciones en las que él alega que di instrucciones específicas en el evento de 1 de mayo, tengo documentación, no habladuría, donde los oficiales dicen lo contrario. En su debido tiempo, se presentarán en el foro correspondiente.
¿El DSP afecta el acuerdo, como alega el informe?
—Es una posición un poco ridícula.
El monitor dice que la cadena de mando afecta la reforma…
—¿Cuál es la crisis? Esa es la percepción de la crisis…
Crea un ambiente de desconfianza y desmoralización, no queda claro quién manda allí…
—Eso está claro en la ley. El que no sigue la ley ni el acuerdo es él, que le da instrucciones a los policías, que no puede darles.
El informe dice que dio órdenes sin contar con el aval del Senado, ¿porqué lo hizo?
—Estamos partiendo de la premisa equivocada. Dice el asesor de cumplimiento que yo di órdenes… esos policías que alegan que di órdenes que lo documenten. Esa es una de las áreas que no quiero entrar en detalles porque hay que presentarlo al tribunal.
¿Qué hizo usted ese día?
—No estaba allí al principio, sino en Guaynabo. Me llamaron, como asesor del gobernador, que sí era una función que tenía, y me dijeron que regresara, que había un problema. Fui y vi lo que estaba pasando, pregunté, hice comentarios. Estaba el asesor legal (Orona) conmigo. Hubo ciertas cosas que sucedieron, pero órdenes no.
¿Dio órdenes para que se removieran los manifestantes del aeropuerto?
—¿Cómo voy a decir eso? Los manifestantes no se remueven a menos que haya violación de ley. Tienen derechos por la Constitución… No di instrucciones.
¿Ninguna?
—No, pero puedo dar sugerencias.
¿Sus sugerencias se las daba directamente a policías?
—En ninguna de las actividades donde hice algún tipo de comentario fue fuera de la superintendente en aquel momento. Siempre estuvo conmigo.
¿En síntensis no intervino ni dio instrucciones ese día?
—Pero hice comentarios… No estaba dando órdenes
Cuando Pesquera toma la batuta de su defensa lo hace con fuerza y seguridad. Hay un sector del país que lo aplaude, pero hay otros que creen que su proyección es de una arrogancia colosal. Si de algo está seguro, es que no piensa cambiar. Ese es él y punto.
Hay un sector del país que piensa que usted irradia arrogancia, ¿es usted arrogante?
—No vine aquí a ganarme la popularidad, vine a hacer un trabajo. Si a la gente no le gusta como me comunico, lo siento. No voy a cambiar por ningún tipo de presión y menos por presiones políticas.
¿Y usted cree que son comentarios puramente políticos, no de ciudadanos comunes?
—No, tiene que haber ciudadanos que lo consideren. Pero, ¿sabes qué? Lo siento… Así opero y al que no le guste, lo siento mucho.
La acumulación de asesinatos en apenas dos meses mantiene en el paredón público a Pesquera, pero él insiste en que cuando se mira el escenario completo, la realidad es que la criminalidad ha bajado en un 19.8%. La cifra de muertes violentas se ha elevado a 130, 27 más que en el 2017.
No es uno ni dos, son 27 asesinatos más que el pasado año, ¿qué le dicen esas cifras?
—Preocupante y lo estamos atendiendo, pero cuando vemos las estadísticas globales, delitos sobre la persona está 21% menos y delitos sobre la propiedad, 19% menos. Tenemos 19.8% menos en la totalidad de delitos, pero los asesinatos están más 27. Estoy consciente, no estoy justificándolo.
¿En qué se ha fallado?
—Esos son cuestiones individuales de las personas que cometen los asesinatos, no hay una correlación directa… cuando hubo menos 21 el año pasado no hubo un: "¡Ay, qué bueno!" Se ignoró… Esto sube y baja. No se puede decir cómo hemos fallado.
¿Cuál es su plan? El alza en los asesinatos es un hecho.
—Es un hecho…
Y la gente lo ve, se siente insegura. Imagino que ha hecho un análisis de esos asesinatos. ¿Cuál es ese plan?
—Tenemos áreas enlas que sabemos que se han disparado más que en otros años anteriores, pero la correlación entre eventos para decir que fallamos no existe. En un caso como el de Comerío, ¿quién falla? Es imposible predecir eso.
Entiendo eso, pero dígame, ¿cuál es el análisis y el plan?
—La mayoría son por drogas, armas de fuego, en las carreteras, en los fines de semana. ¿Qué estamos haciendo? Estamos recolectando la inteligencia criminal a nivel isla, atacar las áreas e ir contra individuos que entendemos que son los posibles responsables… no existe un lugar en el mundo donde se dispare un tipo de delito, que al otro día se corrija el problema.
Lo que pasa es que no han pasado dos días, estamos hablando de la acumulación de casos en dos meses. ¿Cuál es su plan? ¿Qué regiones deben reforzar?
—San Juan, Carolina y Ponce son las tres regiones donde hemos visto que ha subido en comparación con el año pasado. Pero volvemos: hay más 27 y todo el mundo alega que hay una crisis, pero cuando hubo menos 21 nadie dijo: "Qué bueno". Ahí, está la diferencia.
¿Pero no hay crisis?
—Yo no veo que haya crisis… hay una preocupación.
A 5 meses del huracán, ¿puede admitir que se equivocó en la recopilación de datos sobre las muertes por el huracán?
—No.
Pesquera insistió en que sin evidencia no se podían sumar casos a la lista de muertes y le dio la bienvenida al estudio que hará la Universidad de George Washington, que le costará al gobierno cerca de los $1.4 millones. La cifra oficial permanece en 64 fallecimientos.
En los ocho meses al frente del DSP, su mayor logro, dijo, ha sido "explicarles" a los comisionados de las siete agencias que componen la sombrilla que dirige la política pública del gobernador Ricardo Rosselló, el enfoque al mejor uso de los recursos y las eficiencias.
La consolidación está atrasada y el gran escollo en ese calendario fue María. Es un proceso complejo y difícil, recalcó, y espera tenerlo aceitado antes de que termine el 2018. El ahorro proyectado será más de $28 millones.
¿Qué es lo más complejo?
—La complejidad de unir las agencias, de mezclar las cuentas bancarias, del personal, que son distintas escalas, que tienen distintas funciones, de los contratos, de buscar la forma de hacer las eficiencias… cómo estandarizar los procedimientos de los contratos, dónde llevar la sede… se paralizó todo por los huracanes.
¿En qué etapa está el proceso de fusionar las siete agencias?
—A punto de terminar no, necesitamos la sede… La primeras agencias deben ser las más pequeñas, para ir poco a poco añadiendo las demás.
¿Cuándo proyecta tener lista la fusión completa?
—Tiene que estar lista este año, en algún momento, sin falta.
Una vez tenga ese proceso administrativo completo, ¿habría movimiento de personal?
—No podemos coger a alguien de otro personal y de buenas a primeras convertirlos en policías. Lo que podemos hacer, y ya estamos trabajando, es sacar todos los policías que están haciendo labores administrativas y reemplazarlos a base del Empleador Único.
¿Cuántos son los policías que están en áreas administrativas?
—Casi 900, muchísimos.
¿El problema de ausentismo ya se controló?
—Eso se resolvió. Lo que hay son 20 o 30 a nivel isla, lo normal.
¿Cuántos cuarteles aún no están funcionado?
—No es tanto los que estén sin funcionar, sino los que están funcionando en condiciones que no sean las correctas… Te anticipo que en el estudio de necesidades, están los cuarteles, cuáles pueden ser eliminados y, digamos regionalizados. Tener un cuartel que le sirva a un área donde tres o cuatro no sean necesarios porque el personal no justifica.
¿Qué debe mejorar?
—Yo necesito la sede para integrar la primera agencia. Estamos trabajando afanosamente.
¿Considera que la gente está satisfecha con su desempeño?
—Por lo que veo en la calle, sí.
¿Porqué debemos seguirle pagando un salario de $248,500?
—Es el salario que necesito para sobrevivir… invirtieron en una persona con conocimiento, credibilidad, habilidades para trabajar con el sistema estatal, federal y municipal. Esa es la razón.
¿Los resultados que tiene hasta ahora valen esa inversión?
—Yo trabajo 16, 18 horas… Yo entiendo que sí.
El gobernador @ricardorossello se reunirá en el día de hoy con los 78 alcaldes y el Cuerpo de Ingenieros para discutir los planes de energización en los municipios.pic.twitter.com/aMcld8XVuS
---
El gobernador @ricardorossello se reunirá en el día de hoy con los 78 alcaldes y el Cuerpo de Ingenieros para discutir los planes de energización en los municipios. pic.twitter.com/aMcld8XVuS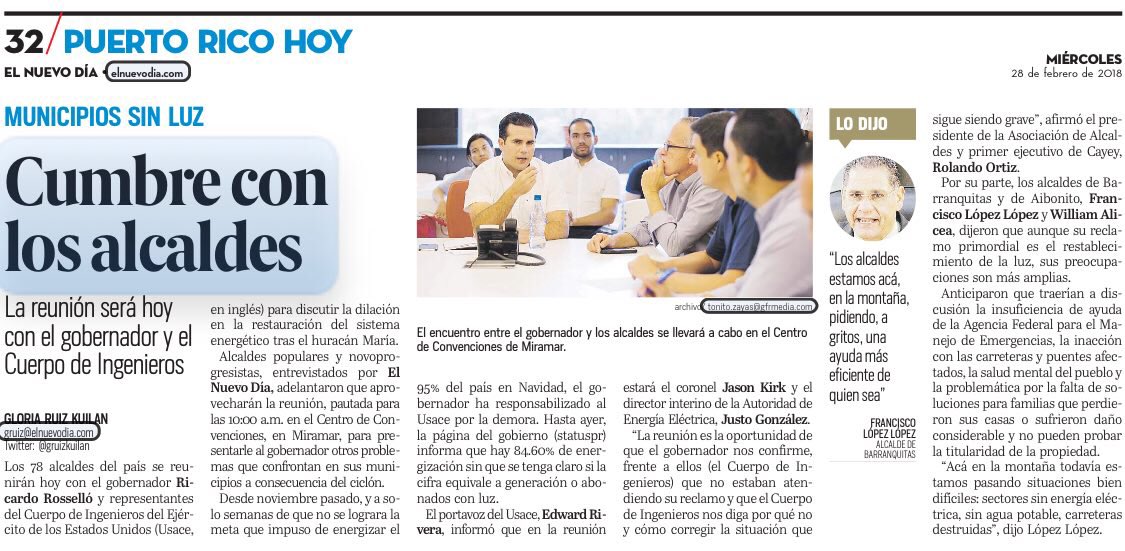 Guardian family murdered in Puerto Rico denounces forensic science chaos
---
The relatives of Sean Collins denounced in the media of Staten Island in New York that the system in Puerto Rico does not work and that they had not been able to receive the body of the guard, who was found dead in a car on February 20, to take him to his hometown and give him burial.
The complaint of the relative was reported by the portal Silver.com that cites his brother-in-law, David Drogon clamoring for help to be able to have the body of the guard, who visited the island as part of a vacation after his work in Puerto Rico to restore electric service.
"It is totally unacceptable what is happening to my family and I am really furious," said Drogon. I have explained that they do not want to incinerate the remains of Collins in Puerto Rico, because they want to bury him with his father in a cemetery in his town. In fact, he said they already have the funeral home ready to complete the arrangements, eleven the body arrives in Staten Island.
According to the US media, "dealing with the morgue has been one of the most distressing aspects of the family's unfathomable experience." Although the body of Collins was taken to the Institute of Forensic Sciences on Tuesday, February 20, the family was not notified and even on Friday, February 23, they asked for help on television to find the man they considered missing.
"His family simply drove to the morgue and we found it, then it was the family that reported the police, and not the other way around," the deceased's brother-in-law said.
He said his anguish has since gone on forever, despite the family's repeated requests, Drogon said.
The man denounced that the morgue where Collins's body was kept for the last week does not have the ability to adequately preserve the bodies for long periods of time.
"It's not the police," Dorgon said, adding that the cops have returned Collins' belongings to the family.
The family recognized Collins' tattoos, performed the autopsy and performed the toxicology tests, but Forensic Science has not yet identified him scientifically, although dental records have been provided, Drogon said. "They do not need to do anything else, what are they waiting for?" He added, clearly exasperated.
He added that the family has communicated with local politicians in Puerto Rico and that Congressman Dan Donovan has helped. "We have been in repeated contact with senior Puerto Rican officials about what is happening and our intervention has been effective," said a spokesman for Donovan.
Drogon believes that the family may need help from the highest levels of government, perhaps even President Trump.
He asked people to pressure officials at all levels through social media and other forms of communication from Staten Island to Puerto Rico so that Collins can return home.
The journalist David Begnaud, who has followed closely all the news related to Puerto Rico since the scourge of Hurricane Maria said he knew that the body was finally delivered to the family after six days of its discovery.
Alcalde de Isabela se une a voces que piden la renuncia de Héctor Pesquera
| | |
| --- | --- |
| | mikenova shared this story from Comentarios en: Alcalde de Isabela se une a voces que piden la renuncia de Héctor Pesquera. |
---
San Juan  – The mayor of Isabela, Charlie Delgado Altieri, joined this Tuesday, to the public demand that leaders of different parties have made, so that the secretary of the Department of Public Safety leaves his position.
"Given the increase in crime and the lack of a plan, specific actions are required to address the problem. If Governor Ricardo Rosselló, through the Secretary of Fisheries, can not control the criminal wave, ask him to resign and give him a person to do the work. We can not allow crime to continue wrapping our streets, "said Delgado Altieri in written statements.
Also, the mayor said that although the municipalities have resources from the Municipal Police, they need the support of the State Police to prevent criminal acts.
"Pesquera has left us alone and few resources have been assigned to the municipalities to work together and in coordination in the fight against crime. The preventive rounds have been reduced significantly, which has led to an increase in robberies and escalations, "he said.
"At a time when the number of murders amounts to 134, and five other cases are in the Institute of Forensic Sciences wait for confirmation, the governor must not only accept the resignation of Hector Pesquera, but assume his responsibility as First Executive and recognize that his anticrime plan failed. Mr. Governor, the mayors of all the political parties expect action on your part and dismiss Pesquera from his position immediately, "said Delgado Altieri.
Body of Staten Island man, 29, reportedly found in Puerto Rico
---
STATEN ISLAND, N.Y. — The body of a 29-year-old Staten Island man was found in Puerto Rico, according to media reports.
Sean Collins, 29, reportedly was found dead inside a Nissan Versa on Feb. 20, according to the Puerto Rican news website ElVocero.com.
Public records indicate that Collins lived in Sunnyside. He was a linesman for Northline Utilities on Staten Island and a member of IBEW Local 3, according to social media posts.
Collins had spent time in Puerto Rico to help restore power after Hurricane Maria, but returned back home in January, according to reports.
He traveled to Puerto Rico for the President's Day weekend to visit friends and stayed in the Intercontinental Hotel on Isla Verde, according to <a href="http://ElVocero.com" rel="nofollow">ElVocero.com</a>.
On that Monday, Feb. 19, he was booked to return to New York on a United Airlines flight that he never boarded, <a href="http://ElVocero.com" rel="nofollow">ElVocero.com</a> said.
He was reported missing by a friend on Feb. 21, the day after his body was found, according to El Vocero.
While it is not clear how he died, authorities don't believe foul play was involved, according to a report by NBCNewYork.com.
According to El Vocero, because there are no signs of violence, it may take weeks for authorities to determine the cause of death.
Social media posts indicated that Collins rented the Nissan Versa.
Friends posted on social media that Collins was missing and paid tribute to him after his body was found.
Denuncian "retroceso" con la Reforma de la Policía | Ley y orden
| | |
| --- | --- |
| | mikenova shared this story from www.elvocero.com – RSS Results in ley-y-orden/policiacas of type article. |
---
Representantes de dos de las organizaciones sin fines de lucro, que integran el Grupo Comuntario de Trabajo de la Reforma de la Policía (Grupocorpo), compartieron hoy su impresión de que bajo el Departamento de Seguridad Pública ha habido un "retroceso" en el cumplimiento con la política de uso apropiado de la fuerza.
"El señor (Héctor) Pesquera nunca ha sido amigo de la Reforma de la Policía… Ha habido un retroceso", afirmó María Mari Narváez, autora del informe No se dispara de la baqueta, desarrollado por la organización Espacios Abiertos, integrante de Grupocorpo.
Tanto Mari como Rubén Kondrup, de Amnistía Internacional PR, se refirieron durante la conferencia de prensa a lo ocurrido en la última manifestación de la Milla de Oro convocada por Jornada Se Acabaron Las Promesas, en la que hubo agresiones físicas y hasta se atropelló a un manifestante, que tuvo que ser llevado al hospital.
"En varios vídeos se ve que es la misma policía, la que está instigando… Hay un vídeo de un policía empujando a un manifestante que no estaba haciendo nada", mencionó Kondrup.
"En esta ocasión, hay un retroceso porque una persona tuvo que ir al hospital. Ahí golpearon. No solamente tiraron pepper spray, que fue uno de los peores elementos de las últimas manifestaciones, que lo hicieron ilegalmente, sin hacer las debidas advertencias. Lo dice el monitor (federal) también. El monitor también establece que ni un solo policía (para el 1 de mayo de 2017) había sido adiestrado en la nueva política de manejo de multitudes", expresó Mari.
Ambas organizaciones se aliaron para lanzar el proyecto Oficial, tengo derechos, que ya ha ofrecido talleres y adiestramientos a más de 600 personas, y cuyas recomendaciones para guardar los derechos humanos se encuentran en el portal web oficialtengoderechos.org.
El informe No se dispara de la baqueta analiza los datos de la Policía sobre muertes, mutilaciones y daños graves a manos de agentes de la Uniformada para los años 2014 a 2016.
Mari, autora del informe, encontró que 12 personas fallecieron en 2015 en incidentes relacionados al uso de fuerza de la Policía y nueve personas fallecieron en 2016, según los datos de esa agencia.
También, 19 personas resultaron con mutilaciones o daños mayores para 2015 por incidentes relacionados al uso de fuerza de la Policía de Puerto Rico. Mientras, en el año 2016 fueron 11 personas, según el informe.
Aunque Mari observó que la política de uso de fuerza cumple con seis de los ocho criterios desarrollados por Campaign Zero, una organización estadounidense que combate la violencia policíaca, se les ha dificultado su ejecutoria.
"Tenemos una política de uso de fuerza que en papel luce bien, pero todavía hay una gran brecha entre la letra y la acción", afirmó Mari.
Ricky Martin has enjoyed the success of "Despacito"
---
Madrid – With a Latin Grammy under his arm for his previous album, "To whoever wants to listen", Ricky Martin already looks at the summer with "Fever", theme in which his pop style returns to play with the reggaeton when they still resonate throughout the planet echoes another milestone of the merger, "Despacito" by his compatriot Luis Fonsi .
"I think I have enjoyed more than him with his success, I have not only because he comes from Puerto Rico, but because he is a good man and a true musician, hungry for applause, who has taken our language everywhere," assures Ask him if he feels like a pioneer of a musical formula under which other musicians have triumphed after his steps.
In that sense, in a talk held in a brief stop in Madrid with his children, can not but congratulated for their meeting in "Fever" with other compatriots of his, the global figures of the Latin urban Wisin & Yandel.
"I can not only get into the genre of pop, where I was born, if I can play a bit with reggaeton, jazz or rock, why not, they are both warriors who are always thinking and they have a very contagious creative march ", underlines who does not rule out or try the" trap "" as long as it is done well ".
It is not the only meeting, since "Fever" comes signed, among its eleven composers (including Martin himself), by the Spanish Beatriz Luengo and the Cuban Yotuel Romero (Orishas), who signed many of the themes included in "Whoever wants to listen "(2015).
"They know me very well, because everything they write is very much I. With them I won the Grammy and I dedicate it to them, because they gave me their art," says the Puerto Rican, for whom it is not a problem to delegate to others the search for your own voice
Thus, he downplays those who criticize that a single song can be the fruit of so many hands.
"The moment you think you know everything, it's the moment you lost, I like to rub shoulders with people from different countries and see music in different ways, I've never been a purist, what runs for my life it's fusion ", he emphasizes.
Martin, who will soon return to Las Vegas to extend his musical residence after the success of the first round, has recently combined his musical side with another that had more abandoned: the interpretation.
In the second season of the television series "American Crime Story", which bears the label of producer Ryan Murphy and recreates the murder of Gianni Versace, he plays the famous couturier's lover with Edgar Ramírez and Penelope Cruz .
"I'm flying, I see the episodes and I cry again, I get angry, I laugh … I remember one day when we said that something very good we should have done in this life for the three of us to have fallen in that set. responsibility to be next to Penelope, winner of an Oscar, "he proclaims.
At this point, Martin does not rule out insisting on his career as an actor, a route he opened at age 15 that has taken him to the small screen, but also to venues like Broadway.
"The performance was always there, the wave of music pushed me and never released me, but now I'm in a moment of my life where I have to go back to that beginning, to that tingling sensation that I felt when I was 15 years old. experience has taken away nerves and insecurities that came with me to break the glass and reach very intense levels of interpretation, "he says.
That includes the scenes of homosexual sex that he stars in "American Crime Story," something he downplays.
"I've never had problems with the nude, it's our natural state, it's beautiful, but you have to do it and take good care of it, what we've done in the series may be uncomfortable, but we had to be firm with a story. I undressed in front of the camera and the public congratulated me for it ", he presumes.
There is no date of new projects, as there is no date for his next album, whose creative spit was opened with the previous single, "Vente pa'cá".
Sean Collins, 29, dead, puerto rico – Google Search
---
<a href="http://SILive.com" rel="nofollow">SILive.com</a>
–
19 hours ago
STATEN ISLAND, N.Y. — The body of a 29-year-old Staten Island man was found in Puerto Rico, according to media reports. Sean Collins, 29, reportedly was found dead inside a Nissan Versa on Feb. 20, according to the Puerto Rican news website <a href="http://ElVocero.com" rel="nofollow">ElVocero.com</a>. Public records indicate that Collins lived …
NBC New York
–
Feb 25, 2018
It's not clear how he died, but police don't believe foul play was involved. A Staten Island man was found dead about a week after he went missing in Puerto Rico, officials said. Sean Collins, 29, was a lineman for Northline Utilities who went to Puerto Rico as a contractor to help restore power after Hurricane …
BuzzFeed News
–
Oct 28, 2017
AGUADILLA, Puerto Rico — Funeral home and crematorium directors are being permitted by the Puerto Rican government to burn the bodies of people who they say died as a result of Hurricane Maria — without those people being counted in the official death toll. Those directors say they are unclear on …
The Strike Force of Bayamón arrests suspect of killing in Comerío
---
Police last night arrested one of the suspects suspected of the massacre reported last Sunday morning in front of a business in Comerío , confirmed the police press officer, Widalys Rivera.
It is a young man of 24 years who is nicknamed "Minor" . The name will not be disclosed by this newspaper, since he has not been accused of the alleged crimes.
Rivera explained that the arrest was made at around 9:00 pm on the PR-811 highway, in the Lomas del Valle sector, in Naranjito.
"He was arrested by Law 22 (of Vehicles and Transit of Puerto Rico)," said the agent, indicating that the young man was occupied a Toyota Yaris, of 2017, for research purposes.
It is also alleged that the young man was occupied with ammunition without firing in the vehicle. However, Rivera was unable to confirm the information.
The arrest was made by agent Carlos Rodríguez, of the Strike Force of Bayamón.
So far, it is unknown whether the federal authorities will assume jurisdiction over the case, Rivera said.
A "Minor" is linked to the war between rival gangs that sparked a shootout in front of a business in the urban area of Comerío in which five people died.
The police identified the victims as Ángel Luis Santiago (34 years old), Nahir Rolón (25 years old), Luis Armando Torres (27 years old), Christian Cruz (26 years old) and Raymond Rivera (20 years old).
They ask for scandal in the ESA | GOVERNMENT
| | |
| --- | --- |
| | mikenova shared this story from www.elvocero.com – RSS Results in gobierno of type article. |
---
Faced with the complaint that a group of employees of the Electric Power Authority (AEE) was dedicated to energize non-priority areas and nightclubs of exotic dancers in exchange for money, the representative of Precinct 3 of San Juan, Juan Oscar Morales, sued yesterday of the public corporation that investigates said accusations.
Morales told EL VOCERO that it is the responsibility of the interim executive director of the AEE, Justo González, to immediately initiate a probe into these complaints.
"I understand from another source that Justo knew about these complaints. What I want is for him to explain to the Country if he has already started an investigation with this thing that is coming out today (yesterday) in EL VOCERO, "said the representative, adding that if these allegations are correct, it must reach the final consequences and set responsibilities.
He said that since December he had met with González to bring him complaints about connections in sectors such as Good Advice that were made because ESA managers live there.
Yesterday this newspaper published on the cover that a group of employees of the AEE presumably energized non-priority areas to favor friends, family and even clubs of dancers. One of these businesses allegedly paid four employees of the public corporation checks in the amount of $ 5,000 and gave them 15 ticket offices valued at $ 1,000 each.
According to the sources, the scheme began after Hurricane Maria, which occurred on September 20, and supposedly involved managerial and unionized employees.
No quarrels
However, the acting executive director of the AEE said that at the moment there are no complaints or information about the alleged bribery scheme of alleged employees that, if true, would violate the rules of conduct according to the provisions of the administrative manual of the public corporation. .
"En la AEE no hay espacio para la corrupción. La combatiremos con rigurosidad y mano firme venga de donde venga. Exhortamos a la ciudadanía a presentar cualquier alegación o información sobre algún suceso que implique ilegalidad (testigo, declaración jurada o querella) para llegar hasta las últimas consecuencias", indicó González.
Explicó que la Oficina de Seguridad Corporativa de la AEE iniciaría una investigación sobre cualquier denuncia formal con evidencia corroborable y se aplicarían los reglamentos disciplinarios con rigor y, de ser necesario, se harían los referidos correspondientes al Departamento de Justicia o a la Oficina de Ética Gubernamental (OEG).
"Hasta la fecha, la AEE separó de empleo y sueldo a tres empleados de la región de Ponce por solicitar dinero a cambio de reconectar el servicio eléctrico a clientes", concluyó.
Mientras, el presidente de la Unión de Trabajadores de la Industria Eléctrica y Riego (Utier), Ángel Figueroa Jaramillo, precisó que dichos señalamientos son "rumores" que se habían ventilado desde hace unos meses.
Que vayan a las autoridades
"Nos habíamos expresado al respecto condenando estas alegaciones y estableciendo claramente que rechazamos las mismas y que lo que procede es que los ciudadanos que hacen los señalamientos deben ir a las autoridades correspondientes", dijo.
Manifestó que dichas denuncias se convierten en una sombra de duda sobre el gran trabajo y la reputación seria de los miles de hombres y mujeres que todos los días trabajan para darle servicio eléctrico al País.
"Si esto es correcto es una excepción y las excepciones se tratan como lo que son, haciendo los señalamientos claros y precisos de estas personas para que las entidades gubernamentales que correspondan puedan investigar y para que los procesen", finalizó.
Designan fiscales
En tanto, la fiscal general Olga Castellón precisó que Justicia designó fiscales en toda la Isla para trabajar las distintas querellas que se han radicado sobre la AEE y están investigando en conjunto con agentes del Negociado de Investigaciones Especiales (NIE), por lo que una vez concluya la pesquisa de las distintas querellas se estarían informando los resultados.
For its part, the Secretary of Public Affairs of La Fortaleza, Ramón Rosario Cortés, said that any citizen who has suffered an illegal approach of an official must report it. He added that PREPA had reported that they have investigations in progress and any employee who has violated the law must face the consequences.
The journalist Laura Quintero collaborated on this note.
Buscan eliminar departamento de seguridad | GOBIERNO
| | |
| --- | --- |
| | mikenova shared this story from www.elvocero.com – RSS Results in gobierno of type article. |
---
Legisladores del Partido Popular Democrático (PPD) radicaron proyectos en Cámara y Senado para eliminar el Departamento de Seguridad Pública (DSP) y regresar al modelo en el que todos los componentes de seguridad eran agencias independientes.
El senador José Luis Dalmau y el representante Ramón Luis Cruz argumentaron ayer que, a casi un año de su creación, este departamento no ha conseguido ninguno de sus dos objetivos: reducir costos y frenar la ola criminal.
El DSP fue creado en abril del año pasado con el fin de agrupar bajo una misma sombrilla la Policía, el Cuerpo de Bomberos, Emergencias Médicas, el Sistema de Emergencias 9-1-1, el Instituto de Ciencias Forenses, la Agencia Estatal para el Manejo de Emergencias y el Negociado de Investigaciones Especiales. Los legisladores de la Pava aseguraron que el modelo no funciona y tampoco Héctor Pesquera como secretario de la agencia.
"El gobernador prometió que el Departamento de Seguridad bajaría el crimen y traería ahorros. Ni ha bajado el crimen ni ha traído ahorros", dijo Dalmau. "Si hay un plan, fracasó. Hay más delitos tipo I, hay más asesinatos, hay más 'carjackings'. Hay una desorganización y parece que nadie está al mando", sostuvo.
Cruz, por su parte, indicó que el Negociado de la Policía no está esclareciendo ocho de cada diez asesinatos. "Hay una crisis de liderato en la Policía", sentenció.
spaceplay / pause
qunload | stop
ffullscreen
shift + ←→slower / faster
←→seek
 . seek to previous
12… 6 seek to 10%, 20% … 60%
Según el representante, en los primeros 56 días de 2018 se reportaron 130 asesinatos, 591 vehículos hurtados y 121 "carjackings".
"No se sabe quién manda en la Policía y hay conflicto de quién establece la cadena de mando. No hay una estrategia que redunde en reducir el crimen", afirmó Cruz.
La medida, en su exposición de motivos, da cuenta de las reservas expresadas por el monitor federal Arnaldo Claudio, quien en un informe reciente criticó la cadena de mando en el DSP y expresó preocupación de que no contribuya a cumplir con la reforma de la Policía.
El departamento, dice el proyecto, "se convirtió en un súper departamento que lejos de acercar la solución de los problemas de seguridad pública, los ha agudizado por su burocracia, que al mismo tiempo, lejos de significar un manejo costo efectivo de los recursos del Estado, ha sido más caro, con una marcada reducción en la calidad de los servicios".
Rechazan la propuesta
En tanto, el liderato del Partido Nuevo Progresista (PNP) en el Capitolio dejó saber que no eliminarán el DSP. Los presidentes de las comisiones de Seguridad, Henry Neumann en el Senado y Félix Lasalle en la Cámara, dijeron no estar de acuerdo con que se elimine esta sombrilla.
Neumann dijo que esta idea ha tenido "mucho éxito" en otras jurisdicciones y que hay que darle tiempo para que funcione.
"No ha empezado a funcionar. Tuvimos los problemas relacionados con los huracanes, tuvimos las bajas que sufrieron los comisionados que originalmente estaban. No se le ha dado la oportunidad para poder funcionar", indicó Neumann.
"El problema no es Héctor Pesquera tampoco. Puedes cambiar a Héctor Pesquera y llega otro mañana con los mismos problemas. El problema es que la Policía no tiene las herramientas necesarias para poder defendernos", manifestó el senador.
Lasalle, por su parte, expresó que "la parte importante no es atacar el departamento, sino ir a ver cómo vamos a trabajar con un plan de seguridad".
El vicepresidente del Senado, Larry Seilhamer, tampoco favoreció eliminar la agencia. "Me parece que lo que hay es que refinarla. Tenemos que hacerle unos ajustes a esa sombrilla y examinar cómo ha sido el comportamiento y la eficiencia hasta el momento para poder hacer los ajustes", afirmó.
Contractors Are Leaving Puerto Rico, Where Many Still Lack Power
---
Fluor has already billed the maximum amount allowed under its $750 million contract, and its subcontractors were told last week to pack up.
"Fluor was among the first companies to get here, about a month and a half ago," Mr. González Otero said, referring to Jayuya. "They said the contract was over, and they left everything half-done."
"Imagine, I have people here without power for five months who are 80 years old, disabled, bedridden," he added, "and they were just beginning to see people 50 meters away get their electricity back. They are growing desperate."
Fluor's crews would not be the first contractors to leave abruptly. After a scandal erupted over the Puerto Rico government's award of its first power restoration contract, worth $300 million, to a small Montana firm, Whitefish Energy, the government canceled the deal.
Many people involved in power restoration said that officials overseeing the work were disappointed with the Army Corps of Engineers contractors. Fluor in particular was criticized for working sluggishly and using up the money available under its contract without accomplishing as much as expected.
Fluor is a Texas-based construction giant that has done more than $30 billion in government work over the past four decades, much of it for the Defense Department, federal records show.
"I understand that they were slow — super slow," Mr. González Otero said. "Now we don't have anyone, slow or at all. We have no one."
Justo González, the interim executive director of the island's government-owned utility, the Puerto Rico Electric Power Authority, also was critical of Fluor's performance.
"We compared, and saw better work from other companies," Mr. González said in an interview.
Even so, he said, the corps's decision to let the Fluor workers leave was worrisome.
"It concerns me," he said. "It can affect our ability to energize. We wanted them to continue. What do I want? To energize as quickly as possible."
A spokesman for Fluor denied that there had been any questions about its work.
"To date, we have restored power to 250,000 customers by fixing 7,500 poles, installing 462 miles of wire, more than 20,000 conductors, and repaired 170 transmission lines," the company said. Under the limits set by the contract on the time and money to be expended, the company said, "we are reaching the end of both, and have been directed by the corps to begin transitioning people and equipment off of the island."
The corps said that restoring power to some of the hardest-hit areas of Puerto Rico, including Arecibo and Caguas, would take a few more months. The "right number of restoration workers" were "actively engaged" in completing the job, the corps said in a statement.
"We will not rest until we have the lights back on for all of our fellow American citizens in Puerto Rico," Col. Jason Kirk said in the statement.
Ahsha Tribble, who oversees power efforts for the Federal Emergency Management Agency in Puerto Rico, said it was unfair to single out Fluor for leaving before restoration was complete, because other private companies that came to the island from New York and other states under mutual assistance agreements were also considering scaling back soon.
"At 86 percent restoration, we are starting to shave off people," Ms. Tribble said. "In any normal course of restoration, you ramp up until you start getting your successes, and then you begin to start ramping down."
Many of the remaining areas without power are in mountainous regions where it is not possible to squeeze in thousands of workers at once, she said.
Island residents, many of them still struggling to get basic services, were surprised by the corps's announcement.
"We are so appreciative of everything these people have done — these workers risked their lives coming here, working in dangerous helicopters and all of that," said Nydia Guzmán, 72, who spent Friday at one of the utility's customer service offices, along with dozens of other customers who were disputing their bills.
"But they can't leave now," Ms. Guzmán said. "There's too much left to be done."
cocaine in Russian diplomatic luggage – Google Search
---
<a href="http://NBCNews.com" rel="nofollow">NBCNews.com</a>
–
Feb 23, 2018
BUENOS AIRES, Argentina — Six suspected drug traffickers were arrested after 860 pounds of cocainewere found in the Russian Embassy in Buenos … of the Russian federal security service reported that they had suspicions about diplomatic luggage found at a school that is annexed to the embassy.
Discovery of cocaine in Russian diplomatic luggage leads to numerous arrests
---
A Russian former diplomatic employee and an Argentine police officer are among six people arrested following the discovery of nearly 1000 pounds of cocaine inside the Russian diplomatic compound in Buenos Aires. The arrests took place last Thursday and were announced in Argentina by the country's Security Minister Patricia Bullrich. She told reporters that the arrests came after a 14-month investigation in Argentina, Russia and Germany. She added that the investigation unveiled "one of the most complex and extravagant drug-dealing operations" in Argentina's history.
The 14-month probe dates to December of 2016, when Victor Koronelli, Russia's ambassador to Argentina, and thee members of Russia's Federal Security Service, discreetly approached Argentinian authorities. They informed the Argentinians that they had discovered 16 pieces of luggage filled with drugs inside an annex of the Russian embassy in Buenos Aires. Argentinian authorities were given permission to secretly enter the embassy grounds and inspect the suitcases. They confirmed that they contained more than 850 pounds (390 kilos) of cocaine, with a street value of more than $60 million. The suitcases were intended for transfer to Russia via a diplomatic flight. Cargo transferred on diplomatic flights cannot be searched by international customs officials due to the privilege of diplomatic immunity.
According to Bullrich, diplomatic counter-narcotics officers secretly transferred the bags to a separate location, where they replaced the cocaine with flour and fitted the suitcases with GPS tracking devices, before returning them to the Russian embassy annex. The luggage was eventually transferred to Russia via airplane in December 2017, a year after it was bugged by the Argentinians. Several Argentinian customs officers traveled to Russia to monitor the transfer of the shipment, in coordination with Russian authorities. The latter arrested two Russian citizens who tried to collect the suitcases. Another Russian citizen, and former staff member of the Russian embassy in Argentina, Alia Abyanov, was arrested in Moscow. Officials said Abyanov helped plan the transfer of the suitcases to Russia.
Two Argentines with dual Russian citizenship were also arrested in Buenos Aires. One of them has been named as Iván Blizniouk, a police officer, who is believed to have mediated between the drug smugglers and corrupt Argentine customs officers. A seventh suspect, identified only as "Señor K." by the Argentine authorities, remains at large. He is believed to be living in Germany and is currently wanted by Interpol pursuant to an international warrant that has been issued for his arrest.
► Author: Joseph Fitsanakis | Date: 27 February 2018 | Permalink
Lawmakers propose dismantling of Puerto Rico Public Safety Department Caribbean Business
---
SAN JUAN – Popular Democratic Party (PDP) minority Rep. Ramón Luis Cruz and Sen. José Luis Dalmau on Monday presented a bill to repeal the law that established the Puerto Rico Department of Public Safety (DSP by its Spanish initials).
The lawmakers said they believe that the elimination of the DSP would reduce bureaucracy, save public funds and return responsibility to the various security agencies to deal with emergencies immediately.
A repeal of Act 20-2017 would restore the duties of the Puerto Rico Police, the Fire Department, Medical Emergencies, State Agency for Emergency and Disaster Management (Aemead by its Spanish acronym), the 9-1-1 emergency calling service, the Institute of Forensic Sciences, the Bureau of Special Investigations, and the Safety and Public Protection Commission.
"Today we face an unprecedented security crisis and [Public Safety Director] Héctor Pesquera has not been able to effectively manage the Department of Public Safety nor implement an anti-crime plan that will produce results," the PDP legislators stated. (Juan J. Rodríguez / CB)
"The security issue is out of Governor Ricardo Rosselló's hands. Today we face an unprecedented security crisis and Héctor Pesquera has not been able to effectively manage the Department of Public Safety nor implement an anti-crime plan that produces results. This administration continues with a pattern of ill-advised decisions that have disastrous consequences for our people. So the first step is the repeal of the DSP, and…the $250,000 Pesquera is paid," Cruz Burgos said at a press conference.
For his part, Dalmau Santiago argued that "the people experience and suffer the insecurity in the streets, in places of recreation and even in their homes as a result of the failure of the Department of Public Safety that Pesquera directs. The increase in the numbers of murders, carjackings and break-ins is alarming. It's hard to go out on the street or to stop on a highway shoulder without having the great possibility of becoming another victim of crime in mind. How much more has to happen for the government to take action?" he questioned.
The legislators said the administration created the DSP in March with "the belief it would result in a more effective strategy in the fight against crime and with the expectation it would produce savings for the government. However, almost a year after its approval, the results have been contrary to expectations. The Fire Department without communications or equipment; Forensic Sciences failed in [with the deathcount] after the hurricane; Emergency Management has no coordination and is disconnected from working on the emergency, during and after, its recovery coordination duties were eliminated; 9-1-1 System without direction."
The lawmakers continued listing reasons why their party considers Pesquera was failing.
"We have an agency that has been disintegrating with the questionable exits of the director of the State Agency for Emergency and Disaster Management, and the executive director of the 911 System. We have a leadership crisis and a dislocation in the chain of command of the Police, which also caused the departure of the commissioner [Michelle Hernández]. Eight out of 10 murders are not clarified and there is chaos in the management of the emergency after Hurricane Maria," they said.
Lawmakers propose dismantling of Puerto Rico Public Safety Department – http://bit.ly/2oxK6PK pic.twitter.com/BsC7CCWjRD
---
Lawmakers propose dismantling of Puerto Rico Public Safety Department – http://bit.ly/2oxK6PK pic.twitter.com/BsC7CCWjRD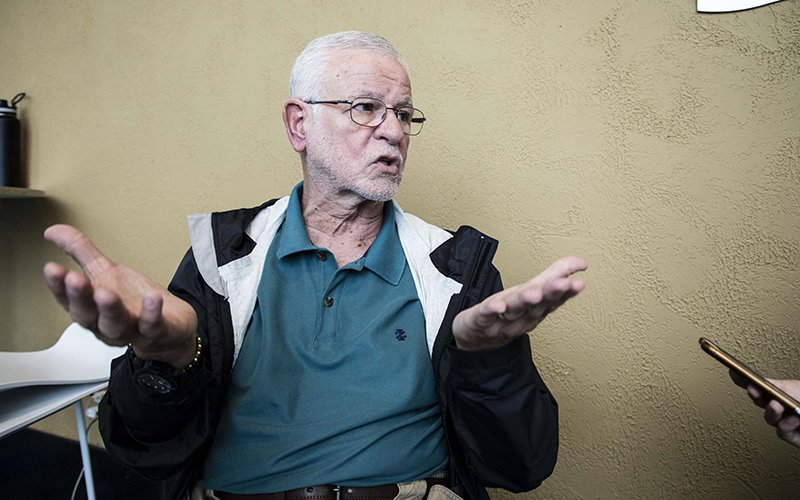 GOP Refuses to Follow Donald Trump's Money in the Russia Investigation | Thomas Jefferson Street
---
FILE- In this Friday, Feb. 23, 2018, file photo, President Donald Trump delivers remarks to the Conservative Political Action Conference in Oxon Hill, Md. Trump is expressing frustration with an immigration program that he says lets other countries nominate undesirable citizens for emigration to the U.S. That path to coming to the U.S. does not exist. (AP Photo/Evan Vucci, File) The Associated Press
The most famous adage in Washington scandals is probably "Follow the money." Disappointingly, if perhaps not surprisingly, congressional Republicans seem resistant to doing that when it comes to President Donald Trump and the investigation into Russia's interference into the U.S. political system.
"I don't see the link at this stage," Rep. Mike Conaway, the Texas Republican leading the House Russia investigation, told CNN. "Deutsche Bank is a German bank – I don't see the nexus."
Asked about exploring Russian-Trump business transactions, Conaway was not moved. "I bet every big bank has a Russian customer somewhere," he said.
Well sure, every big bank may have some Russian customer somewhere. But there are a couple of things that distinguish Deutsche Bank in this regard. For one thing, it was fined $630 million in January 2017 for its involvement in a $10 billion Russian money-laundering scheme. For another, during the time-period the bank was washing the Russian cash, it was also doling out huge sums of money to reality television star and real estate developer Donald Trump. Deutsche Bank is itself the nexus, in other words. As someone dimly aware of, let alone leading, the Russia investigation, Conaway should know these things.
According to a December 2016 analysis by Bloomberg, Trump owed the German bank roughly $300 million as he was poised to assume the presidency. As The Guardian's Luke Harding recounts in his book "Collusion: Secret Meetings, Dirty Money, and How Russia Helped Donald Trump Win," this debt was not only unprecedented but bizarre: He had borrowed the money from Deutsche's private wealth division, using the money to pay back a $330 million loan that he had defaulted on from the bank's real estate division. "Asked whether it was normal to give more money to a customer who was a bad credit risk and a litigant, one former senior Deutsche Bank staff member said: 'Are you [expletive] kidding me?'" Harding wrote.
Cartoons on President Trump and Russia
The fact of the debt in and of itself is something Congress ought to be keeping an eye on regardless of the Russia connection. As Harding writes:
This was an unprecedented sum for an incoming president and one that raised awkward questions about conflict of interest. If Deutsche Bank were to get into regulatory difficulty, one of the bodies that would investigate was the Department of Justice. Which reported to Trump. It was hard to see how the department could work dispassionately. Or how Deutsche Bank might take legal action against a sitting president if he defaulted again.
But the Russia connection adds immediacy to the Deutsche nexus. For all of the prurient interest in whether Trump ever engaged in unsanitary sexual acts with Russian prostitutes, financial enmeshment is another classic way for foreign intelligence agencies to coopt intelligence targets. And while he has long denied Russian business entanglements, the public record, including Donald Trump Jr.'s famous 2008 declaration that "Russians make up a pretty disproportionate cross-section of a lot of our assets. … We see a lot of money pouring in from Russia," indicates something else. As The Washington Post's David Ignatius put it last November: "What's clear, reviewing the facts, is that Trump's claim he had 'nothing to do with Russia' over the years is nonsense."
Many of the precise details of any Trump financial arrangements with Russia remain a mystery, in no small part because he refuses to follow the long-standing tradition of presidential candidates and presidents releasing their tax returns – a decision with which his Republican congressional defenders seem utterly at ease.
None of this proves that Trump has concerning financial relationships with Russia. But that's the point: You can't know what you're going to find until you look. And there's enough smoke to at least look and see if something's on fire – this isn't some random fishing expedition, as Republicans dismiss it, where Democrats want to open up Trump's books without any legitimate basis. (Though again, his refusal to disclose his tax returns is itself basis enough.)
Trump has said that looking at his finances qualifies as a red line which would be inappropriate to cross, and incredibly Republicans seem content to follow his lead on the topic.
Another illustrative quote: House Government Reform Chairman Trey Gowdy told Politico: "Isn't that what Bob Mueller is doing?" Putting aside that such logic would dictate that Congress drop any investigation into Russia at all, the answer is: Yes.
Comey's FBI had reputation for 'sexual mischief' – WND.com – WND.com
---
peter strzok is removed – Google News: The Shocking History Of Sexual Misconduct Within James Comey's FBI – The Daily Caller
---
 peter strzok is removed – Google News
Twitter Search / engcrimerussia: Russian living in Berlin wanted in case of 400 kg cocaine at Russian Embassy in Argentina https://en.crimerussia.com/drugmafia/russian-living-in-berlin-wanted-in-case-of-400-kg-of-cocaine-at-russian-embassy-in-argentina/ pic.twitter.com/ZP74rLdGtX