"An individual with personal knowledge of PREPA's workings, who declined to be identified while talking about company-employee relations, described
systemic corruption that has allowed critical equipment to deteriorate while highly paid and underperforming employees are protected.
Reports that date back over 25 years, prepared by engineers charged with overseeing the corporation's operations, show that PREPA employees on average perform only two hours of useful work per day. Yet a menial custodial position can pay upward of $90,000 a year with generous benefits." 
Neglect, Corruption Left Puerto Rico's Power Grid Ripe for Failure … – Voice of America–Nov 30, 2017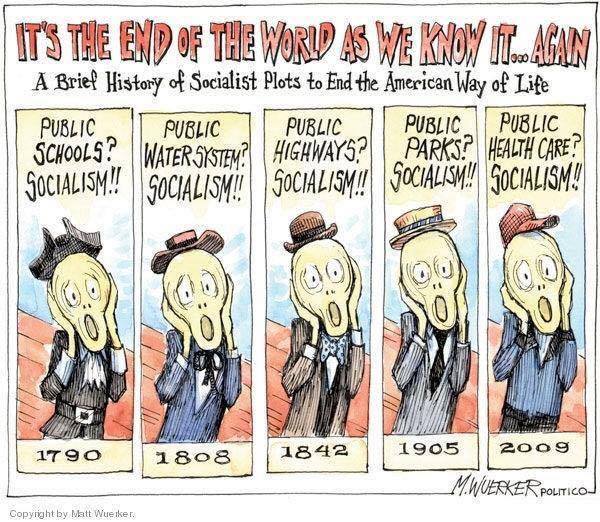 https://en.wikipedia.org/wiki/Puerto_Rican_Socialist_Party
The Puerto Rican Socialist Party (Spanish: Partido Socialista Puertorriqueño, PSP) was a Marxist and pro-independence political party in Puerto Rico seeking the end of United States of America control on the Hispanic and Caribbean island of Puerto Rico. It proposed a "democratic workers' republic".
https://en.wikipedia.org/wiki/Category:Socialism_in_Puerto_Rico
Category:Socialism in Puerto Rico. … Socialism is an economic system characterised by social ownership and control of the means of production and cooperative management of the economy, and a political philosophy advocating such a system.
www.europac.com/…/how_socialism_destroyed_puerto_rico_and_how_capitalism_ca…
Jul 15, 2015 – While Greece is now dominating the debt default stage, the real tragedy is playing out much closer to home, with the downward spiral of Puerto Rico. As in Greece, the Puerto Rican economy has been destroyed by its participation in an unrealistic monetary system that it does not control and the failure of …
https://nacla.org/article/puerto-rican-socialist-party-united-states
A discussion on the fight for environmental justice, sustainable energy, and a livable future across borders—from New York, to Houston, Oaxaca, and Puerto Rico. The Latin East: New Perspectives on Latin America-Middle East Ties. An international conference convened by NACLA, MERIP, and Jadaliyya April 27 – 28 …
https://www.cnn.com/2017/05/17/opinions/puerto-rico-progressive…/index.html
May 17, 2017 – Alice Stewart: Puerto Rico's fiscal crisis, on display as bankruptcy proceedings begin, is a warning to US territories and states about the risks of big government. … Between Puerto Rico and Venezuela, it's absolutely obvious that leftist/socialist/progressive economics are ultimately a disaster. On a gentler … 
__________________________________
Thou shall not steal!
Whatever the causes and the reasons are, and whoever is "at fault": "greedy bankers" or the saboteurs (as hypothetically possible in the recent blackout of 2.11.18), I think it becomes obvious to everyone willing to keep their eyes open, that 
The "Puerto Rican Socialism" came to its end.
It is amazing (0r maybe not amazing at all, but logical and customary in the post-Obama, transitional world), that the "Voice of America" and the "World Socialist Web Site" sing in the unison, and they name the most likely culprits: "Neglect, Corruption, and "years of Mismanagement". I put these words in the capital letters, because they sound like the cardinal sins in today's America and anywhere, and maybe rightly so. 
The "Puerto Rican Socialism" went properly and irreversibly bankrupt.
And now the Islanders face the task of the economic and political reconceptualizations, and rebuildings, which are many and in many areas, including the mentality and psychology, which might be the toughest to change. 
Thou shall not steal!
This old one shines the first among the new ways and solutions. 
This dictum does have the direct connection with the present situation: do we know, what amount of electricity had been and still is stolen, in many ways, tricks, and modes, by those who feel that they are entitled to it, and are not willing to pay for it? 
Was this question even asked? ("Oh, it is so embarrassing…") 
Shouldn't we try to ask and answer these "Preguntas inconvenientes (Inconvenient Questions)" also, among the others?
Dr. Marxuach, what do you think about it? 
Michael Novakhov 
12:57 PM 2/20/2018
Voice of America
–
Nov 30, 2017
Puerto Rico's grid as of 2010. Puerto Rico Electric Power Authority
HURRICANE MARIA | Trump admin takes over Puerto Rico grid recovery | Peter Behr, Rod Kuckro and David Ferris, E&E News reporters | 
Puerto Rico's electric grid recovery map – GS
Puerto Rico power outage map today – GS

https://www.eenews.net/stories/1060074219
Data from Puerto Rico's power company show that while repair of the transmission network has made unwavering progress, the recovery of substations has flattened. Puerto Rico Electric Power Authority/Energy Department (data); E&E News (chart) 
Voice of America
–
Nov 30, 2017
But former and current officials of the Puerto Rico Electric Power Authority (PREPA) say a decades-long culture of neglect and corruption had left the … PREPA executives and other analysts pointed to several long-standing problems that contributed to the system's collapse and painfully slow recovery 
See also:
By Matthew Taylor
13 February 2018
An explosion ripped through the Monacillo power plant outside of San Juan, Puerto Rico Sunday night, causing large-scale blackouts in the capital city. More than 175,000 residents temporarily lost power. The San Juan International airport, the University of Puerto Rico's San Juan college and Centro Medico, the region's largest hospital, were all left without power for several hours. There were no reported casualties from the explosion.
While the cause of the explosion is still unknown Angel Figueroa Jaramillo, union leader for the Puerto Rican Electrical Power Authority (PREPA), told reporters that a breaker should have prevented the blackout and that it was too early to determine if mechanical failure was the problem given the decrepit state of the islands power plants.
Sunday's blackout illustrates the precarious state of the electrical infrastructure in Puerto Rico nearly five months after Hurricane Maria destroyed the island's power grid, plunging the entire country into darkness and worsening the already impoverished conditions that the majority of Puerto Rico's citizens live in. To date, 30 percent of the island is still without power, encompassing some 1 million people. Where power has been restored, primarily in the urban areas, it is unreliable and subject to failure…
The power plant explosion occurred in the wake of the announcement by the island's governor, Ricardo Rosselló, that his government would seek to privatize PREPA,
the largest public utility company in the United States. In June of last year, the utility had already filed for a form of bankruptcy protection under Title III of the Promesa law, a law passed by Congress in 2016 to impose austerity measures upon the island's population and ensure the payments of its debts to Wall Street. To carry out this task the law created an unelected eight-person body known as the Financial Oversight and Management Board.
Staffed by bankers and other social parasites who had driven the island to insolvency through various deals with hedge funds and wealthy investors, the board voted in June of last year to sell PREPA to private interests.
Sunday's incident will undoubtedly be used to bolster the governor's argument that the island's electricity needs can be better served by private business interests.
The privatization of PREPA has been a long-held goal of Puerto Rico's elite and the Wall Street interests they represent and serve. Just as on the mainland, and throughout the world, publicly held utilities and their potential to generate vast profits through providing the vital necessities of life—clean water, electricity, trash removal, etc.—are an irresistible target for the capitalist class. Natural disasters are used frequently as the pretext for the transfer of publicly held assets to the private sector.
Hurricane Maria was the catalyst for the sell-off, the groundwork for which has been laid by years of under-funding, corruption, and mismanagement.
It is a widely held belief among Puerto Rico's electrical workers that the disrepair of the system is the outcome of a deliberate policy intended to smooth the transition to privatization…
There have also been indications that the directors of PREPA have deliberately slowed recovery efforts post-Maria. In January, the Intercept published an article describing the armed seizure by FEMA and the US Army Corp of Engineers of a warehouse in Palo Seco, owned by PREPA, where the utility company had been hoarding equipment used in repairing the power grid. Discovered in the raid were hundreds of high tension steel sleeves, which are required to build new power lines along with "2,875 pieces of critical material to contractors." USACE and FEMA reportedly started distributing the seized equipment to contractors immediately, and the story was buried by the media.
In addition to hoarding needed equipment, PREPA has also come under criticism for its corrupt contracting process. Most notably, they awarded a $300 million no-bid contract for repairs to Whitefish Energy, a company of two employees founded in 2015 with connections to the Trump administration. The founder of the company, Andy Techmanski is close friends with the Secretary of the Interior, Ryan Zinke. Whitefish's primary investor, HBC Investments, was founded by Joe Colloneta, a major donor to the 2016 Trump campaign.
The no-bid contract was awarded due to an executive order issued by Rosselló in the aftermath of Maria, which lifted all standard processes and restrictions for awarding government contracts. Included in the contract was a clause that prohibited government auditors from examining the labor costs and profits from the project.
Rosselló was forced to cancel the contract after news reports detailing its corruption became widespread and resulted in public outrage. Among the more notable discoveries was that Whitefish was charging PREPA $319 per hour for its linemen, roughly 17 times what linemen in Puerto Rico earn. Meanwhile, PREPA's subcontractors, who had been recruited from several large Florida utility companies, were paid $63 per hour, just one-fifth of the total per hour charged by Whitefish to the government of Puerto Rico. The FBI is said to be investigating the awarding of the contract.
The drive toward privatization and the austerity measures imposed by the Financial Oversight and Management Board will deepen the social crisis that Puerto Rican workers have suffered under for years. The US colony has been in recession for the last 11 years and 45 percent of the island's population lives below the poverty line. Many Puerto Ricans, facing unendurable hardship, have migrated to the mainland, a process that has greatly accelerated since the hurricane. An estimated 300,000 Puerto Ricans have made the move to Florida alone.
Five months ago today, Hurricane Maria struck Puerto Rico, leading to the worst blackout in American history and a costly, complicated attempt to rebuild its electric grid. How is that effort going?
According to data compiled by E&E News, there is much left to do. After making strides in late 2017 to restore major chunks of infrastructure and get the lights back on, the repair endeavor has entered a plateau. While most have electricity, it is unclear how much longer those in the dark will have to wait.
The transmission network, nearly destroyed by the hurricane, has made steady gains. Meanwhile, one kind of substation is crawling back into service, while another has seen no progress in months.
"The bulk of the work that is left is the hardest, requiring helicopter support and long commutes to remote, hard-to-access job sites,"
said Jay Field, a spokesman for the Army Corps of Engineers, which was assigned by the Trump administration to lead the recovery. "Weather is also an issue due to rain and heavy winds."
Last week, the island's unified grid-restoration command said that it expects to have 90 to 95 percent of the territory's power restored by March 31.
It estimates that the hard-hit municipality of Arecibo will have its electricity restored by mid-April, and the municipality of Caguas by late May. It provided no timeline for other municipalities that are also lagging in energy recovery.
Advertisement
The command is made up of the Army Corps; the Federal Emergency Management Agency (FEMA), which directs the island's overall disaster recovery; and the island's monopoly power company, the Puerto Rico Electric Power Authority (PREPA).
The graphs that accompany this story are compiled from regular updates from the U.S. Department of Energy, based on data from PREPA.
The pace of recovery has been complicated by overlapping lines of authority and Puerto Rico's bankruptcy. While the Army Corps is in charge of overall recovery, much of the repair work is being done by PREPA, which is $9 billion in debt.
A new strain of uncertainty arrived last week, when the federal judge overseeing Puerto Rico's bankruptcy proceedings, Laura Taylor Swain, rejected PREPA's plea for a $550 million loan and asked it to look for other sources of funds.
In response, PREPA said it would start reducing output at some of its power plants because it couldn't afford fuel. The utility told the court in a filing that the scenario "exacerbated the risk to an already fragile system and leaves it vulnerable to outages and resulting in brownouts on the island."
The data tell a lot about the pace of recovery but not the whole story.
Most importantly, they don't reveal the status of the distribution network, which delivers electricity to neighborhoods and buildings. It is vast and was severely damaged by wind and falling trees. Fixing it is the focus of most of the nearly 6,000 repair workers now on the island, but they keep finding new problems.
It's hard to draw lessons from the numbers because there are so many things that make Puerto Rico an outlier. There's never been a storm that wreaked this much damage, on an island this large and heavily populated, that also happens to be a thousand miles away from help.
Asked to analyze the numbers, Andrew Phillips, the director of transmission and substations for the Electric Power Research Institute, politely declined.
"It's really hard for me to answer that question because it's so different than what we see in the U.S.," he said. "It's very hard to compare this recovery to a normal recovery."
Here's what the numbers say about this rebuild that is anything but normal.
Customers without power
The number that matters most to Puerto Ricans — how many homes and businesses actually have grid electricity — has been steadily rising, though there is a long way to go.
As of last Wednesday, 343,000 electricity customers were without grid power, the lowest number yet. Immediately after the storm, nearly 1.6 million customers were experiencing a blackout.
The return to normal has followed a tortured path. Many gains have been followed by drops, as PREPA's old and fragile grid has occasionally failed and sent swaths of newly restored customers back into darkness.
Most recently, a fire at a substation on Feb. 11 caused a blackout across much of the capital of San Juan.
[+] As Puerto Rico has restored more of its ability to generate and deliver electricity, the number of customers without power has declined.
The gap in the dark-blue line is where no customer service data were available.
As of last week, 343,000 customers, representing an unknown number of individuals, were still without power. Puerto Rico Electric Power Authority/Energy Department (data); E&E News (chart)
But that 343,000-customer number understates how many actual Puerto Ricans are living without grid electricity. A "customer" is a residence or business, and so each likely represents multiple individuals, perhaps many. No one has yet tried to estimate how many people are living or working in a state of blackout.
Many Puerto Ricans have resorted to running their own generators to get the lights on.
Thousands of homes and businesses are running either full or part time on backup diesel generators. Those running the generators have to pay for fuel, and the neighbors — who get none of the electricity — must contend with the roar of engines and the smell and particulates of burning fuel. The generators also produce carbon emissions that compound climate change.
Even knowing how many customers are without grid power has been a challenge.
From the storm's passage until early November, PREPA gave a rough estimate and then stopped trying. So extensive was the damage to the grid that it couldn't tell how many of its customers were drawing electricity. To date, it hasn't provided a hard number.
However, in early January, PREPA started reporting its percentage of "normal peak load" that had been restored. DOE used PREPA's percentage and applied it to PREPA's total number of customers to arrive at the customer number.
Peak load
While less useful to the average Puerto Rican, PREPA's updates to its normal peak load is an important barometer of how close the utility is to getting to the power levels it had before the hurricane hit.
This percentage of power restored has risen a great deal, from 19 percent in early October to almost 84 percent last week. But it has been a bumpy ride.
Here's what "normal peak load" means: "Peak load" measures the amount of electricity that a grid system uses at its height of consumption during a certain time period. PREPA "normalizes" that peak load by taking the maximum megawatts consumed in a time period since the storm — say, January 2018 — and dividing it by the peak load in the same month a year earlier — January 2017.
The resulting percentage of "normal peak load" reveals how close, or far, Puerto Rico is from the normal.
PREPA's electric grid is one of the least reliable in the United States and had numerous failures even before the hurricane. The recovery made the grid far less reliable.
Though parts of PREPA's grid have crashed on numerous occasions during the recovery, only a few of those outages are shown by the data. That's because power was often restored within hours or days and wasn't captured in the weekly snapshots.
The losses it did reveal were a plunge in normal peak load of nearly 7 megawatts in mid-December and drops of 1 MW or fewer in January and February.
Repair workers
Puerto Rico has seen an influx of electricity repair workers from the mainland, supplementing PREPA's crews. The total number of workers rose from just over 3,300 in early December to more than 5,800 as of last week.
That number may decline soon. The spokesman for Puerto Rico's governor said yesterday that the Army Corps' main contractor, Fluor Corp., which has received $1.3 billion in federal contracts, would soon wrap up the work of 1,800 workers, according to a report in the island newspaper El Vocero.
[+] Since early December, when data were first available, the number of workers helping to repair the Puerto Rico grid rose from just over 3,000 to almost 6,000. Fluor Corp./Army Corps of Engineers (photo); Puerto Rico Electric Power Authority/Energy Department (data); E&E News (chart)
Fluor declined to comment on those worker numbers yesterday.
On the other hand, other crews continue to arrive. The first barge of equipment from Exelon Corp., which in its entirety includes 77 vehicles, arrived in Puerto Rico this weekend. It is meant to support about 140 workers from the Chicago-based power company.
The outside assistance would have arrived sooner but for an odd standoff between PREPA and the mainland electricity industry.
After the storm, mainland crews were eager to come to Puerto Rico's aid. But PREPA's then-CEO, Ricardo Ramos, declined to activate a mutual-aid agreement with them because he was worried that his bankrupt company couldn't afford to pay them back.
The problem was resolved after the Trump administration assigned FEMA to bear all the costs of the grid rebuild for six months. PREPA signed the mutual-aid agreement on Oct. 31.
A small army of about 1,500 workers has come from U.S. investor-owned and municipal utilities, according to Scott Aaronson, secretary of the Electricity Subsector Coordinating Council, which synchronizes activities between the U.S. government and the country's power companies.
Line crews have scrambled from Sacramento, Calif., to New York, and even from the Northern Mariana Islands, a U.S. territory in the western Pacific that is closer to China than it is to North America. It sent a five-man crew last month.
The Army Corps currently has 254 staff on the ground, while its principal contractor, Fluor, has just over 3,300 and another, PowerSecure International Inc., has 755, according to Army Corps spokesman Field.
Transmission lines
Maria did an astonishing level of damage to Puerto Rico's transmission network. But now, after hundreds of millions of dollars and a major scandal, it is coming back online faster than other parts of Puerto Rico's grid.
In early October, only 20 percent of these cables were functioning, and the rest were either damaged or laid flat across the jungle landscape. As of the last week of January, the number of functioning lines had risen to 92 percent. (DOE did not provide more recent numbers.)
Transmission lines do the long-haul delivery of electricity from power plants to users, and the hurricane laid bare some deep problems with Puerto Rico's.
Many are vulnerable because they traverse the entire island, from generation plants in the south to San Juan in the north, crossing mountainous, roadless terrain. Due to staffing shortages at PREPA, no one had been cutting back the urgent jungle growth. When Maria's 155-mph winds tore through, the combination of long distances, inaccessibility, wind damage and tree damage converged to cause a crisis of unparalleled scope.
PREPA rushed to right the transmission system, but on the way stumbled into a political scandal.
Desperate to find a contractor that would tolerate the utility's tottering finances, PREPA turned to Whitefish Energy Holdings LLC, a tiny and unknown Montana company, for a $300 million deal to restore the transmission system. The contract's strange circumstances raised suspicions of incompetence and cronyism at PREPA. After outcry from both Puerto Ricans and members of Congress, the contract was canceled and PREPA's CEO, Ramos, was forced to resign.
The Army Corps has received a total of $1.9 billion to rebuild Puerto Rico's electric grid.
Substations
A laggard in the recovery is substations, which are responsible for stepping electrical voltage up or down.
For the territory's 342 distribution substations, which convert power from transmission to distribution use, improvement has occurred slowly since November and has been basically flat in 2018.
[+] Data from Puerto Rico's power company show that while repair of the transmission network has made unwavering progress, the recovery of substations has flattened. Puerto Rico Electric Power Authority/Energy Department (data); E&E News (chart)
Meanwhile, the grid's 56 transmission substations have seen no improvement since December. These stations step up voltage for long-distance delivery or prepare it for transport along transmission lines of different voltages.
Fernando Padilla, a senior adviser to PREPA's leadership, said in an email that damage to the substations still offline was so devastating that they need to be rebuilt from the ground up.
"A portion of the substations, specifically those that are close to where the eye of the hurricane passed, remain totally destroyed. Those require complete reconstruction (engineering, design, mitigation, etc.)," he said.
He added that he thinks the island can be restored to 100 percent power even if they don't come online soon.
"The PREPA system has points of interconnection that permit energy to be carried through various zones without having to pass by these particular substations," he wrote. "This isn't the norm, and it augments the risk to the reliability of the system. But in general, it can be done."
Read the whole story
· · · · · · · · · ·
Mike Nova's Shared NewsLinks
Puerto Ricos electric grid recovery map – Google Search
| | |
| --- | --- |
| | mikenova shared this story from Puerto RicoâÂÂs electric grid recovery map – Google News. |
---
Puerto Rico's grid recovery, by the numbers — Tuesday, February 20, 2018 — www.eenews.net
Por <a href="http://Primerahora.com" rel="nofollow">Primerahora.com</a> 02/13/2018 |08:08 a.m.
El director del Negociado Federal de Investigaciones (FBI) en Puerto Rico, Douglas A. Leff, reconoció que hay pocos recursos para combatir la corrupción en Puerto Rico.
En entrevista con Radio Isla, Leff dijo que en la isla existe una cultura de corrupción que es comparable a otras jurisdicciones.
"Es una combinación de nuestros recursos limitados en Puerto Rico y hay una cultura aquí muy similar a la de Nueva York pero en Nueva York hemos tenido bastante éxito después de muchos años de trabajo", dijo Leff.
Preguntado porque la situación de corrupción en Puerto Rico es mayor que en Nueva York, el director en la isla del FBI dijo que hay varias razones, y enfatizó que en esa jurisdicción hay más personal, como dos fiscales federales, cinco fiscales municipales y un fiscal estatal y todos tienen un gran equipo de investigadores dándole apoyo.
"Aquí en Puerto Rico tenemos muchos menos recursos", dijo Leff.
Asimismo, dijo que hay muchos casos de fraude con fondos federales que estaban destinados a ayudar a damnificados.
En esas pesquisas se investigan tanto a funcionarios como contratistas, agregó Leff.
As soon as the Resolution of the 760 Chamber is before the consideration of the Housing and Urban Development Commission, its president, representative Luis Pérez Ortiz, will cite the Secretary of Housing, Fernando Gil Enseñat, to investigate what the future of the thousands of families Who lost their homes because of Hurricane Maria and did not receive federal aid because they do not have property titles.
"There was a group of lawyers drafting an alternative document to achieve that channeling that aid so that they comply with what the process demands." We said to know what status he is and what they are doing with people, "said Pérez Ortiz.
According to expressions of the Secretary of Housing, only in the villages of Canovanas, Carolina and Loíza live about 11,000 people on land over which they have no ownership. Meanwhile, the Association of Builders estimated that 55% of housing units in the country do not have a permit.
Yesterday, the Commission held an executive hearing to approve the report that will allow the measure to be considered by the Housing Commission. The measure seeks to auscultate the alternatives for families affected.
Meanwhile, tomorrow begins the views of the Joint Resolution of House 237, authored by Joel Franqui Atiles, which orders Housing to conduct census on the number of vacant residences as a result of foreclosures.
Next Page of Stories
Loading…
Page 2
Contribute to better translation
Signed in as mikenova
Share this story on NewsBlur
Shared stories are on their way …
In solidarity with the victims of the shooting in a school in Florida , Governor Ricardo Rosselló Nevaresdecreed five days of mourning today .
According to the order issued, the flags in Puerto Rico will fly at half mast from today until Monday, February 19.
La medida la tomó el ejecutivo para unirse al decreto emitido por el presidente de los Estados Unidos, Donald Trump, en respeto y solidaridad con las víctimas del ataque perpetrado ayer en la escuela secundaria Marjory Stoneman Douglas en Parkland, Florida. En el mismo murieron 17 personas y otras 15 resultaron heridas.
The alleged perpetrator,  Nikolas Cruz, was charged with 17 counts of premeditated murder .
In reaction to the tragedy, Rossello Nevares said in a press release that "our prayers are with the families of the victims of this terrible attack and the affected community. We express our solidarity with the people of Florida in this moment of sadness. "
The government of Puerto Rico and that of Florida, led by Rick Scott , maintain close ties of cooperation, especially after the devastating passage of Hurricane Maria on the island. As reported, over 300,000 Puerto Ricans have migrated to that state since last September.
Además, Scott se ha encargado personalmente de coordinar la ayuda que desde Florida se ha enviado a Puerto Rico como parte de los esfuerzos de recuperación.
By Danica Coto By Danica Coto
February 18 at 6:47 PM
SAN JUAN, Puerto Rico — Puerto Rico's power company said Sunday that it will reduce its operating reserve to save money amid a cash shortfall as officials warned that the move could destabilize the U.S. territory's fragile electrical grid.
William Rios, director of generation at Puerto Rico's Electric Power Authority, said a plan to reduce its reserve by 450 megawatts will not affect customers and will help save $9 million a month.
Public Affairs Secretary Ramon Rosario said that although the measure is needed, it could affect a grid still experiencing frequent blackouts as nearly 250,000 customers remain without power more than five months after Hurricane Maria. The Category 4 storm destroyed two-thirds of the power distribution system and caused the longest blackout in U.S. history.
About a third of Puerto Rico's residents — over 900,000 — are still living without electricity five months after Hurricane Maria battered the island on Sept. 20th of last year.
As power restoration efforts continue against all odds, it's still hard for officials to say when the power will be fully restored — the question on everyone's mind.
"I would hesitate to give you a date," said Lt. Col. John Cunningham of the U.S. Army Corps of Engineers, the deputy commander for the Task Force Power Restoration on the island. "We would like to go faster, but right now we're going as fast as we can."
"The largest challenge has been logistics: getting the materials we need," Cunningham told NBC News. "Because it is a tropical island, they need specific conductors and materials that can resist the tropical weather and there's a limited number of suppliers available to purchase specific materials for the island."
Puerto Ricans are dying. These volunteers are trying to change that. 5:04
autoplay autoplay
After Hurricanes Harvey and Irma, getting access to those materials is even harder.
About 1,200 temporary generators and seven microgrids are powering key areas near important buildings such as schools and hospitals. In addition, teams from utility companies from the mainland U.S. have made their way to Puerto Rico to support personnel sent to the island to help restore power.
After Hurricane Maria left the entire island without power, the Puerto Rico Electric Power Authority, or PREPA, needed at least about 53,000 poles, a little over 17 million conductors and 184,750 insulators.
Related: Anger grows and hope fades as Puerto Rico's ground zero remains without power
So far, 5,072 transformers have arrived in Puerto Rico in addition to about 31,500 poles and about 2,613 miles of conductor cables already on the island, PREPA said in a statement.
In the next two weeks, Puerto Rico should receive 80 containers with additional equipment.
Restoring power amid funding woes
One of the reasons for a lack of inventory in the first place is PREPA's financial woes. While a Category 5 hurricane like Maria was expected to cause massive damage, Puerto Rico's bankrupt and greatly indebted public utility had not kept up with upgrading and modernizing its four-decade-old power plants, which mostly produce energy from burning imported oil.
Puerto Rican government leaders went to federal court in New York on Thursday to request a $1 billion emergency loan to finance operational costs and avoid running out of cash. Though the request was not approved, U.S. District Judge Laura Taylor Swain gave Puerto Rico's lawyers the chance to submit another motion for a $300 million emergency loan, understanding that "the lights cannot go off in Puerto Rico." The motion was filed early Friday and Judge Swain approved it on Monday.
To reduce costs and avoid a shutdown, Puerto Rico has activated a contingency plan that consists of reducing power to energy reserves that handle generation failures like the one that took place on Feb. 12 in northern Puerto Rico. Government officials said Sunday it should not affect customers.
PREPA is currently the government agency with the biggest share of Puerto Rico's $72 billion public debt. In part, PREPA's $9 billion debt is due to unpaid electricity bills from public entities in Puerto Rico.
Liquidity issues around Puerto Rico's power company go back decades. Through Puerto Rico's fiscal agency AAFAF, most PREPA projects get funded through the issuance of bonds.
Critics say past projects illustrate a history of costly mistakes.
Francisco Lopez, an engineer and PREPA employee for 36 years and now an independent energy consultant, had pitched a project in 2010 called Via Verde that consisted of a natural gas pipeline across the island.
Because the governor at the time, Luis Fortuño, had signed an executive order declaring a "state of emergency" around electric power generation, the project was approved and bonds were issued before any public hearings.
Photos: 100 days in the dark leave Puerto Ricans with glimmer of hope
PREPA had done a study that showed that revenues from Via Verde would be enough to pay back bondholders. "It would have taken, like, five years," said Lopez.
But the $350 million Via Verde project never came to life after strong opposition from community members and environmentalists. With no project, there was no revenue, but PREPA still had to pay bondholders back as well as the already-hired contractors. Lopez said situations like this have contributed to the utility's debt.
Amid criticism, a promise to restore power
As PREPA grapples with financial issues, it has also faced strong questions about its actions following the hurricane.
A former supervisor and chemist at PREPA, Carlos Velez, was critical of the government's initial handling of its equipment and restoration needs.
Related: FEMA under scrutiny over botched contract to provide meals for Puerto Rico
"In a situation where PREPA lacks inventory, the usual procedure is to ask the American Public Power Association (APPA) for what's needed," said Velez. APPA is a not-for-profit organization that serves U.S. public utilities; it has worked with PREPA on previous post-hurricane efforts.
Instead, PREPA came under fire after signing a $300 million contract with Whitefish, a small Montana-based firm. The contract was eventually terminated after questions emerged following a Washington Post report about the company and the contract.
It wasn't until the end of October, more than a month after the hurricane, that APPA received Puerto Rico's petition asking for help. It still remains unclear why APPA's help was requested so late.
FEMA deputy administrator Ahsha Tribble, who has been working on the island for months, said in an Oversight Board hearing that PREPA's bureaucracy has slowed down restoration efforts. "When you have eight layers of approval to get something done, it's not working for us," said Tribble.
PREPA has also been dealing with changing leadership. In November, its executive director Ricardo Ramos stepped down and Gov. Ricardo Rosselló called for Justo Gonzalez's appointment as interim director.
"When you put an interim director in the middle of a disaster, it's hard. It's very difficult to begin to make decisions," said Tribble.
The spotlight on PREPA after the devastating storm and the financial crisis may result in significant changes. Gov. Rosselló announced a plan last month to move toward privatizing the utility, pledging a more "financially viable," consumer-centered model.
While there is debate over the plan, consumer watchdogs and analysts have long called for changes to PREPA. In addition, the utility's finances and debt are now being scrutinized by a financial oversight board started under President Barack Obama as well as Judge Swain.
In the meantime, the start of the next hurricane season is just four months away.
"I want to assure all clients still without electricity, that we have you in mind. We know our work is not over and we are prioritizing restoration for this population," said Justo Gonzalez, PREPA's interim director, in a statement. "No one deserves to be without electricity, so we appreciate your patience. "
Read the whole story
· · · · · · · ·
FORT LAUDERDALE, Fla. (Reuters) – A former student accused of last week's deadly shooting at a Florida high school returned to court for a hearing on Monday in a case that has galvanized advocates of stricter gun control, including many of the rampage survivors.
Nikolas Cruz, his head bowed, hands shackled at his waist and wearing a red, jail-issued jumpsuit, showed no emotion during the procedural session in Fort Lauderdale.
The hearing ended with Broward Circuit Court Judge Elizabeth Scherer ruling that a defense motion filed last week remain sealed from public view. The content of the motion, sealed by another judge, was not described in the hearing.
In a second hearing, Broward Circuit Court Judge Charles Greene ordered the release of parts of a mental health assessment of Cruz by the Florida Department of Children and Families in November 2016. The report has already been leaked to South Florida's Sun Sentinel newspaper.
Cruz, who did not attend the second hearing, is facing 17 counts of premeditated murder after the attack on Wednesday at Marjory Stoneman Douglas High School in Parkland, near Fort Lauderdale. It is the deadliest shooting ever at a U.S. high school.
The suspect, whose mother died in November, was investigated by authorities after videos surfaced on the social media platform Snapchat showing him cutting himself, the assessment by the Department of Children and Families said.
"Mr. Cruz has fresh cuts on both his arms. Mr. Cruz stated he plans to go out and buy a gun. It is unknown what he is buying the gun for," the released report said.
In a statement, department secretary Mike Carroll said the records showed Cruz was getting mental health services before, during and after the assessment. Cruz was living with his mother and attending school when it concluded, he said.
The Federal Bureau of Investigation has acknowledged it failed to act on a tip called in last month warning that Cruz possessed a gun and the desire to kill.
Greene agreed to the request by Cruz's team of public defenders to release the assessment. But he stopped short of allowing the release of details of Cruz's mental health history and child abuse records.
Student survivors gathered with teachers and gun safety advocates to plan a visit to the state capital of Tallahassee on Wednesday. They will demand state lawmakers enact a ban on the sale of assault weapons in Florida.
The White House said on Monday that President Donald Trump supports efforts to improve federal background checks for gun purchases. Trump angered some students by suggesting in a tweet on Saturday that the FBI had missed signs that the shooter was troubled because it was distracted by its investigation into Russian meddling in the 2016 U.S. election.
Additional reporting by Jonathan Allen in New York; Writing by Frank McGurty and Ian Simpson; Editing by Lisa Shumaker and Leslie Adler
Back in the spring of 2014, a European intelligence service, a NATO ally of the United States, received a top-secret report that the Russians would back Donald Trump for the White House in the next election. The source was a mid-level Russian intelligence official who had plausible access to secret …