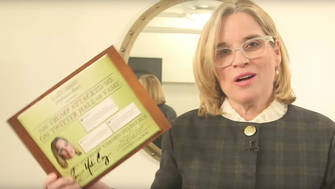 Saved Stories – None
San Juan Mayor Carmen Yulín Cruz Rips Bully And 'Big Mouth' Donald Trump

"I hope hes a better golf player than he is a president, because he surely isnt a good president."
MPs to debate Trump's Twitter jibe at May after speaker grants Commons urgent question – Politics live

Rolling coverage of the days political developments as they happen

John Bercow, the Commons speaker, has granted an urgent question about President Trumps tweet. It has been tabled by the Labour MP Stephen Doughy. A Home Office minister – perhaps Amber Rudd, the home secretary, but more probably one of her juniors – will have to respond.

The UQ will come at 10.30am.

UQ granted at 1030 to @SDoughtyMP to ask @AmberRuddHR to make a statement on the activities of Britain First, online hate speech, and the sharing of inflammatory content by the President of the United States, @realDonaldTrump .

So, Theresa May woke this morning to find out that she now has something in common with Kim Jong-un. Like the North Korean dictator, the prime minister has joined the list of world leaders who have now been derided on Twitter by President Trump.

It certainly marks something of a first for the special relationship. Presidents and prime ministers have often rowed bitterly in private, and these disagreements have sometimes spilt out in public too, but getting slagged off on social media? God knows what Churchill and FD Roosevelt would have had to say about this.

.@Theresa_May, dont focus on me, focus on the destructive Radical Islamic Terrorism that is taking place within the United Kingdom. We are doing just fine!

Related: Donald Trump attacks Theresa May over her criticism of his far-right retweets

In the end, our relationship with the United States has a longevity to it that will succeed long after presidents come and go.

I dont agree with the tweet President Trump has made, but I have to say I also believe it should not distract from the agenda we have domestically and I dont believe it should detract from the close relationship the UK has had for many, many years and will go on to have with America and the American people.

New @realDonaldTrump insult to @theresa_may. She must end humiliating dependence of #BrexitBritain on goodwill of evil racist. Cancel visit
30 Years Later, Gay Man's Fall From Australian Cliff Is Ruled a Hate Crime – New York Times
Trump-Russia: Jared Kushner 'questioned about Michael Flynn' – BBC News
Justices May Impose New Limits On Government Access To Cellphone Data – WWNO
Rudy Giuliani – Google News: 'Thank You for Your Service' film to play at Hooksett theater – The Union Leader
'Thank You for Your Service' film to play at Hooksett theater

The Union Leader

Patty Murray, D-Wash.; former NYC Mayor 

Rudy Giuliani

; Adm. Mike Mullen; Gen. David Petraeus; Gen. Loree Sutton; and Col. Lawrence Wilkerson. Gathr Films' Theatrical on Demand model makes it possible for individuals to book Thank You for Your Service 

… 
 Rudy Giuliani – Google News
Lavrov: Trump's Russia policy similar to Obama's – The Times of Israel
Trump seeks big win as GOP tax plan gains momentum – WSAZ-TV
Trump hits out at UK PM Theresa May after far-right video tweets – BBC News
Commentary: Don't call Putin a genius – Reuters UK
Donald Trump Jr. mixes political fundraising with hunting again – ABC News
US financial intelligence collects data on foreign assets of Russian elite – https://en.crimerussia.com/
US intel committee subpoenas comedian in Russia election meddling probe – Reuters
How Trump Is Going After Hezbollah in America's Backyard – Politico

Politico

How Trump Is Going After Hezbollah in America's Backyard

Politico

In May 1996, the three border countries launched a Tripartite Command of the Tri-Border to coordinate their law enforcement and intelligence agencies to combat organized 

crime and terrorist

 activities in the area. The next monthjust days before 

…
'Evil racist': how the UK reacted to Trump's Theresa May Twitter attack

Politicians and the public in Britain woke up to news that the US president had verbally attacked the leader of its closest ally and many were not happyBritain woke up on Thursday morning to find the British-American special relationship under threat after Donald Trump launched a scathing overnight attack on Theresa May, dismissively telling her not to criticise him.The presidents public outburst was a response to Downing Streets earlier statement calling him out for retweeting videos from  far-right group Britain First, which the prime ministers spokesman said used hateful narratives that peddle lies and stoke tensions.

.@Theresa_May, dont focus on me, focus on the destructive Radical Islamic Terrorism that is taking place within the United Kingdom. We are doing just fine!

So POTUS has endorsed the views of a vile, hate-filled racist organisation that hates me and people like me. He is wrong and I refuse to let it go and say nothing

Well said Saj. This is a sad & low moment for the West, & AngloAmerican relations, which betrays a deep ignorance of the very real challenges of tackling the insidious rise of extremism and prejudice that threatens us all. https://t.co/0Yc3q1ShGB

New @realDonaldTrump insult to @theresa_may. She must end humiliating dependence of #BrexitBritain on goodwill of evil racist. Cancel visit

I hope the Prime Minister will now summon the United States Ambassador and tell him the Presidents statements are unacceptable. I cannot think of a more insulting or destructive public communication from a US President to a British PM since the American civil war!

Wrong twitter handle. And that's just the start pic.twitter.com/Vzw3mA905v

Trump has now deliberately and knowingly lined himself up behind the fascist group Britain First. He is not welcome.

Enough is enough. Trump was offered a state visit with unseemly haste. After the events of the past 24 hours the idea it can go ahead is preposterous. The Prime Minister must cancel it. Simple as that.

Think when Trump comes over, if he does come over, he should get to meet some of the locals!

So this is the 'Special Relationship' between US & UK? – involves promoting UK facist hate groups, then telling UK PM where to go when she offers the mildest of rebukes?

You have a mass shooting every single day in your country, your murder rate is many times that of the UK, your healthcare system is a disgrace, you cant pass anything through a congress that you control. I would focus on that. https://t.co/SNcqOZGvLQ

PM @theresa_may is one of the great world leaders, I have incredible love and respect for her and for the way she leads the United Kingdom, especially in the face of turbulence. -OGH

(Photo: Hatch at 10 Downing Street last Tuesday) pic.twitter.com/KQoH2LoRe9

Me: I hate Theresa May
[Trump attacks Theresa May]
Me: LEAVE THERESA MAY THE FUCK ALONE
The Self-Destruction of American Democracy – New York Times

New York Times

The Self-Destruction of American Democracy

New York Times

Add to Trump's list of lies, his race baiting, his attacks on a free press, his charges of fake news, his efforts to instigate new levels of voter suppression, his undermining of the legitimacy of the electoral 

process

, his disregard for the 

…
Russian PM Says US-Russia Ties at Low Ebb but Trump 'Friendly' – U.S. News & World Report
The Morning Vertical, November 30, 2017 – RadioFreeEurope/RadioLiberty
The Morning Vertical, November 30, 2017

RadioFreeEurope/RadioLiberty

Is Pavlovsky right? There certainly are data points out there suggesting that he is. Arrests are taking place that do not appear to be sanctioned by Putin. Figures like Rosneft CEO Igor Sechin and Chechen leader Ramzan Kadyrov seem to be pursuing 

…and more »
US seeks to deny China market economy status in WTO – Financial Times
Donald Trump dominates Yahoo's list of top UK searches in 2017 – ITV News
PayThink Transaction laundering's downstream impact makes it a top priority – PaymentsSource
Special relationship? Theresa May discovers she has no friend in Donald Trump | Julian Borger

The US presidents Twitter attack on Britains prime minister leaves her with a toxic diplomatic dilemma how to respond to a contemptuous US presidentIt is some poor officials job this morning to tell Theresa May that while she slept, the relationship with the US became special for all the wrong reasons.It is at least historic. No US president in modern times has addressed a UK prime minister with the open peevishness and contempt of Donald Trumps tweet telling May to mind her own business.

Related: Donald Trump attacks British PM Theresa May over her criticism of his far-right retweets
After Michael Flynn flips on Donald Trump, his son Michael Flynn Jr flips out

On Wednesday it was revealed that Special Counsel Robert Mueller has paused his grand jury against Michael Flynn, the surest sign yet that Mueller and Flynn are hammering out a plea deal in Donald Trump's Russia scandal. Flynn is widely believed to be reluctantly cutting a deal in order to protect his son Michael Flynn Jr, who also faces serious exposure to criminal charges in the scandal. Now that Flynn Sr is flipping, Flynn Jr isn't taking the news well. In fact he's flipping out.Michael Flynn Jr has spent the past few days making vague Twitter posts suggesting that things may or may not be what they seem. However, shortly after it was revealed that his father really is wheeling and dealing with the Special Counsel, we got this tweet from Flynn Jr:

It's not entirely clear how we're supposed to interpret the animated GIF of Jim Carrey screaming and ripping his hair out. Is this what he expects society's reaction to be to the Michael Flynn deal? Donald Trump's base may be nervously tearing out its hair, as Flynn has the goods to take down Trump and everyone else involved, but mainstream Americans are celebrating the news that Flynn is flipping. In any case, Flynn Jr's other tweets of the day suggests that he's the one flipping out.

At one point Michael Flynn Jr attacked Fox News host Geraldo Rivera for defending Matt Lauer. At another point Junior retweeted a completely nonsensical tweet from Donald Trump about contempt citations. The other day he retweeted WikiLeaks founder Julian Assange, a key suspect in the Trump-Russia conspiracy. This guy is all over the place. We're continuing to monitor Flynn Jr's Twitter account because once his father formally signs a deal that gets his son off the hook, we'll see the son being forced to suddenly stop tweeting altogether.

The post After Michael Flynn flips on Donald Trump, his son Michael Flynn Jr flips out appeared first on Palmer Report.
In SF, Russian ambassador to US speaks of cooperation – SFGate
Roger Stone apologizes, admits hes been lying about Trump-Russia the entire time

Donald Trump's former campaign adviser and longtime friend Roger Stone has long portrayed himself as a bully in the public square. Stone sells conspiratorial political books for a living, and loves to play the part. In fact he's been such a misbehaving bully, he's been permanently banned from CNN and Twitter. But now that he finds himself firmly in the crosshairs of the Trump-Russia scandals, he's revealing himself to be very much a coward.Rather than face contempt of Congress or worse, Roger Stone has coughed up the name of the WikiLeaks go-between he was using during the election: his friend Randy Credico. In so doing he's sold out Credico, who has just been subpoenaed by the House Intelligence Committee as a result (link). As it turns out, that's just the beginning of the story, because now Stone is admitting he's been lying the entire time, and he's apologizing for it.Ryan Lizza, who writes for the New Yorker and appears on CNN, tweeted this after the news broke: "I asked Roger Stone in March if Randy Credico was his Wikileaks contact and he lied to me and said no. He just texted me, 'A misguided effort to protect Credico who I felt had helped me on an off the record basis. Sorry.'" So now, not only is Stone giving up his friend to try to save himself, he's also confessing to his lies and apologizing to the media. Has he turned over a new leaf? Probably not. He may be more worried about obstruction of justice charges.

Lying to a journalist is not a crime in and of itself. But if it can be demonstrated that Roger Stone lied to the media (and thus the public) for the purpose of trying to throw off investigators, that can meet the legal definition of obstruction of justice. Now that Stone is panicking and caving, he may be caving all the way.

The post Roger Stone apologizes, admits he's been lying about Trump-Russia the entire time appeared first on Palmer Report.